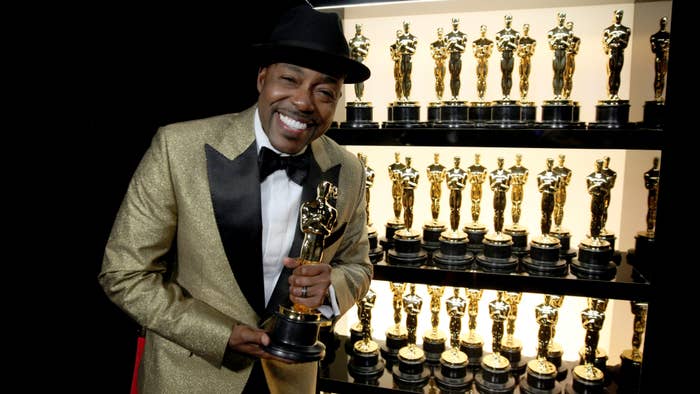 Oscars producer Will Packer spoke at length about the slap in an interview that debuted Friday morning, revealing—among other things—that he initially thought the moment "was a bit" that Will Smith and Chris Rock had put together privately. 
Prior to Rock taking the stage as a presenter at Sunday's ceremony, Packer explained that he was confident about the jokes to come, even when he realized the comedian allegedly wasn't sticking to those that were planned. In fact, according to Packer, Rock "did not get to one joke" that was in the teleprompter.
"I said, 'Watch this. He's gonna kill.' Because I knew he had an amazing lineup of jokes that he had," Packer said on Good Morning America. "We had 'em in the prompter and ultimately he did not get to one joke. He didn't tell one of the planned jokes. He was just immediately freestyling. But I tell you, if there is anybody that you don't worry about going out in front of a live audience and riffing off the cuff, it's Chris Rock. Nobody's better."
As for the slap, Packer explained that he wasn't concerned "at all" until he saw Smith shouting at Rock after the televised moment. 
"I thought this was part of something that Chris and Will were doing on their own," he said. "I thought it was a bit, I thought it was a bit like everybody else. I knew we hadn't practiced it. I'm not concerned at all. … Something funny is gonna happen because that's the nature of Chris and that's the nature of Will so, let's see what happens." Once he saw the Oscar-winning King Richard star "yelling at the stage with such vitriol," however, Packer said his "heart dropped."
In another clip from Friday's GMA interview, Packer spoke about the behind-the-scenes discussions that were spurred by the slap. As previously reported by way of an interview clip that was released in advance, the Los Angeles Police Department told officials they were "prepared" to arrest the actor for slapping the comedian.
In addition to not wanting LAPD to take any action, Rock—according to Packer—did not want Smith removed from the ceremony at all.
"It happened to be right before the Best Actor award," Packer explained. "[Oscars co-producer Shayla Cowan] told me that they were about to physically remove Will Smith and I had not been a part of those conversations. And so I immediately went to the Academy leadership that was on site and I said, 'Chris Rock doesn't want that.' I said, 'Rock has made it clear that he does not want to make a bad situation worse.'"
According to Packer, "that was Chris' energy" following the slap. The producer also said that there had been a conversation about asking the actor to "voluntarily leave" the ceremony, although—as has been widely covered in recent days—claims of Smith having been formally asked to leave have been repeatedly disputed.
"[Rock's] tone was not retaliatory, his tone was not aggressive and angry," Packer told GMA's T.J. Holmes. "So I was advocating what Rock wanted in that time which was not to physically remove Will Smith at that time. Because as it has now been explained to me, that was the only option at that point. It has been explained to me that there was a conversation that I was not a part of to ask him to voluntarily leave."
See more from Packer, including brief comments about Smith reaching out to him the morning after the Oscars, below.
Following the GMA interview, Deadline reported that it had heard from "reliable sources" who disputed Packer's comments on Rock having been asked about a possible removal of Smith. These sources, as detailed here, argue that Packer's comments stem from a conflation involving separate remarks Rock made about not pressing charges.
Smith shared an apology for the slap to his Instagram this week in which he apologized to Rock and again apologized to the Academy. "Jokes at my expense are a part of the job, but a joke about Jada's medical condition was too much for me to bear and I reacted emotionally," he said.