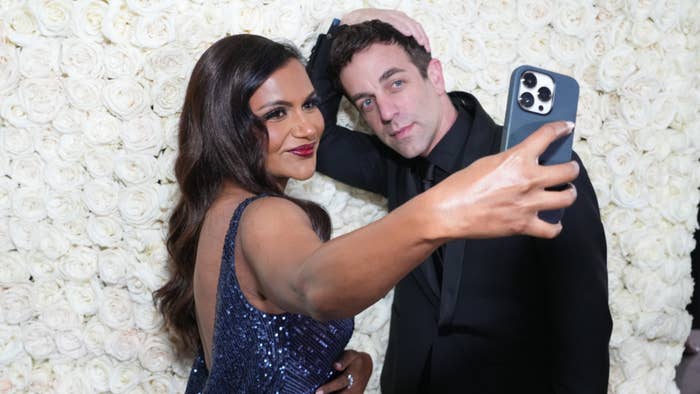 Mindy Kaling stopped by The Drew Barrymore Show this week, resulting in a mention of her friendship with fellow Office alum B.J. Novak.
As fans will note, the two have been said to have previously dated in an off-and-on capacity during the early years of the U.S. adaptation of the Ricky Gervais-created BBC classic. The two have joked about this in the past, all while remaining close friends.
"He is a wonderful friend and he's the godparent of both of my kids and he loves children and they're so attached to him. He's really a part of our family," Kaling, whose current roster of ongoing projects includes The Sex Lives of College Girls and Never Have I Ever, told Barrymore on Wednesday. "But we've known each other for a long, long time and I think anyone who's been friends with someone for 18, 19 years and at one point dated and now doesn't, like, they maybe understand this. I mean, you have exes that you wouldn't necessarily marry now, right?"
Barrymore responded to this by explaining that she's "finally finished" with her exes, adding that she now knows "the book is closed on all of them."
See more from Barrymore and Kaling below.
As for still-relentless Office reunion chatter, which has persisted over the years to an oft-preposterous degree, Novak himself addressed the chances of such a thing earlier this year. During a chat on Deadline's Crew Call podcast in August, Novak noted the proverbial ship "has sailed" when it comes to realistically getting everyone "back together" for a full-blown reunion.
"I just think it needs to be approached as an artistic decision, not as a financial decision," he cautioned at the time.