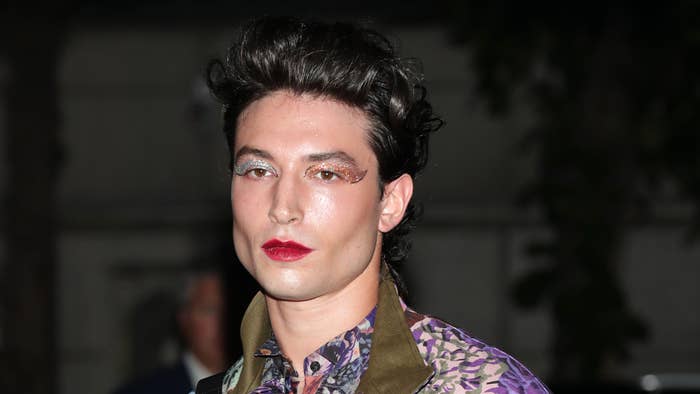 Ezra Miller shared a special message for a North Carolina chapter of the Ku Klux Klan on Thursday, suggesting members kill themselves "with your own guns."
"This is a message for the Beulaville chapter of the North Carolina Ku Klu Klan," Miller said in the Instagram-shared video, which the Flash and Fantastic Beasts star said was "not a joke" in the caption. "Hello, first of all. How are y'all doing? It's me. Look, if y'all wanna die, I suggest just killing yourselves with your own guns, okay? Otherwise, keep doing exactly what you're doing right now—and you know what I'm talking about—and then, you know, we'll do it for you if that's really what you want. OK, talk you soon, OK? Bye."
"Please disseminate (gross!) this video to all those whom it may concern," they captioned the post. "This is not a joke and even though I do recognize myself to be a clown please trust me and take this seriously. Let's save some live [sic] now ok babies?
At the time of this writing, it wasn't immediately clear whether a specific recent incident had spurred Miller's comments. The KKK is classified by the Southern Poverty Law Center as a hate group, with the civil rights-focused nonprofit noting the Klan stands as the "oldest and most infamous" of such groups in the U.S. Recent years have seen a reported drop in the total number of active KKK chapters nationwide.
As for Miller's IG clip, fans were quick to share reactions to the central message while also pointing out the presence of a Flash ring on their right index finger.
Complex has reached out to a rep for Ezra Miller for additional comment.
In 2020, controversy was spurred by the surfacing of footage that was claimed to show Miller in a physical altercation with an unidentified woman. Variety later reported that the footage showed a "serious altercation" at a bar, though the original tweet including the footage was ultimately removed.
Miller will next be seen in Fantastic Beasts: The Secrets of Dumbledore, out this April, followed by their starring role in Andy Muschietti's The Flash in November.