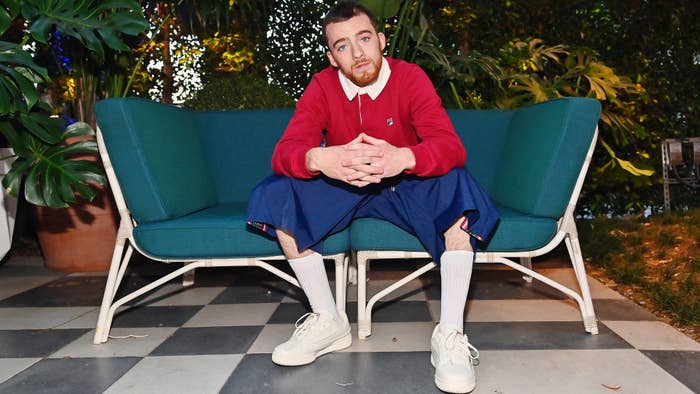 Angus Cloud, whose performance as kindhearted drug dealer Fez on HBO's Euphoria marked his acting debut, has now given fans of the much-discussed drama the definitive account of how he got his famous scar.
As Cloud detailed right at the top of a new Variety feature this week, he had broken away from his friends in downtown Oakland one night in 2013 when he fell into a construction pit. 12 hours later, Cloud recalled, he woke up "at the bottom" of this pit.
"I was trapped. I eventually climbed out after — I don't know how long," the actor told Selome Hailu. "It was hella hard to climb out, because my skull was broken, but my skin wasn't, so all the bleeding was internal, pressing up against my brain."
Once Cloud managed to pull himself out of the pit (all while dealing with the added complication of broken fingers), he hopped on a bus and made it his mother's house. Cloud, who was a teen ("14 or 15") at the time of the incident, initially struggled to explain what happened when telling the story to his mother. Ultimately, she stepped in when he expressed his desire to go to sleep, which—as Cloud revealed—could have resulted in his death.
"So then my mama took me to the children's hospital, and they saved my life. That's what the scar's from," Cloud said, adding that doctors cut his head open and put in "some screws and a plate" before sewing him back up. Subsequent brain damage, he further explained, was thankfully "minor" to the point of not even being worth discussing.
The full piece also sees Cloud offering up some comments about what could be next for him in his acting career, as well as touching on the future of Euphoria, the Season 3 return of which is not expected to kick off for some time. Cloud, in fact, hadn't seen any scripts from the new season at the time the Variety interview was conducted.
At next month's Emmys, Euphoria is up for a number of potential honors, including Outstanding Drama Series and performance-based nods for Sydney Sweeney and Zendaya, the latter of whom previously won (and made history in doing so) for her performance as Rue.