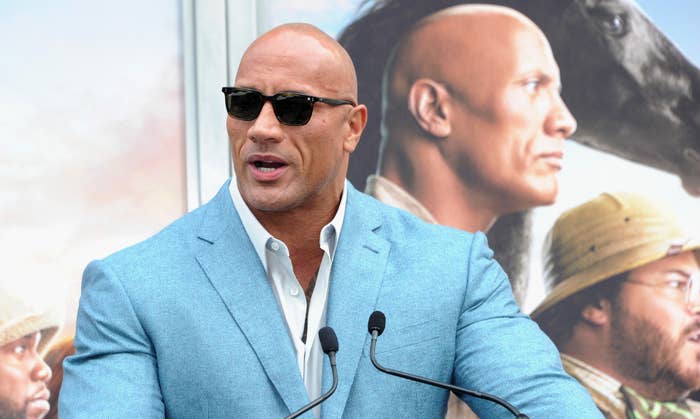 Dwayne Johnson says he "laughed hard" when he heard Vin Diesel's recent comments about giving him "tough love" on the set.
In an expansive cover piece for the Hollywood Reporter, out Wednesday, Johnson was asked about the comments his fellow Fate of the Furious star gave while promoting the latest entry in the franchise, F9. Johnson, notably, does not appear in F9.
"I laughed and I laughed hard," Johnson said when asked about the comments, per THR's Rebecca Keegan. "I think everyone had a laugh at that. And I'll leave it at that. And that I've wished them well. I wish them well on Fast 9. And I wish them the best of luck on Fast 10 and Fast 11 and the rest of the Fast & Furious movies they do that will be without me." 
Speaking with Men's Health in June, Diesel suggested the reported tensions between himself and Johnson were due to his decision to push for a specific vision for the Hobbs character. Diesel even managed to include a reference to the late Italian filmmaker Federico Fellini.
"We had to get there and sometimes, at that time, I could give a lot of tough love," Diesel told Ryan D'Agostino at the time. "Not Felliniesque, but I would do anything I'd have to do in order to get performances in anything I'm producing."
In the new THR piece, Johnson's cover co-star Emily Blunt—who appears alongside him in this month's Jungle Cruise movie—also got in on the commentary.
"Just thank God he was there," Blunt said of Diesel after Johnson shared his take on the "tough love" explanation. "Thank God. He carried you through that."
At the height of the Diesel vs. Johnson press coverage, as is always worthy of a reminder, the phrase "candy ass" was making the rounds in a truly overwhelming fashion. Due to demand, the alternate "candy assery" also made frequent article appearances in 2016 and 2017.
Jungle Cruise, helmed by Jaume Collet-Serra, is out July 30. F9, meanwhile, has stacked up nearly $160 million at the domestic box office since its release last month.