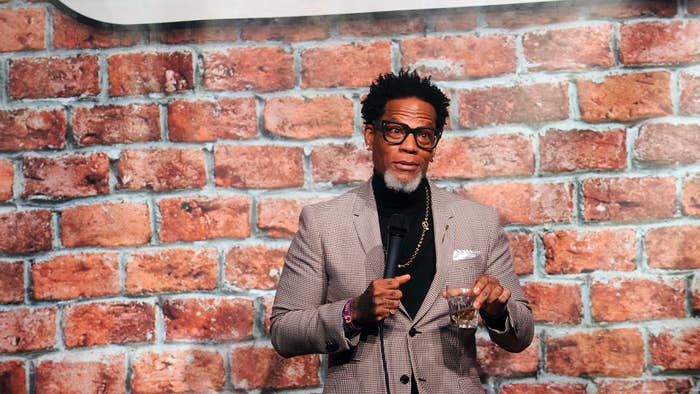 D.L. Hughley and Mo'Nique's public contract dispute continued this week, with the former now having responded to the recent mention of his daughter's sexual trauma.
Monday, Hughley shared a five-minute video to Instagram, saying in the caption that this marked "the final straw" and "last breath I'll waste" on the feud. The video arrives in response to the sharing (as previously reported) of footage from an interview in which Hughley is seen discussing his initial response to his daughter informing him of an alleged sexual assault.
"I know I said that I had done all I could here about this whole Mo'Nique situation but over the weekend her and her husband released a video where I was doing an interview and I detailed my daughter's sexual trauma," Hughley said in the newly shared IG video. "Mo'Nique has taken that video and perverted it for her own uses. She decided to add her own narrative."
Per Hughley, "nothing could be further from the truth" than Mo'Nique's comments about the trauma. Hughley also acknowledged that his initial response to his daughter coming to him about the alleged assault was wrong, saying he will "never forgive" himself for not immediately believing her and for how he handled the situation.
The inclusion of his daughter's trauma in the ongoing feud, in Hughley's words, marks an "unconscionable" development in the headlines-generating back-and-forth that began with contract-related claims surrounding a stand-up show in Detroit last month.
From there, Hughley brought up Mo'Nique's Oscar-winning performance in the 2009 drama Precious and criticized her and her husband for "weaponizing" his daughter's trauma.
"You and your husband putting a man in my daughter's room when that is not what I said and weaponizing it and using it in a trite argument shows exactly how low you are," Hughley, who said he was speaking out at the request of his daughter, said. "You are a monster. You literally are. You didn't play Precious' mother. You let her out. You stopped pretending to be human and you won…an Oscar for being exactly who you are. Who says they love women and are there for women…and would trod out someone's sexual trauma just to use in an argument?"
At the time of this writing, Mo'Nique hadn't directly addressed Hughley's latest comments. In an IG post earlier on Monday, however, she shared another clip of Hughley, this time taken from a Jay Leno interview in which the comedian joked about the 2007 Don Imus controversy.
Last week, Steve Harvey shared his thoughts on the contract-centered feud, including laying out a possible reason why the issue erupted to begin with. In Harvey's opinion, it's possible someone on Mo'Nique's management team initially gave her incorrect information about the show being a co-headlining one.