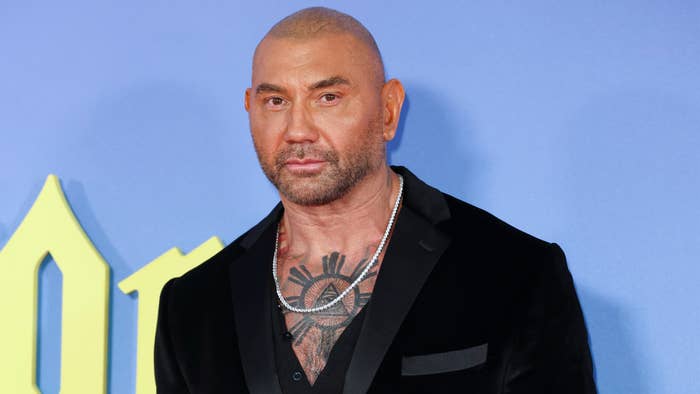 Standing on the precipice of an exciting new chapter in his already accomplished career as an actor, Dave Bautista is more than prepared to kick his artistic ambitions up a notch or three, all while maintaining a sense of gratitude for his soon-to-be past.
In a new interview withGQ, published Wednesday, Bautista provides some high-level insight into how it feels to soon be saying goodbye to Marvel with this May's unveiling of the James Gunn-directed Guardians of the Galaxy Vol. 3. According to Bautista, there is a sense of "relief" about bringing his time as Drax to a close, including the fact that he has larger hopes for his legacy moving forward.
"I'm so grateful for Drax. I love him," Bautista told Yang-Yi Goh. "But there's a relief [that it's over]. It wasn't all pleasant. It was hard playing that role. The makeup process was beating me down. And I just don't know if I want Drax to be my legacy—it's a silly performance, and I want to do more dramatic stuff." 
Dwayne "The Rock" Johnson, who—like Bautista—also made the jump from the world of professional wrestling to the big screen, receives a notable mention elsewhere in the must-read profile. Despite their initially similar leaps, Bautista pointed out, he himself "never wanted to be the next Rock." Instead, the recent Glass Onion star added, he's always been more focused on simply growing as an actor.
"I just want to be a good fucking actor," he said. "A respected actor."
For the full thing, including additional comments from Bautista on the personal importance of his work with Dune and Blade Runner 2049's Denis Villeneuve, hit this link.
Next for Bautista is Knock at the Cabin, the acting demands of which (per Bautista himself) far outweigh any other previous entries in his filmography. The horror film, an M. Night Shyamalan-directed adaptation of Paul G. Tremblay's The Cabin at the End of the World novel, is set for release on Feb. 3 and also counts Jonathan Groff, Nikki Amuka-Bird, and Ben Aldridge among its extended cast. Revisit the trailer below.