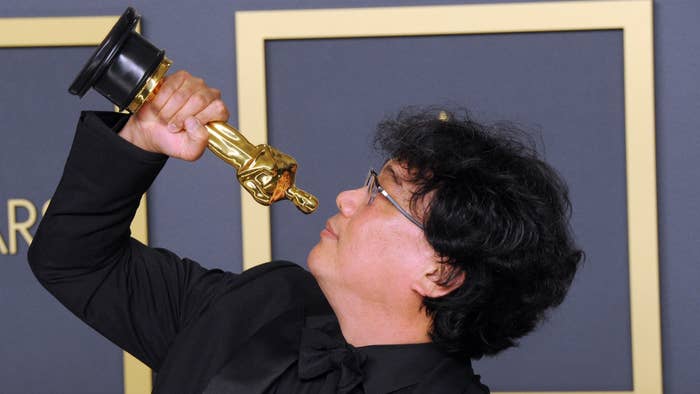 With its recent passing of the $200 million mark at the global box office, Bong Joon-ho's Parasite continues its post-Oscars winning streak.
The critically celebrated film bagged $5.5 million this weekend, perVariety, marking a 234 percent increase in ticket sales. This marks the largest post-Oscars boost for a Best Picture winner in the past decade. That brings the total domestic haul for the film to an estimated $44 million, with the past week's $8.8 million representing a whopping 20 percent of its entire domestic intake. 
Overseas, Parasite's total stands at $161 million.
With its well-deserved Best Picture win earlier this month, Parasite went down in history as the first non-English-language film to claim the award. The Oscars saw victory for Bong Joon-ho and Han Jin-won for Best Original Screenplay, as well as wins in the Best Director and Best International Feature Film categories.
"Parasite, which is a purely Korean film, has garnered more enthusiasm from audiences all over the world," Bong Joon-ho said earlier this month when reflecting on Parasite's many successes, per IndieWire. "That's making me think that perhaps the deeper I delve into things that are around me the broader a story can become and the more appeal it can have to an international audience."
Another interesting facet of Parasite's continued box office success is that it's been simultaneously available to rent or buy on VOD services like Amazon Prime for weeks now and—despite what streaming naysayers would have expected—it's clearly doing quite well in both arenas.