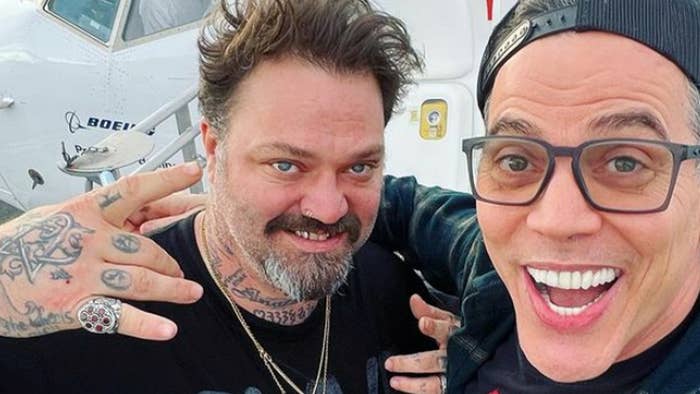 Bam Margera is out on the road with fellow Jackass alum Steve-O after recently opening up about how he "basically was pronounced dead" after suffering a series of seizures during a widely publicized hospitalization.
Per TMZ, which shared footage over the weekend of a show in Salem featuring both stars, fans have been very receptive of Bam's addition to the lineup. In the footage, Steve-O is seen telling the crowd he's going to kick off the set "in a very unconventional way" after bringing Bam to the stage.
"My dear friend Bam here is new to the idea of putting together an act so I'm here to help Bam kind of figure this out," he said, adding that they've been "working on some material" together. At that point, Bam then introduced himself as "the Britney Spears of Jackass" before being urged by Steve-O to elaborate on that description for the audience.
"I'm the Britney Spears of Jackass because I've had a legal guardian to make my decisions for a year, a judge has stripped me of all my rights, and I just completed my own rock-n-roll tour of 10 different rehabs for a year and a half in Florida," Bam added.
From there, Bam revealed he had his credit card information tattooed to his body amid his series of rehab and jail stays due to the fact that his wallet and related personal items were routinely taken from him in such scenarios. Steve-O then spoke candidly about the inspiration behind bringing his friend on the road with him, a decision he previously confirmed on Instagram earlier this month.
"I think I can peel back the curtain just a little bit here and share with you guys that the reason I wanted to bring Bam on tour is because I am really fucking worried about him and it's become extremely uncomfortable to be braced for the news of your death, Bam," Steve-O said, as seen above. "I've been bracing myself for that fucking awful news and I can't stand it, man. So I wanted you to come on tour, stay close to me, see what's possible, help you put together an act of your own."
Steve-O then pointed to how Bam has this strong "arc" comprised of "funny bits and jokes and stories" while noting that it only holds any value if it ends on a happy note.
"It all doesn't mean shit if it doesn't have a happy ending where you fucking come out the other end happy and healthy and a good father and fucking thriving in your career," he said. "And that is what I want for you, brother."
As fans have noticed in recent days, Bam has also been sharing regular updates from the road to his own Instagram page. In a post shared early Monday, he shared a message of "much love and respect" to Steve-O while offering decidedly opposite sentiments for Johnny Knoxville and Jeff Tremaine.
In the same aforementioned Wild Ride appearance, Bam spoke at length about his issues with alcohol and Adderall, as well as detailed the extensive recovery measures he's taken recently. Revisit the full conversation below.