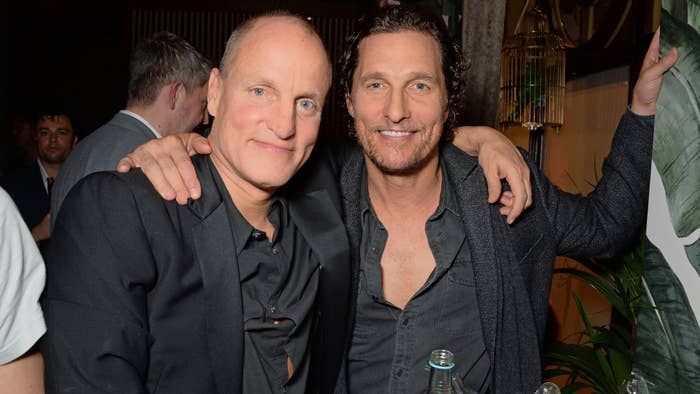 Matthew McConaughey and Woody Harrelson might be brothers.
McConaughey shared the revelation during a recent episode of Kelly Ripa's Let's Talk Off Camera podcast. His mother told both actors that she knew Harrelson's father long ago, with her hinting that their relationship was intimate, per Variety.
"You know, where I start and where he ends, and where he starts and I end, has always been like a murky line," McConaughey said of his True Detective Season 1 co-star. "And that's part of our bromance, right? My kids call him Uncle Woody. His kids call me Uncle Matthew. And you see pictures of us and my family thinks a lot of pictures of him are me. His family thinks a lot of pictures of me are him."
The 53-year-old continued, "In Greece a few years ago, we're sitting around talking about how close we are and our families. And my mom is there, and she says, 'Woody, I knew your dad.' Everyone was aware of the ellipses that my mom left after 'knew.' It was a loaded K-N-E-W."
McConaughey then dove into his family's background, discovering that his mom and Harrelson's dad might have crossed paths when he dad was on furlough, while McConaughey's mom and dad were going through a divorce. "Then there's possible receipts and places out in West Texas where there might have been a gathering, or a meeting, or a 'knew' moment," he said.
Harrelson, 61, was born July 23, 1961; McConaughey didn't come along until Nov. 4, 1969.
McConaughey said he has a "little more skin in the game" when it comes to finding out what really happened. "Look, it's a little easier for Woody to say, 'Come on, let's do [DNA tests],' because what's the skin in it for him?" McConaughey said. "It's a little harder for me because he's asking me to take a chance to go, 'Wait a minute, you're trying to tell me my dad may not be my dad after 53 years of believing that?
The pair are set to co-star in Apple TV+'s new comedy, Brother from Another Mother, a 10-episode comedy that sees the actors playing themselves and uniting their families at a Texas ranch. Listen to the entire episode of Ripa's podcast below.