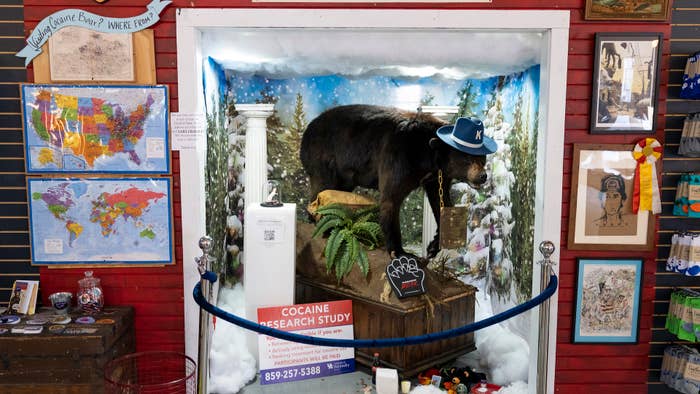 The real taxidermied Cocaine Bear will be officiating a marriage very soon.
TMZ reports that a Kentucky couple wants the stuffed animal to help them tie the knot next Monday at the Kentucky for Kentucky Fun Mall. The Cocaine Bear resides in a museum in the Lexington mall.
The couple, Alexandra and Armando were emboldened to involve the 175-pound bear—nicknamed Pablo Escobear—after the museum's co-founder, Griffin VanMeter, suggested just as much in an interview with Roadside America: "As long as you feel that the person marrying you – like Cocaine Bear – has the authority, then that marriage can be binding here in Kentucky."
The Cocaine Bear has once again found infamy due to the movie of the same name, which tells the true story of the black bear in Georgia's Chattahoochee National Forest that got addicted to the drug in 1985. The animal stumbled upon the stuff when a convicted drug smuggler named Andrew Thornton tossed 40 containers of cocaine into the forest from an airplane.
The bear unfortunately overdosed. The medical examiner who opened the bear up told the museum that the animal's stomach was overflowing with the drug. The bear was later stuffed and traveled through Georgia, Tennessee, and Nevada before landing in Kentucky.
To celebrate the big day, the museum is set to decorate the space with flowers and glowing hearts, and anyone is welcome to attend the wedding.