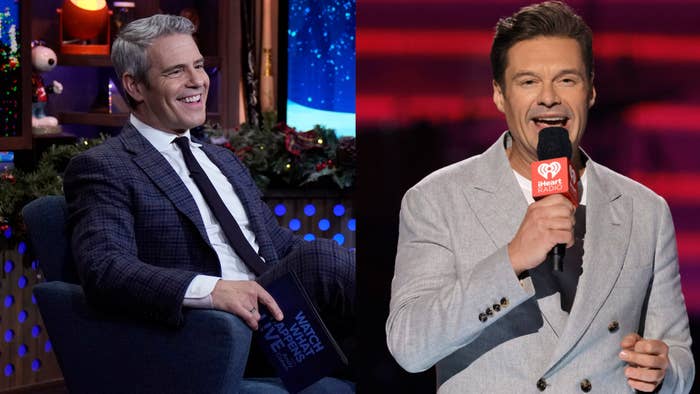 Andy Cohen and Ryan Seacrest have put any rumors of them beefing to bed.
Cohen joined Seacrest on the latter's On Air radio show on Jan. 5, where they cleared the air about rumors of them disliking one another. 
"I didn't know where we stood, Ryan!" Cohen said. "I got to tell you something, I like watching people fight. I don't like fighting with people." Seacrest responded, "Well we're not [fighting], that's the funny thing, that we are not."
Seacrest continued, "[Andy] and I have known each other for a long time, and we have been friends for years now. We are both in Time Square together, really doing the same job for hours and hours, and we talk about it leading up to it."
Their purported feud began last New Year's Eve when Cohen seemingly insulted Seacrest. Both of them host New Year's Eve telecasts: Cohen for CNN and Seacrest for ABC. While on air, Cohen said, "Ryan Seacrest's group of losers that are performing behind us."
Cohen was later remorseful over his comment, saying, "The only thing that I regret saying is that I slammed the ABC broadcast and I really like Ryan Seacrest and he's a great guy. And I really regret saying that, and I was just stupid and drunk and feeling it."
For this year's telecast, CNN barred hosts from drinking during the broadcast, and apparently even asked hosts Cohen and Anderson Cooper to take shots of mystery nonalcoholic beverages leading up to the countdown. At some point, Cohen had an outburst, jokingly yelling, "I need tequila! Honestly!"
Just before Cohen and Seacrest cleared the air on Seacrest's show, he appeared on Live! With Kelly and Ryan earlier this week and said he felt snubbed by Cohen. Seacrest said he tried to say hello to Cohen on New Year's Eve but Cohen "did not turn around," while Cooper did greet him.
Cohen responded on his Andy Cohen Live podcast, saying, "I didn't see Anderson turn around and wave. Usually, what Anderson will do…usually if he's waving at Ryan, he'll say to me, 'Hey, there's Ryan.' You know what I mean? And then I'll turn around and wave, or I'll say, 'There's Ryan,' but he didn't do that. Should I call him and yell at him about it?"
We hope Cohen eventually found himself some tequila.