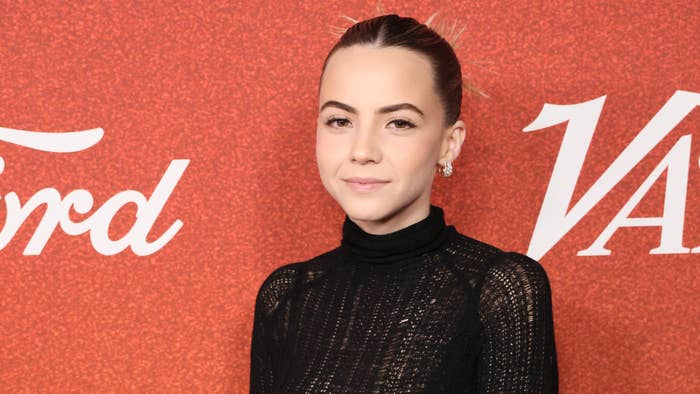 Bobbi Althoff went from having a decent following to being one of the most talked about people in pop culture seemingly overnight. The 26-year-old launched The Really Good Podcast in April 2023 and she became an instant hit after her rare interview with Drake in July. Due to the rapper's major following, the episode got millions of views.
Since the release of the Drake interview, Althoff has gained traction from some of the biggest stars in entertainment. Her deadpan persona attracted Drake's bestie, Lil Yachty, to her show, along with Tyga and businessman Mark Cuban. Althoff is known for her unorthodox interview style as she makes big stars uncomfortable with her dry-wit, making each episode an awkward yet hilarious watch.
After her mega success, the podcaster has been plagued by "industry plant" allegations with many wondering how she managed to secure such high profile interviews. Even more questions were raised after Althoff deleted all her content containing the Her Loss rapper and both parties unfollowed each other on Instagram shortly after the interview went viral. Neither has commented on the matter, but you know how sticky it gets.
Questions remain: Who is Bobbi? Where did she come from? Here is everything we know about the podcast host, her past, and her relationship with Drake.
She started out as a parody of a TikTok parent influencer
Before she was being called an industry plant, Althoff started her career on TikTok. She shares two daughters with her husband, Cory. She gave birth to her oldest daughter in December 2019 and had another child in June 2022. Her TikTok videos were about all things motherhood: raising her children, pregnancy, and breastfeeding.
Althoff became TikTok famous during her second pregnancy after creating several viral hits. One video, "Sucking in My Belly at Six Months Pregnant," obtained 5.8M views. She continued to post parent content with her awkward mannerisms and weird dancing style. She currently has over 6M followers and 190M+ likes on TikTok, a good portion of which she gained even before she started The Really Good Podcast.
In an interview on the Women On Top podcast, she explained why she embodies a satirical alter ego on social media, saying, "[being] myself doesn't get views, I had to do where the money was."
She went on to say the first video she posted on TikTok of her engagement went viral because she was awkward. She went viral again for being awkward at her wedding. "So I was like you know what let me lean into this weird self that I am," she recalled.
Since her rise to fame, the mother of two has wiped all information about her daughters from her social media accounts. In a conversation with Cosmopolitan, she noted that she made the decision early in her second pregnancy.
"I was getting really overwhelmed—people can just be so mean on the internet—and one night, I was like, I'm done," she said. "This is my daughter. It's my job as her mom to protect her, and I no longer felt like it was the right decision. So one night, I scrubbed everything."
Her MomTok content turned into videos of herself being a mother and less of her showing her children.
"There was a drop in followers, but I actually gained a lot of respect from that decision," she said. "I was a parody of a mommy vlogger, it wasn't a very difficult decision to make. She was never the focal point of my videos. Nothing really changed for me besides the fact that I deleted stuff."
After three years of posting parent content on the platform, she rebranded herself as a podcaster.
She is married
Bobbi is married to Cory Althoff. In her interview with Funny Marco, she revealed that she met her husband on Bumble dating app by DMing him first. She mentioned that her husband's dating profile resembled a LinkedIn page.
"My first message was like, 'You have all your accomplishments listed, what is something you are really bad at?'" she recalled. "He was like, 'I am bad at directions.'" Althoff says she planned to blow him off at first, but they ended up going on a date and hit it off.
According to LinkedIn, her husband is a computer engineer at CompTIA, working as a senior vice president for the Software Development Program department. He is also a published author with two books under his belt; The Self-Taught Programmer and The Self-Taught Computer Scientist. His wife is not the only star in the family, Cory was featured in Forbes magazine and CNBC.
Cory is not featured in much of his wife's content. But in the few that he is in, he seems to be a present father as he takes care of his two kids, switching duties with his wife.
She started her podcast in April 2023—with a unique strategy for getting celebrity guests
Althoff switched from being a TikTok comedian to launching her podcast, The Really Good Podcast, in April 2023. The California native admitted that she had an open call for people with industry connections to celebs, per Cosmo.
"It was really hard to get guests, so I made a video on TikTok saying that I would give $300 to any person who successfully connected me to a celebrity for a podcast," she said. From there, she paid someone to get into contact with each celebrity guest.
Her first episode starred actor Rick Glassman, but it wasn't until her second episode, with comedian Funny Marco, that her channel began gaining traction. At the time, Marco had 4M followers compared to Bobbi's 500K. She had a lack of faith that he would come on her show. After paying someone who had connections to the comedian $300, Marco agreed to do the podcast. This was a pivotal moment in her podcasting career, her Funny Marco episode received over 3.5M views on YouTube.
As for landing her once-in-a-lifetime interview with Drake, she chose to shoot her shot in the DM.
"I DMed Drake and asked if he wanted to be on my podcast, and he said yes. He sent me his touring schedule, and I knew that I needed to make it happen fast, so my friend and I flew to Memphis two days after the original DM was sent to record the episode," she said.
From then on, her popularity escalated as she interviewed Lil Yachty, Tyga, and Mark Cuban. Due to her star-studded interviews, she gained over 20M+ views on YouTube and over 800K subscribers so far.
During her interview with Mark Cuban, Bobbi admitted that she has $20,000 of credit card debt due to her podcast startup. She mentioned that she did not want investors to have access to her podcast. "I wanted full ownership of it myself," she said, receiving applause from the Dallas Mavericks owner. "I believe in my podcast. I am trying my best," she added.
Althoff speaks on allegations of being an industry plant
Many people have speculated that Althoff is an industry plant—a term referring to people who claim independence but have a hidden industry backing, including funding, to help them gain mainstream popularity.
In a conversation with Cosmopolitan, Athloff told the magazine that she is not an industry plant but is "really fun to lean into." Recognizing the noise being made about her success, Bobbi trolled her critics with an awkward TikTok of her dancing to Nicki Minaj and Ice Spice's "Barbie World" that reads, "Celebrating because the industry has planted me."
When Bobbi recently appeared on Rick Glassman's podcast, Take Your Shoes Off, Glassman revealed that Althoff is signed to the WME agency. The company is one of the biggest talent agencies in the United States and houses some of the biggest names in Hollywood and music, from Adam Sandler to Addison Rae to Bruno Mars.
On the show, she confessed that she has more "start-up" debt as she keeps maxing out her credit cards, hoping to pay it off soon. Glassman then confronts her manager, who is backstage, about the agency's lack of help to pay Althoff.
"Why isn't that you guys aren't helping her out? Isn't that your job? You are making money off her. Why don't you make her life a little easier," Glassman said. He continued to grill her agency, and she cracked a smile. "WME, what does that stand for 'Why me,'" he joked.
What happened after her Drake interview?
Althoff's interview with Drake gained over 11M views on YouTube. The bedside episode featured a rare appearance from the legendary star, who doesn't do many interviews. Althoff even mentioned missing her daughter's first birthday to interview the star in the recording.
In August, Bobbi attended Drake's It's All a Blur tour. She filmed a TikTok at the concert as she awkwardly stood while her friends jammed out to the rapper. "Really in my element here @ this guys concert," she wrote as the caption.
Shortly after the event, their relationship seemed to sour and she deleted all content regarding the rapper from her social media accounts. She even deleted the podcast interview, her most viewed episode to date. They also unfollowed each other on Instagram.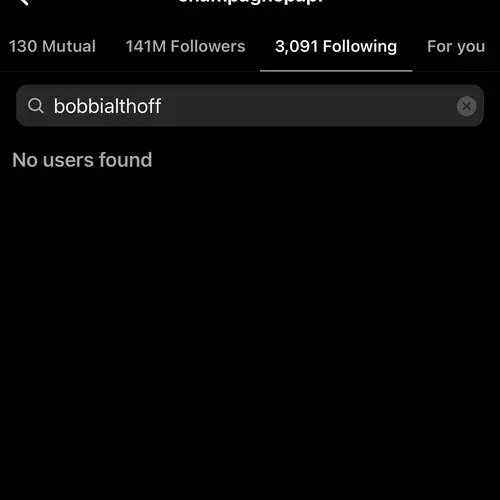 The two have yet to speak publicly about what happened.
Online rumors spread that Bobbi is headed for divorce after allegedly sleeping with Drake. In August, Althoff appeared on Portnoy's BFFs podcast, where she broke character, revealing details about her podcast. After her appearance, Portnoy helped spread the rumor about Althoff sleeping with Drake by saying he asked her about the rumor and claiming she wouldn't comment publicly.
However, Althoff set the record straight after revealing a screenshot of said conversation with Portnoy. In the texts, Portnoy writes, "My girlfriend says you hooked up with Drake and got divorced. I am saying that is not true," he wrote. But unlike the suspicious way Portnoy framed their conversation, Bobbi clearly denies the rumor outright, writing, "I am not commenting publicly, but off the record, you're right that is not true."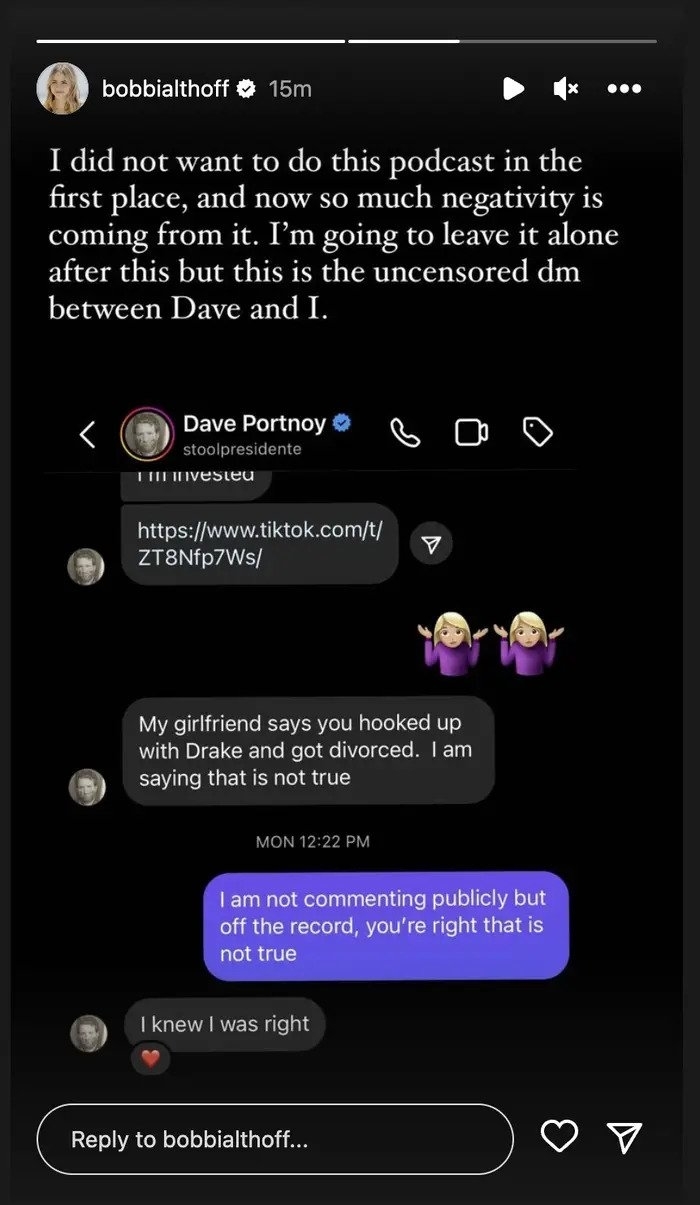 Althoff continues to establish herself in comedy
After Bobbi recently had a cameo in Offset and Cardi B's "Jealousy" video, she announced the next episode of The Really Good Podcast will feature the Migos' rapper. "Do you have any tattoos?" she jokingly asked in a clip, as Offset laughed, nodding to the obvious tattoos on his face.
In addition to building her podcast with star-studded interviews, Althoff strives to establish a name for herself in entertainment. Earlier in the month, the aspiring comedian joined in an open mic night embodying her condescending persona. Posting on TikTok, she captioned the video "I crashed an open mic session to give other comedians a reality check."
Recently, Live Nation Comedy announced a joint show featuring Bobbi and Marco Funny. The event is set to take place in October in LA.