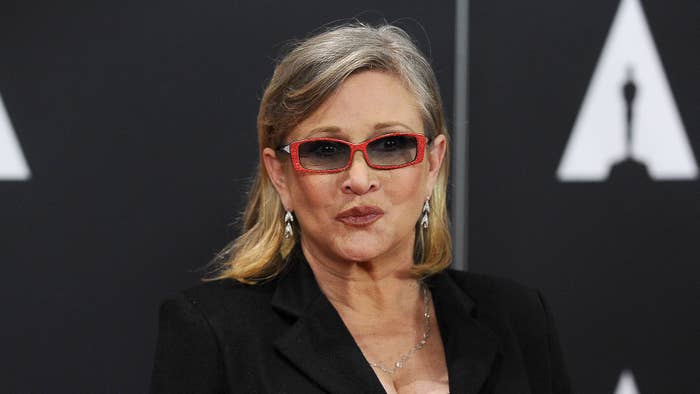 The late Carrie Fisher is finally getting a star on the Hollywood Walk of Fame. 
The Star Wars OG will receive a posthumous honorary ceremony on May the 4th, a.k.a. Star Wars Day. Fisher's daughter, Booksmart actress Billie Lourd, will accept the award on her mom's behalf. Guest speakers have yet to be announced. 
Fisher's co-star and onscreen twin Mark Hamill took to Twitter to share his thoughts on the news.
"Long overdue & so well-deserved. #CarrieOnForever," the Luke Skywalker actor wrote.
Hollywood Walk of Fame producer Ana Martinez released a statement announcing the news. "Fans will be over the moon to know that their favorite movie princess Carrie Fisher will be honored with her star on the iconic Hollywood Walk of Fame. Carrie will join her Star Wars costars and fellow Walk of Famers Mark Hamill and Harrison Ford on this historic sidewalk," wrote Martinez. "I am happy to add that her star is just a few feet away from the star of Mark Hamill and across the street from the star of her legendary mother, Debbie Reynolds."
This news comes six years after Fisher's death. The legend passed away on Dec. 27, 2016 from a heart attack at age 60. 
A spokesman of the family, Simon Hall, released a statement on Lourd's behalf, saying, "She was loved by the world and she will be missed profoundly. Our entire family thanks you for your thoughts and prayers."
Fisher is best known for her role as Princess Leia Organa in the original Star Wars trilogy (1977-1983). She reprised her role in Star Wars: The Force Awakens (2015) and, posthumously, in The Last Jedi (2017) and The Rise of Skywalker (2019).
In addition to writing a number of novels, nonfiction books, and scripts, Carrie Fisher also appeared in the critically acclaimed rom-com When Harry Met Sally (1989) and '80s comedy The Blues Brothers.