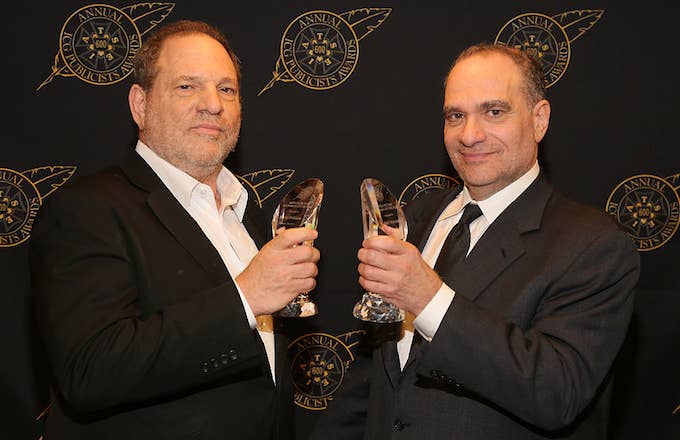 As the fallout from Harvey Weinstein's alleged sexual assault of over a dozen women continues, his brother and business partner, Bob Weinstein, granted the Hollywood Reporter a rare interview. The younger Weinstein acknowledged the how bad the optics look for his company, attempted to express sympathy for his elder sibling's alleged victims, and address rumors of Jay Z buying into The Weinstein Company.
The question that will likely be posed to Bob Weinstein and many of those thought to be close to Harvey Weinstein is how did anyone not hear about or see the signs of his alleged assaults. Some have claimed Bob was responsible for publicly leaking the information that blew the lid off of the Weinstein allegations.
"I could take a lie detector test on that," Weinstein told the Hollywood Reporter. "I didn't and, you know, Harvey is suspicious of everybody. People that are liars—lying to his wife, to his children, to everyone—well, they have to turn around and say, 'Who stabbed me?' It's unbelievable that even to this moment he is more concerned with who sold him out. I don't hear concern or contrition for the victims. And I want them to hear that. Harvey has no remorse whatsoever."
It's particularly telling that Weinstein's quote above didn't use the word alleged when discussing the accusations leveled against Harvey Weinstein. In fact, Bob Weinstein didn't use the words alleged or allegedly throughout the entire interview, adding, "And I, as a brother, understood and was aware as a family member, that my brother needed help and that something was wrong."
The depths of what Bob Weinstein described as a need for help is further illustrated by a physical confrontation Bob detailed during the conversation.
"He didn't break my nose but he got physical and there were several people there, and he assaulted me," Weinstein said of a fight with Harvey. "And I should've done something then."
He added that he believes he's only talked to Harvey "ten times on any personal level" in the last five years.
Bob Weinstein surprisingly addressed a rumor that Jay Z was looking to buy Harvey Weinstein's 23 percent stake in TWC in the wake of being ousted from the company. TMZ initially reported the rumor Wednesday, noting that Jay worked with The Weinstein Company on Time: The Kalief Browder Story.
"I'd love nothing more than that, but as far as I know, that is not a fact," Weinstein said, in regards to Jay Z possibly purchasing his brother's stake in their company.
You can read the full report via the Hollywood Reporter.