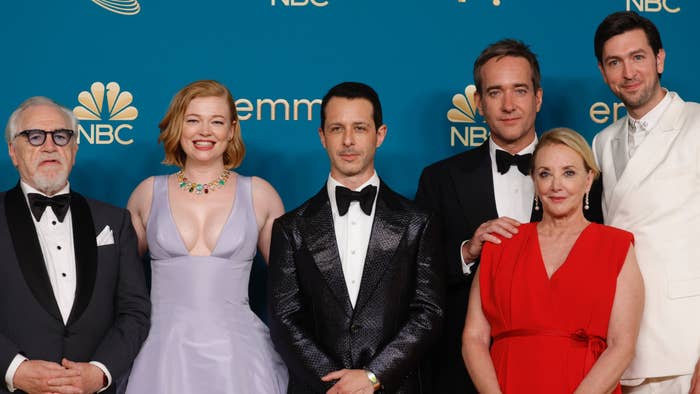 Extras on the set of the hit show Succession kept one of the biggest moments a secret for months and now they're sharing their experiences on keeping their lips sealed with videos on TikTok.
According to NBC News, the TikTok videos have been garnering thousands of views and it's no surprise given the fanfare with the award winning show created by Jesse Armstrong. Several of the TikTok videos show the extras celebrating their inclusion in the show, but many of them were focused on the big secret they had to keep.
That secret was the death of Logan Roy, the patriarch of the Roy family, and according to show director Mark Mylod, it wasn't easy keeping the secret alive but the extras played a part in keeping things quiet.
"When you have literally many hundreds of background people for several days, their ability to stick an anonymous Reddit post up … there are ways, I'm sure," Mylod told the Hollywood Reporter. "But nobody did. We didn't just ask them to sign an NDA. I spoke to them, the HBO team did, and we all spoke to them, asking them to keep the secret: 'Let's not spoil the enjoyment for fans of the show. Let's have this as our little secret. Let's not tell anybody. Keep it quiet. Obviously, tell your partners at home, but please keep it under your hats.'"
Ryan Polk played a photographer that took pictures of Logan Roy's body getting wheeled off a private jet, but he along with other extras had no clue who was in the body bag. As they were headed to set, crew members told the extras to keep what they saw a secret and they obliged.
Mylod was grateful that everyone obliged given how much effort has been put into the show over four seasons.
"It was out of good will, really … and [I'm] actually quite moved by that," he said. "It can be such a cynical world sometimes. That everybody kept the secret was really fantastic."
Another extra named Gregory Allen spoke about his time on the episode for Logan's funeral and explained no one said who the funeral was for. There were also two funeral programs prepared for the extras to throw them off that showed the faces of actors Brian Cox and Janes Cronwell, who play Logan Roy and Ewan Roy, respectively. Once the episode ran its course, the extras knew the funeral was for Logan.
Allen said it was a hard secret to keep but something he wanted to do as he didn't want to ruin the big moment for fans of the show. Gabriela Amerth was another extra that kept Logan's death a secret, which she did for over a year.
In the episode she was featured in, the Roy family found out about Logan's death while on a boat. Crew members told the extras to look disappointed but didn't reveal the reason. Amerth realized someone had died when all the lead actors except Logan in that scene left a private room on top of the boat crying their eyes out.
When her friends asked for any inside scoops on the show, Amerth told them: "I'm not gonna ruin it for you, and I don't want to ruin it for you because I wish I hadn't ruined it for myself. It's going to be so much better for you if I don't tell you."