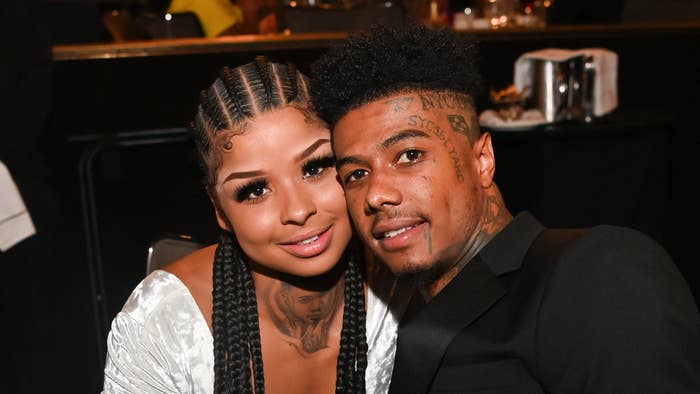 UPDATED 9/7/2023: In an interview with TMZ, Blueface's mother Karlissa Saffold has clarified her comments about her son and Chrisean Rock being related.
"I did some research from my family, and her mom is a Dorsey," she told Papparazi when asked about her recent suggestion Blueface and Rock are cousins. "But I did some research and it looks like, turns out that maybe we're not cousins, but we should definitely probably do, like, a DNA [test]. Just to find out what's going on."
Saffold went on to suggest that she thinks her son will be a good father to his newborn son with Rock, but it's "really really hurting him" that he's been unable to be with him. "He definitely wanted to, it's real selfish of her, the way she's going about it," she continued. "But he's already in a relationship. ... Do I think he'll be any less of a dad to this baby? Absolutely not, they know I don't play about them kids."
She added that Blueface apparently had no knowledge that Rock was going into labor when she did. As for the name of the baby, which is apparently just Chrisean too, Saffold said, "I think that she definitely probably did some last-minute vengeance, and that really sucks because he was looking forward to having a junior."
See original story below.
Blueface and Chrisean Rock may be more than just boyfriend and girlfriend, as the "Thothiana" rapper's mother has revealed the two might actually be related.
On Monday, Karlissa Saffold, Blueface's mother, took to her Instagram Stories and claimed her son Rock are actually cousins. According to Saffold, Chrisean's mother's last name is Dorsey, with whom she's related.
"I knew something was going on," she said. "I come to find out that Chrisean's mama is a Dorsey. She's a Dorsey. They're related to me!"
She continued: "Girl, if they're Dorseys … come on now, you know. They're my people. All the Dorseys is related. And they all act like that. They all strong and act like that. [Blueface] done had a baby with his cousin. I bet you we need to test the baby."
"Social media is all entertainment for me guys nothing I say or do has anything to do with rock I broke up wit her 3 months ago I moved on it's time for you guys to move on to I'm with someone else now I been posting my Bm non stop for 3 months now I'm all about Jaidyn now," he wrote in a tweet shared late on Sunday.
"Please keep me an rock out the same conversation respect my BM #1 that's what it is an that's what it's gone be I will never go back to that," he wrote in a second tweet. "I know what's best for me respectfully."