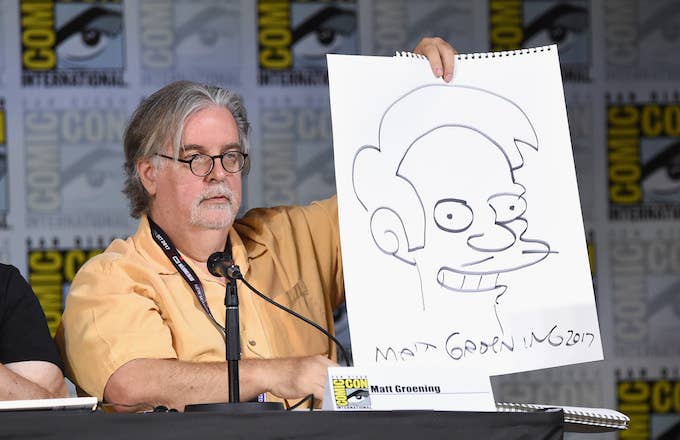 The Simpsons creator Matt Groening seems to see nothing wrong with the show's depiction of Apu, the Indian Kwik-E-Mart proprietor who speaks with a heavy accent and was the focus of comedian Hari Kondabolu's documentary on the issue, The Problem with Apu. In an interview with USA Today, Groening states plainly that "people love to pretend they're offended."
Hank Azaria, who voices the world famous character of Apu, finally responded to the controversy last December, saying that "anybody that was hurt and offended by any character or vocal performance is really upsetting, that it was offensive or hurtful to anybody." 
While Kondabolu himself didn't find these remarks substantial enough, and The Simpsons casually dismissed any validity of the issue in a recent episode, Azaria appeared on the Late Show with Stephen Colbert not too long back and said that his "eyes have been opened." He added, "I'm perfectly willing and happy to step aside or help transition it into something new," which Kondabolu—and others—thanked and appreciated him for. 
Groening, on the other hand, is on the other end of the spectrum in regards to racial sensitivities and media portrayals of people of color. He seems to conflate any criticism of a character's behavior or appearance with specific criticism—using the fact that audiences were angry with Bart's mischievous personality but ultimately accepted it to defend the widely-criticized portrayal of Apu.
"Bart said he was 'an underachiever and proud of it, man,'" said Groening. "Simpsons t-shirts were banned in grade schools. I felt that the controversy at the beginning of the show was, again, people pretending to be offended by Bart's very mild sassiness. I knew it would blow over." Of course, the overly sensitive reaction to a cartoon character that dislikes school and likes to use a slingshot was, let's say, completely unnecessary. The same cannot entirely be said about his stance on the ever-brewing Apu controversy, as there are far more nuanced complexities to the matter.
When asked if he considered Apu's portrayal an insensitive stereotype, he staunchly disagreed. "Not really," he said. "I'm proud of what we do on the show. And I think it's a time in our culture where people love to pretend they're offended."