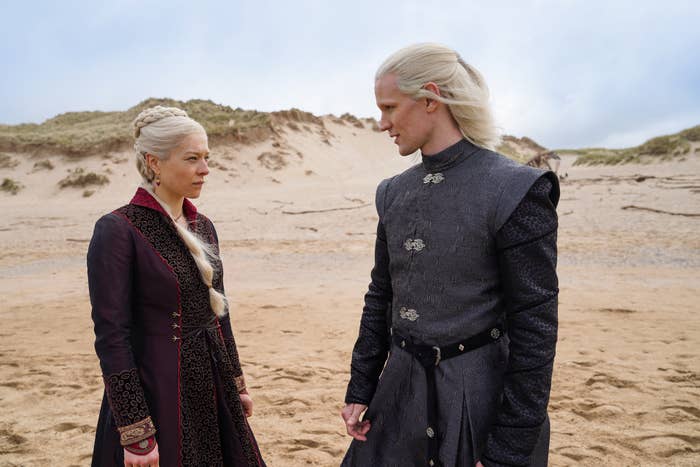 HBO and HBO Max chief content officer Casey Bloys confirmed production has wrapped on the highly anticipated Game of Thrones prequel series House of the Dragon, but said COVID-19 is to blame for the delay in solidifying a premiere date.
"One of the reasons why we were trying to be careful with declaring a date is when you're producing with COVID—and every show has dealt with this—crew members, cast members get it," Bloys told The Wrap. "You can shut down unexpectedly."
He added that the team has been "cautious about declaring a date while producing a show—a huge show—during the pandemic," and said the hesitancy wasn't the company "trying to be coy or anything like that," but rather "just trying to be realistic."
Deadline also quoted Bloys as saying, "Now that we are out of production, I think that we will talk to their guys and figure out what we want to do in terms of announcing a date. But I was just trying to make sure that we didn't come out with a date that we couldn't meet for something that was out of our control."
House of the Dragon, which was first teased in April 2021, is a Game of Thrones prequel set 200 years before the happenings of the original show. It follows House Targaryen and reportedly relies on the 2018 book Fire & Blood by George R.R. Martin—who is set to executive produce—as its main source material.
Ryan J. Condal and original Thrones director Miguel Sapochnik will also helm the series as co-showrunners. Starring Paddy Considine, Matt Smith, and Olivia Cook, House of the Dragon is one of multiple spinoffs planned for the GoT universe.
"We do have a handful of other things in development, but we're only going to green light things that we really believe in and are excited about," Bloys confirmed, per the Wrap. "I'm not just filling slots on a calendar saying, 'We need a certain number of Game of Thrones sequels or prequels."
Deadline added that Bloys said certain projects are "looking really good" and that HBO is "really doing it just based on what we're excited about creatively."
Watch the teaser for House of the Dragon below.