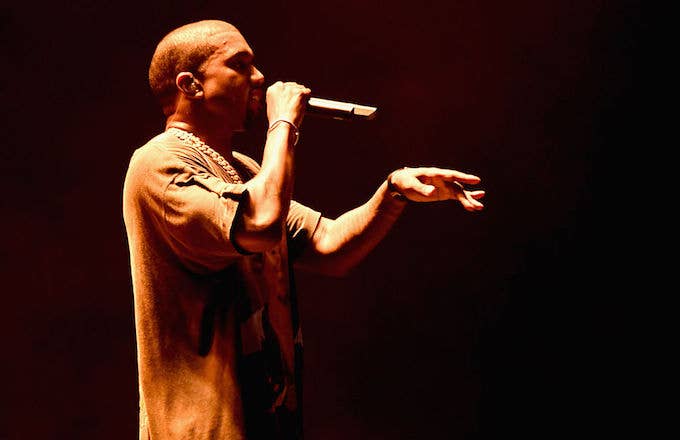 If you've been online over the past few weeks—which of course you have; this is 2018—you may have noticed a person by the name of Kanye West is making noise on Twitter again. It feels like the good old days, doesn't it? During the lead-up to 2016's The Life of Pablo, 'Ye's tweets were all anyone could talk about. His Twitter fingers were entertaining the general public, but he was also calling out fellow rappers and pleading with tech giants for financial assistance. He dominated our timelines, causing calamity online and inciting conversations of disbelief IRL. It was quite a time to be alive.
Then 2017 came and Kanye decided to "focus on stuff that matters." In other words, no more social media. He deleted his Instagram and Twitter accounts and the world became a barren place, with no happiness or inspiration as far as the eye could see. It went on that way until this year when Yeezy peeked his digital head up again on Valentine's Day; he took it upon himself to post a slew of lo-res photos of Hollywood couples of yesteryear to Instagram and many took it as a sign that he was back on social media. But the next day, the account was deaded and we fell into a collective depression again. It wasn't until this month, April, that 'Ye made his triumphant return to Twitter. And man, did he return.   
He kicked things off by throwing shade at Nike, then settled into a rhythm of sending out absolutely random musings about anything and everything. Those tweets—131 as of the time of this writing—cover a range of topics, from Lamar Odom to contractual advice to musings on life, which oh yeah, are 'Ye's moment-by-moment philosophy book that he's writing in real time. If you've seen any of his tweets thus far, and if you're reading this post, chances are you've retweeted at least one of Kanye 2.0's thoughts as your own. And if you did, what does it say about you? Don't even trip, that's what I'm here for: to judge you, in the most loving way possible. Now, let's get these tweets popping.