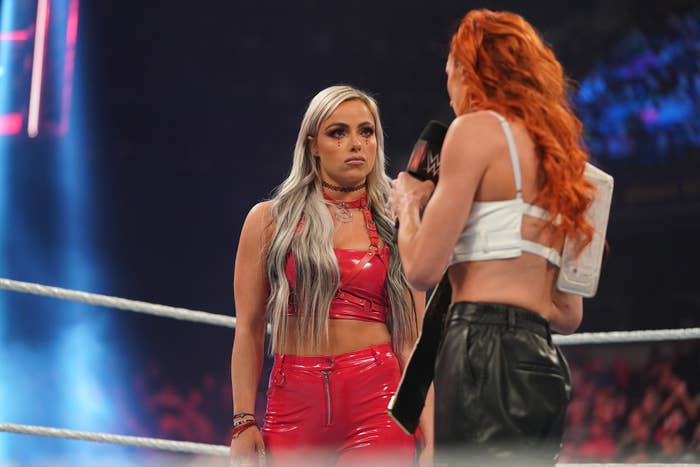 Scrolling IG the other day, I saw a remix of the Dune (2021) poster that dropped back in August, featuring WWE Superstar Liv Morgan—aka current No. 1 contender for the Raw Women's Championship—replacing Timothée Chalamet. You won't see me denying that placement. In Denis Villeneuve's Dune, Chalamet plays Paul Atreides, described as "the ducal heir to the House of Atreides." He can use The Voice to make folks do his bidding, and he has these visions of the future that guide his actions. There's also this whole thing with Zendaya and a sandworm, but don't get ahead of yourself. This is about Liv Morgan finally fulfilling her quest to become a World Champion in the WWE.
Sure, comparing Liv Morgan and Paul Atreides isn't a clear one-to-one, but we aren't going to act like Liv hasn't been working towards the very moment that she got earlier this week on Raw, where Liv—decked out in all-red, both on-brand and representing a freed hero—confronted current Raw Women's Champion Becky Lynch, demanding that Lynch acknowledge (pun intended?) her, or at the very least watch as she proves that she's very capable of taking the Raw Women's Championship from her. Liv put Becky on notice, giving us a peak into what we may be seeing from these two down the line.
Days after calling Lynch the b-word(!) on Raw and getting the best of one of the Four Horsewomen, Morgan spoke with Complex about some of her recent pop culture-leaning 'fits, gearing up for Survivor Series—which airs this Sunday night on Peacock—life on the Wonderland Ranch, and her eventual Championship match against Lynch.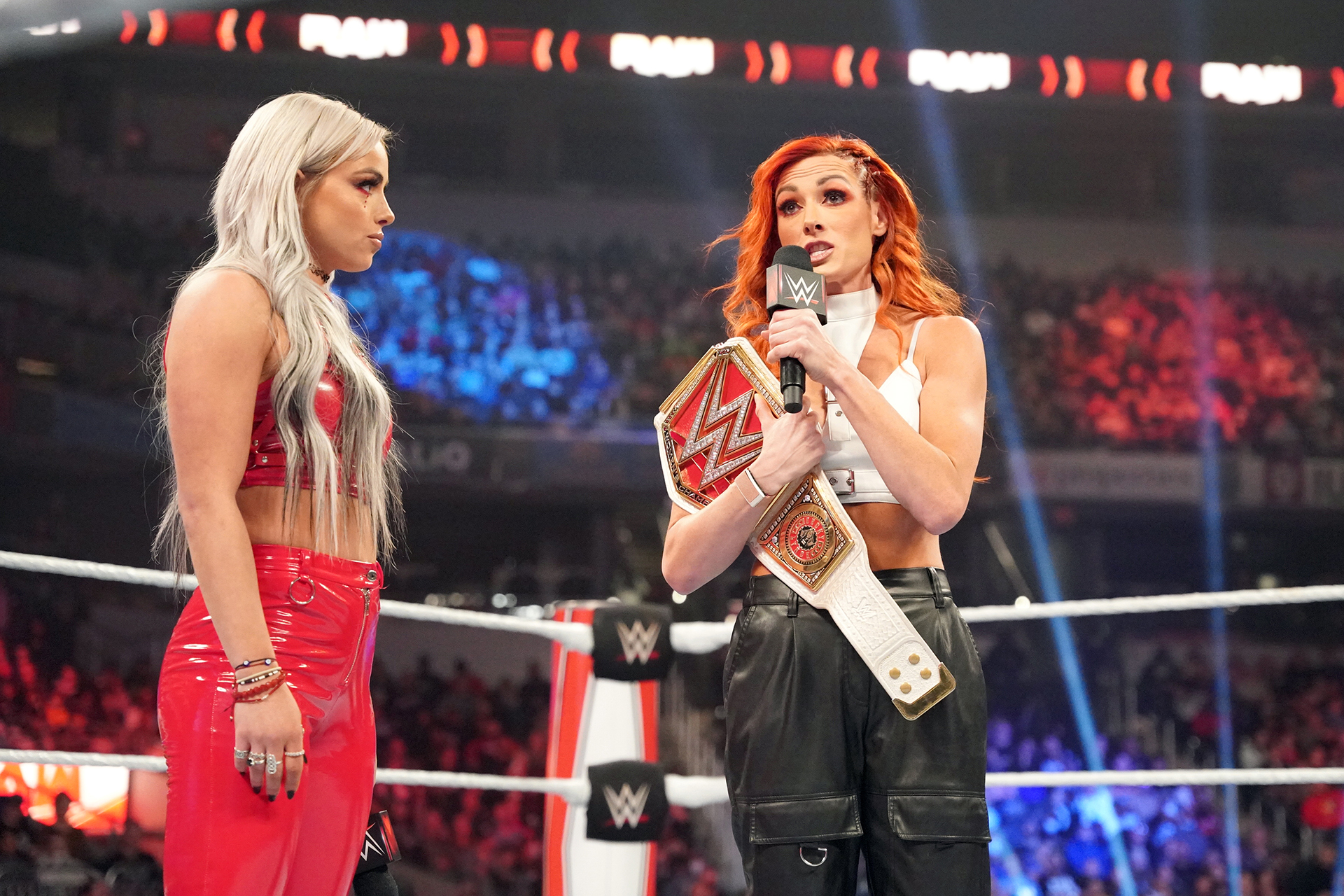 When we spoke last year, we got into a conversation about your gear and you coming into your own over the last few years. Dare I say even in the last like five months, since the summer, there's been a big change. When did you decide to turn that love for Chucky into Good Guys-inspired gear?

Well, I've always loved Chucky. I've done a lot of different interviews and podcasts pertaining to horror movies and some just Chucky specifically. I've always loved the movie. I've always been a fan. I've been so excited for the new Chucky series on USA Network. I love it. I don't know if you watched it?
I've watched a little bit. I'm not fully caught up, but I love the tone.

Yes. The tone, the themes. They're so good and it gives you that old school, typical Chucky vibe that you love. It kind of gives you a little bit of everything with the current-day theme. It's really cool. You should try to catch up whenever you can. But yeah, I've always loved Chucky and because of the series, I thought it'd be cool to do Chucky-themed gear, which led into my Halloween costume. It's been a theme of events.
The Halloween shoot was dope as well. Growing up, I was always a fan of Jennifer Tilly.

Oh my God. I love her.

Are you just at home, "Let me put on this full-on seance"?

That's literally what I did. [Laughs] I had to fly out on actual Halloween, so I knew I wasn't really going to be able to celebrate. I literally was at home and set up a little photoshoot. I had my phone on a little timer and I just did it and I had so much fun with it, and I enjoyed it. I did feel a little satisfied. The energy felt cool. It was very vibey. I was like, "Oh my gosh, this feels real a little bit."

Do you have aspirations to ever be involved in that acting universe?

Oh yeah, it's something I thought about more recently than ever. I'm definitely interested. I feel whenever the timing's right, the perfect opportunity will appear. Right now, I'm so focused on my work in WWE and winning that RAW Women's Championship, but I definitely have goals for the future. I'd love to be in Season 2 of Chucky. I'd love to be killed off in a little cameo.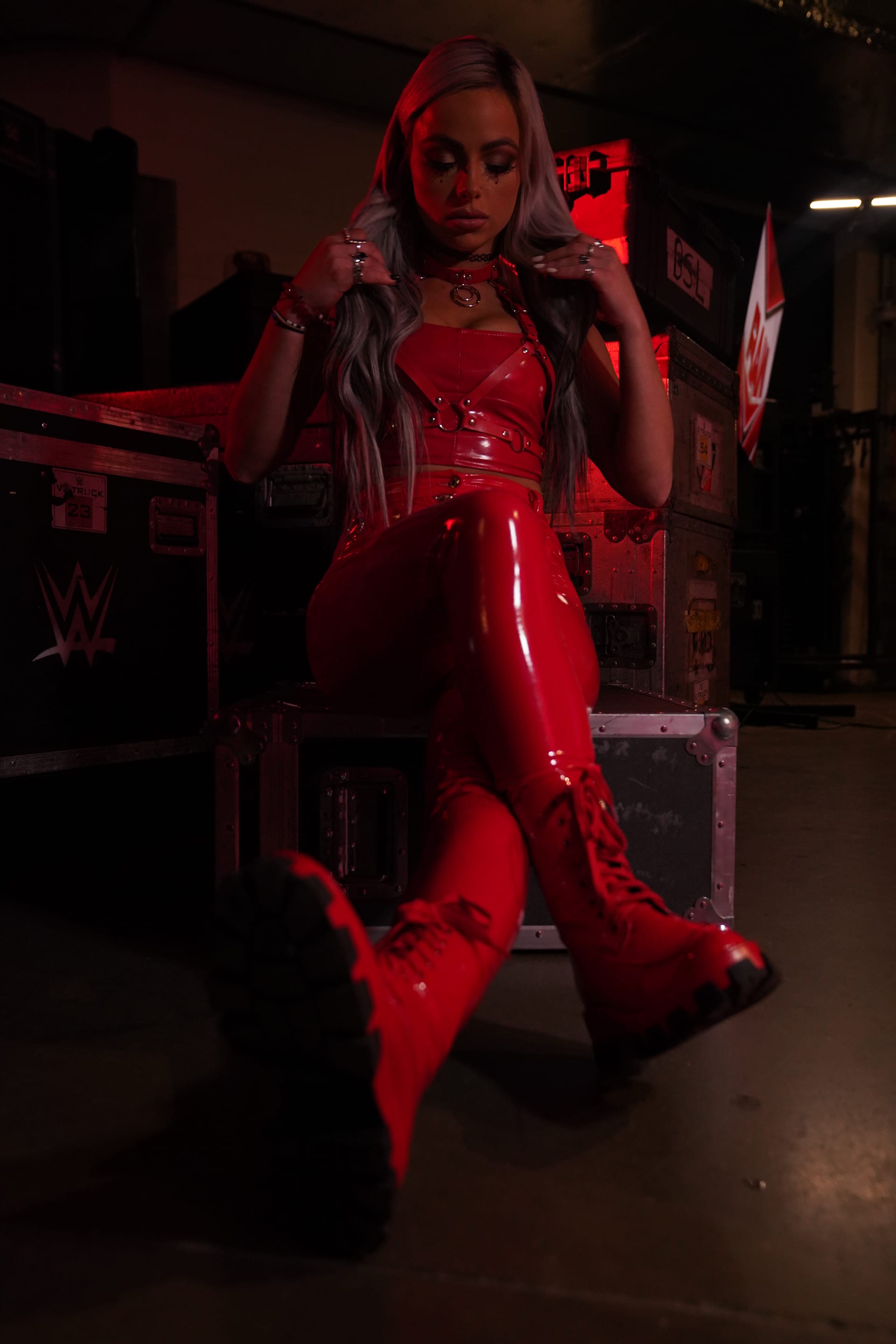 Haha, no doubt. Now the other thing that popped the internet this week was your outfit on Raw, which many said was Britney Spears-inspired. Are you a big fan of Britney?

She's free.

When you heard the news, did you know that that's what you were going to wear on Monday?

It was Britney's theme, but it was a coincidence. I had this outfit packed in my little gear bag, just in case, for any kind of promos or anything backstage that I get to do that's not in ring gear. I brought it and Britney just got freed and I was like, 'Oh my gosh, it's the perfect opportunity to whip out this Britney-inspired, 'Oops!...I Did It Again'-themed gear.' I was a huge Britney fan growing up. I had everything: posters, bedsheets, all her albums. I had her concerts on tape and I just watched her concert back-to-back. I loved Britney and I'm so happy that she finally gets to live life on her terms, the way that she wants.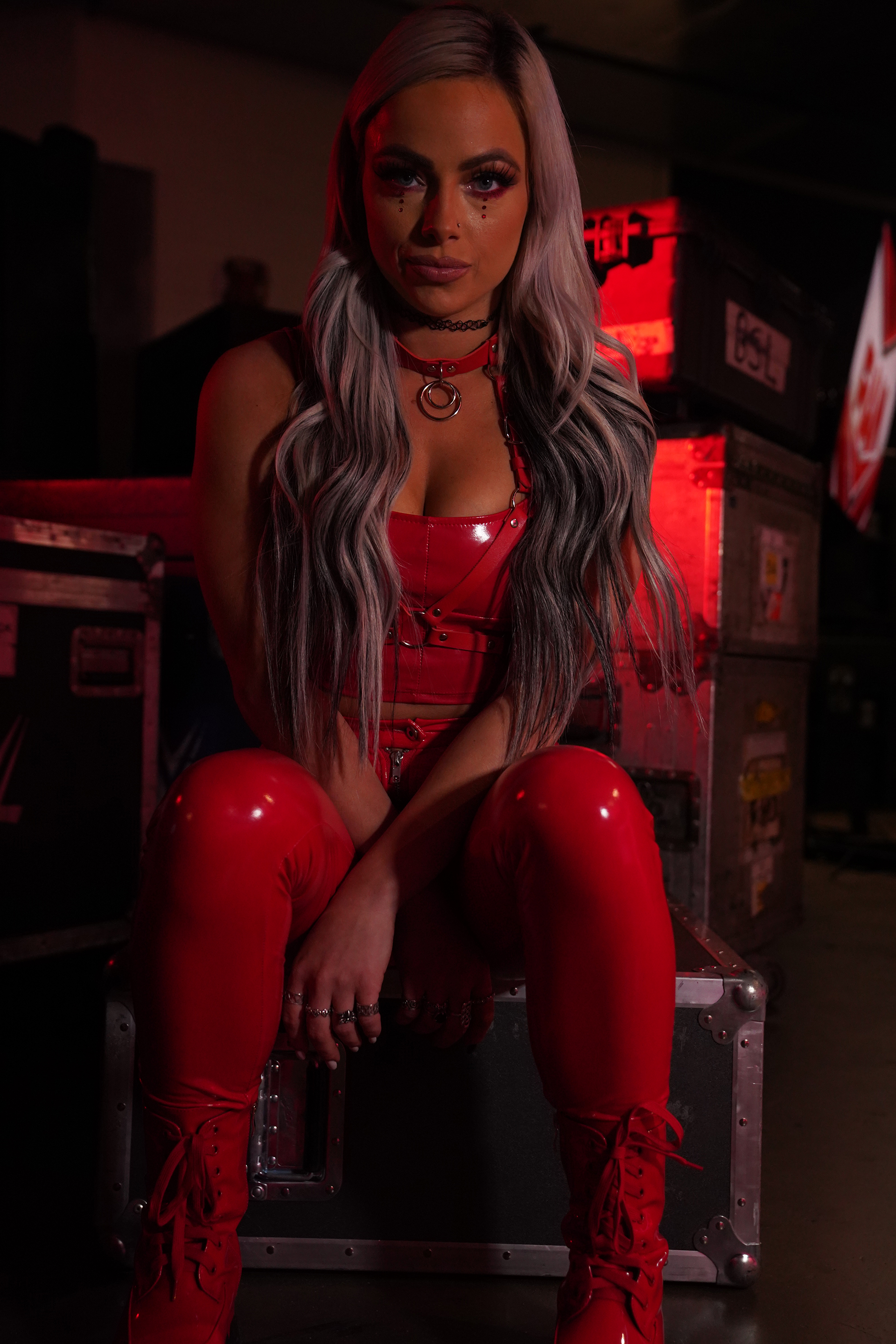 NOTE: For some reason, my recording device decided to get a little wonky, cutting off the beginning of our Wonderland Ranch conversation. Know that we may not know what fruit was on that tree. Our transcription picks up in the middle of a story about the bull next door right as Liv says 
I think all my cows are pregnant.

Oh, wow.

She was kind of just like mooing really loud for like a week. And I was like, "Maybe something's going on next door." I was like, "Sorry; they're going off; the cows are going crazy." Then I woke up one morning to find he had somehow hopped over the fence because there was no breakage anywhere and got to all my girls.
Next thing I know, wombs are starting to grow, and I was just like, "OK, well, I think I'm going to have some new cows." [Laughs] So, it's been eventful. I'm waiting—cows are only pregnant for 50 days, and this is about a month and a half ago, so I'm like, "Oh my gosh, any day now."

You're a real rancher when you're home, huh?

I'm not like milking the cows. I'm not really; I don't even like [eating] eggs, so I collect the chicken eggs for fun. It's more like an animal sanctuary; I just like taking care of them. I like just watching them live and thrive and grow. It's been a fun experience.
But also, my cows are so notorious for giving birth on pay-per-view days. I have a cow named Rumble, [and] I have a cow named Mania, so I'm wondering if I'm going to have a cow named Survivor Series, but I'm like, that's totally not you. I got to thinking of "Survivor."

That's funny.

I'm wondering if I have a little Survivor cow.
Do you have plans to get back on YouTube anytime soon?

I do. It's crazy as I think about it a lot because my fans seem to really enjoy just watching me outside of work, and it's fun. It's a fun way to interact with them on a different level, but it's so hard coming up with YouTube content. Oh my gosh, it's so hard. And then I'm always like, "What do I want to film? I want to make it worth it for them." But then also my schedule has changed. I was filming when we were based out of Orlando, and it was just an easy drive for me. Now I'm on the road three, four days a week again. So it's just the dynamics a little bit differently. But I want to find time to be able to jump back on YouTube again.

I don't know if you want to make your page a whole sneaker closet or whatever, but you could do some content like that. Filming your sneaker collection.

My number one request is a closet tour, a sneaker closet tour, so I think that's where I would go, actually for my first video back.
Survivor Series is usually the Thanksgiving tradition pay-per-view. What are your holiday plans?

Yeah. So I'm just going to have Thanksgiving here on the farm. My mom lives out here now. My little sister just moved out here now, so my family kind of migrated all from New Jersey to Florida, really close to me. So I'm going to be able to spend Thanksgiving home with my family. I'm not traveling that day, so I'm excited.

That's awesome.

What about you? What are you doing?

I'm going to be home. Maybe that's the day I'll catch up on the rest of Chucky. Maybe that's what'll happen.

Oh my gosh. I don't know what's more family-appropriate than binge-watching the new Child's Play on Thanksgiving. [Laughs]
Catch Liv Morgan representing Team Raw on WWE Survivor Series, airing Sunday, Nov. 21, 2021 at 7 PM ET on Peacock.