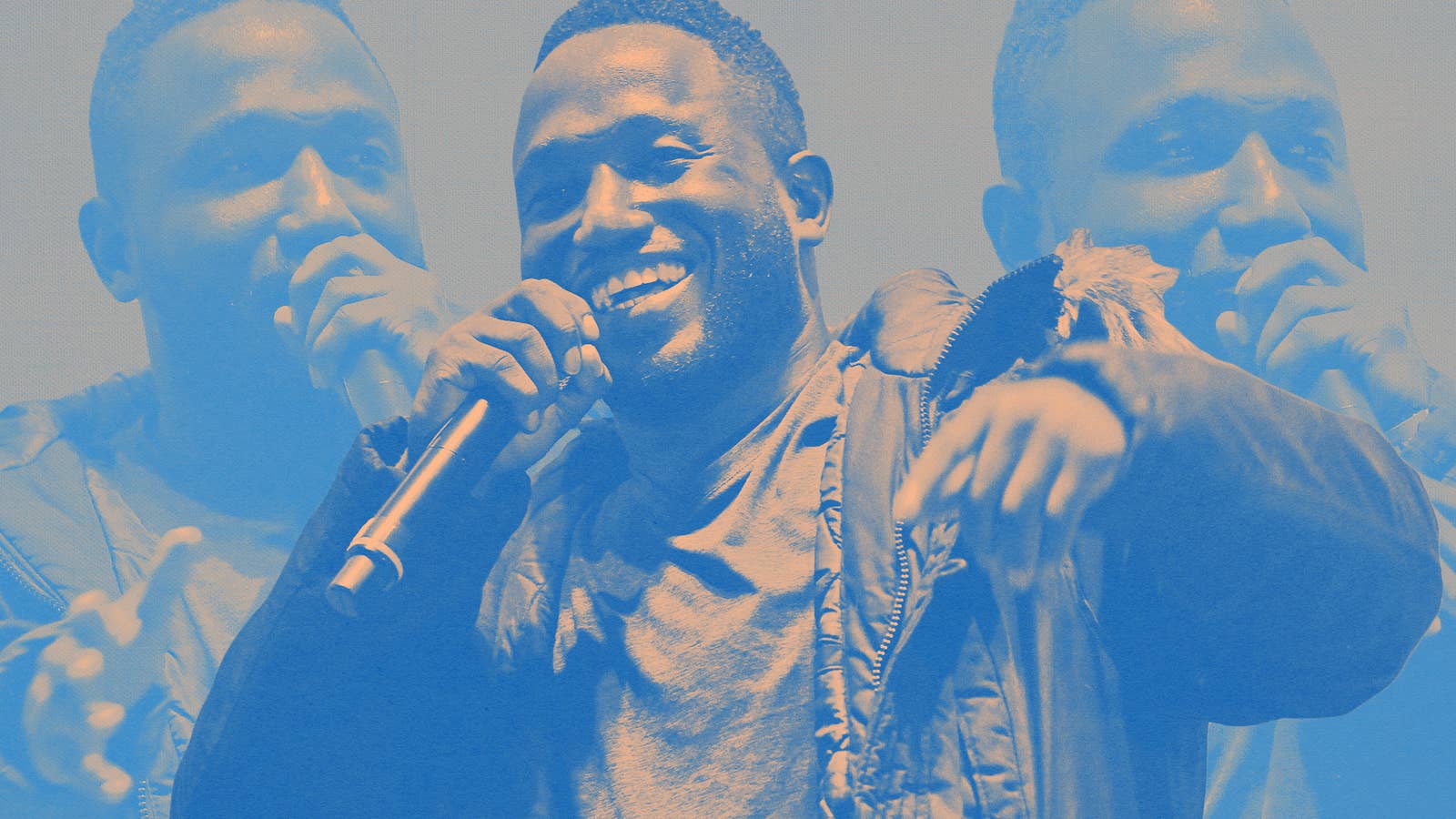 Anytime someone asks me how I got to where I am now (wherever "a check away from homelessness and crippling depression as a Black husband and father in America" is), I give them this simple secret: You have to do the work. Nothing can replace getting your hands dirty on a project. You understand how systems work in your own language, and the more you do anything, the closer you get to mastering the craft. Money and bloodlines can get you far, but nothing trumps experience. It's a trait I saw in Hannibal Buress during the two Undock sessions we spent discussing the growing list of projects and ventures he's managing at the same damn time.
Want another simple secret? Hannibal Buress is fucking funny. He's been funny. I'm not sure of where I first saw Hannibal perform stand-up, but I do remember running through his first album, My Name is Hannibal. That was 10 years ago. Since then, I've followed him throughout his "mildly popular" (his bio's words, not mine) career, which has included numerous stints at Comedy Central (Broad City and his own series, Why? with Hannibal Buress), Adult Swim (The Eric Andre Show), and NBC (working on both Saturday Night Live and 30 Rock). He's done films (the Neighbors films, the Secret Life of Pets films, Spider-Man: Homecoming, Tag), been podcasting, and has been featured in two video games: Grand Theft Auto V and NBA 2K17. Hannibal's been in grind mode but has also been the catalyst for one of the more eye-opening scandals to come out of Hollywood in recent memory. I'm not surprised that, instead of trying to be more in the public eye—remember, Hannibal's the guy who paid a double five C-notes to work the red carpet for him—Hannibal would be spending more time working on the edits of his latest stand-up special, Miami Nights (which was a reference to his 2017 disorderly intoxication case, which he beat in 2018 and discusses at length during the hour) and a number of new projects and hobbies, from getting his 2K on and mastering the streaming service OBS to creating a new podcast, Splitting 10s, with his uncle, Kelven Stovall, a former casino card dealer.
Hannibal has been funny. You see it at the beginning of Miami Nights (which was released on July 3, 2020), where he shares some classic footage of his original stand-up incarnation, Hannibal Amir Natural. Being that Hannibal and his uncle are close in age (y'all know how it is when it comes to "young uncles"), they share a similar sense of humor. Based on the hands life has dealt them, they've gone down vastly different paths, but where Hannibal feeds Kelven's sense of humor, Kelven has some of the most intriguing tales based on the varying walks of life he's come in contact with. Their podcast is the most fascinating thing I've learned during quarantine, and feels like Hannibal's latest passion project, with products like Zoom allowing him to both connect with his uncle while turning passion into (potential) profit.
As quarantine evolves, it's intriguing to see how different people move. During our first conversation back in July (roughly a week after the release of Miami Nights), Hannibal was at an undisclosed location, in a studio space where I imagine he may have worked on some of the Auto-Tune bits for Miami Nights as well as recording whatever OBS-driven promo for the special, podcast demos, and other shenanigans. It's a smart investment for a landlord who is also a creative. For our follow-up, a week and some change later, Hannibal was back in his native Chicago, where he quite noticeably felt more at home and out of whatever quarantine fog he was in during conversation one. Not that the conversation suffered at all; you can just tell how new energies operate based on location during the pandemic. Our conversation spanned the work put into his new special, a car accident at a property he owns, maintaining a sense of regularity, and how he's combating his vices these days.
I spoke with Hannibal ahead of the announcement of his Let's See How This Goes drive-in theater tour—which kicks off on September 22 and touts being "masks required" while also maintaining social distancing rules.
Talk about putting Miami Nights out on YouTube as opposed to some other streaming situation.
The decision to put it on YouTube was kind of late. I made that decision in May. I had an opportunity to go to one of the other places and it was pretty close, but it didn't feel right with the current state of the business right now. I decided to just...with the world crumbling, let me try to put it on YouTube. [And] if I'm putting it on YouTube, a good amount people going see it. [Ed note: Miami Nights has amassed 1.7 million views at the time of this writing.] I started thinking, "Oh, maybe I could get a sponsor for it." But with the time constraint and knowing how big corporations work, trying to get what I wanted approved in that time, for a beginner, it probably would have been tougher.
Then I started thinking maybe a newer startup would be a good partner to work with and I reached out to a friend of mine, Candice Matthews Brackeen. I said, "do you know any about any companies that you would recommend that I would have at the beginning of my comedy special, that will make sense that you just really see us something that's going to be dope and grow it?" She recommended Undock. Initially, actually I thought Undock would be a good potential partner but not for a special, but then I talked to the founder. I got really hyped about it. We made it happen.
Was the plan always to drop Miami Nights at this time?
It was going to drop July 21st, actually. If you go to a streaming service they need it earlier than a day before. They need it probably more than a month, two months before, just because they have a lot of different processes, so there's all these different technical things that need to be done with the piece, whereas YouTube was [just] "upload". As long as you can get it uploaded, you got it. I think for me personally, is it something about having a real deadline? That's like okay, this is going up then. I was able to add in stuff and work off of that energy and "okay, let me get these other clips from back in the day off of [the]Comedy Camisado tour? Let me grab this and let me change up the credits and say some stuff and these other things.
That was exciting to me [was] to be able to have some touches that were July 2nd, July 1st ideas, you know what I mean? It was nice to be able to do that. We had the scene where we were editing and then during the editing online, I was like "Oh, what if I referenced the edit in there?" It was fun to be able to have these last-minute things like cramming, it's all well what about this.
How long had you been working on Miami Nights?
I would say beginning of 2018 or something, late 2017 is when I started talking to Kris Merc [Ed note: Miami Nights director Kristian Mercado] about it. He directed Open Mic Eagle's "Ziggy Starfish (Anti-Anxiety Raps)" music video. I met him on that shoot in New York and then reached out maybe a couple of years later to work on a promo shoot for a tour. The promoter wanted me to do a straight-to-camera tour date [video]. It wasn't only my tour, it was some other folks on there. "Oh, can you just say Atlanta this date and Miami this date, and then we'll do it straight again," just real boring. I'm like "hey, can we bring in Kris Merc to do it?" They were like "Nah" because they didn't really want to pay him, so I pushed for him and then they finally said "yeah."
[So we're] doing the shoot and it's just simple promo dates. Then he brings in orange lights or whatever and then afterward he animated the words "Miami" and "Atlanta" and these the tour dates coming out of my mouth. He really elevated what was just a simple idea. I knew if I did a comedy special with him, 'cause he never did one, it wasn't going to feel like any other comedy special.
It definitely doesn't. What is the device that you're using on stage to mess with your vocals?
It's a vocal processor. I don't want to say the specific brand because they haven't been responsive.
Was your idea initially to have that device out there on stage during the special?
Well, I was doing that in the podcast first.
I was going to ask, because I remember when you started doing that on the podcast.
Yeah. So I started having it in the podcast first and then I started bringing it to show and it did well at the shows and it was also a challenge to make sure I didn't overuse it. Some shows would get a little looser than others but that was a thing, too, to make it its own. Not to lean on it. I can't think of which cities I did, but there's probably some cities where I was really autotuning a lot.
What about the were moments where you would change the jacket and go into full-on singing mode. Was that shot in front of the crowd?
That's a trade secret.
Seeing you develop over the years, based on the projects that you pick up, I know that your mind works a little different. Not too many people are doing like those underground Flying Lotus movies or The Eric Andre Show. Seeing the way you were promoting Miami Nights on YouTube, leading up to its release, it felt a lot like you were conducting a live stream. Even during the special, where you're on stage almost engaging in a talk with the crowd about your arrest. It's been a lot more interactive, a lot more engaging.
Yeah, there's it was just sometimes the words work and a lot of the bits, I feel good because I've done a lot of those bits, no production just in the comedy club, and a lot of them could still go off. I've told the arrest story without any news coverage or without any sauce. I think it's just trying to level up, like just how [you're watching] TV and [they say], "Oh, and here's the clip." It's just my way of just trying to be understood. That's how we understand. "Hey, no, listen to what he said on the song." This is how you listen with a friend, you play it for the friend and you look at their face while they hear the shit that you are really excited about. Just trying to really bring it. Even if somebody doesn't know these songs or these artists, really trying to like "here is what I'm interested in. Yeah. Like please understand."
It seems like music has played a big part, not just in your shows, but I feel like in your life. You used to rap, right?
I recorded music and rapped before I ever did any standup comedy. I've been making music sporadically or hosting albums, I've been adjacent for my entire 18 years performing, from hosting events early on to freestyling. I battle rapped in college a couple of times. Me and Open Mike Eagle battle rapped in 2003 or some shit. It's always just been a part of my life. I really enjoyed it.
You've mentioned Open Mike Eagle's name a few times, and I know some of his music was utilized for Miami Nights. What was it about this particular song that made you want to use it for this special?
"Relatable". Yeah. It just hits so hard. I think it's just a really [good song] to have to end the special. The first line is "when I get nervous, say something relatable". It's just trying to relate and trying to connect. I feel like just that energy and the tone of the song to end the special just it really fit.
Years back, you used Rustie and Danny Brown's "Attak" during your tours. Was that because you were a fan of Rustie's, or were you drawn to this because of Danny Brown?
Yeah, it was because I knew about Danny. I didn't know much about Rustie. I've checked out some other stuff of his because of this track, but just the energy on that. Yeah, that one, I walked out to a bunch on tours. Chrome Sparks' "Marijuana" was my main one. It was depending on my mood maybe sometimes the city of it. I like songs with big drops and just that buildup of that verse and then the beat drop. I just like I walking out on a beat drop. I think that comes from growing up as a wrestling fan, too. The entrance is very important.
I've always had that conversation about like what would be my entrance music if I was a wrestler or a boxer. I think if I wanted to get psyched, I think you probably would be M.O.P's "Ante Up". That's always my go-to. Do you have a song picked out for something like that?
For walking out for wrestling?

The one time Hannibal goes to WrestleMania for a match.
See, you can't just do that.

It's that time, man.
No. I mean, there's other questions. Okay, who am I wrestling? Is this just a big one-off match? Is there some history? Because then I might lean into it. Try to pick something.
Well, then I have to ask you a question. One of the constants in the special is you trying to maintain a level of being "medium famous." So, how much are you willing to be going back and forth on TV with the WWE? If this is the one time you could do it—you got to leave the house though, a couple of times a month to go shoot on Raw.
How many?
It's WrestleMania let's say three to four appearances. Not necessarily Raw, maybe one or two could be like online. Only something will drop on YouTube.
Are we "this is life is back to normal"?

Life is back to normal. It'll be WrestleMania that Sunday, you might get a tweet or two on Monday because people are seeing clips on GMA or something but by Monday afternoon, you're back in your studio making sounds.
What song? Sometimes as a joke just a couple of times for gigs, I will walk out to "Rocketman".

If you walk out to "Rocketman" at WrestleMania, you really got to have the whole experience going out there though.
That might be a Shawn Michaels style entrance on the zip line. I would have to have a zip line or some type of vehicle. ATVs [or] something like that. I've walked to an obscure Jay-Z track [before]. "Things That U Do" by Jay-Z featuring Mariah Carey off of Vol. 3.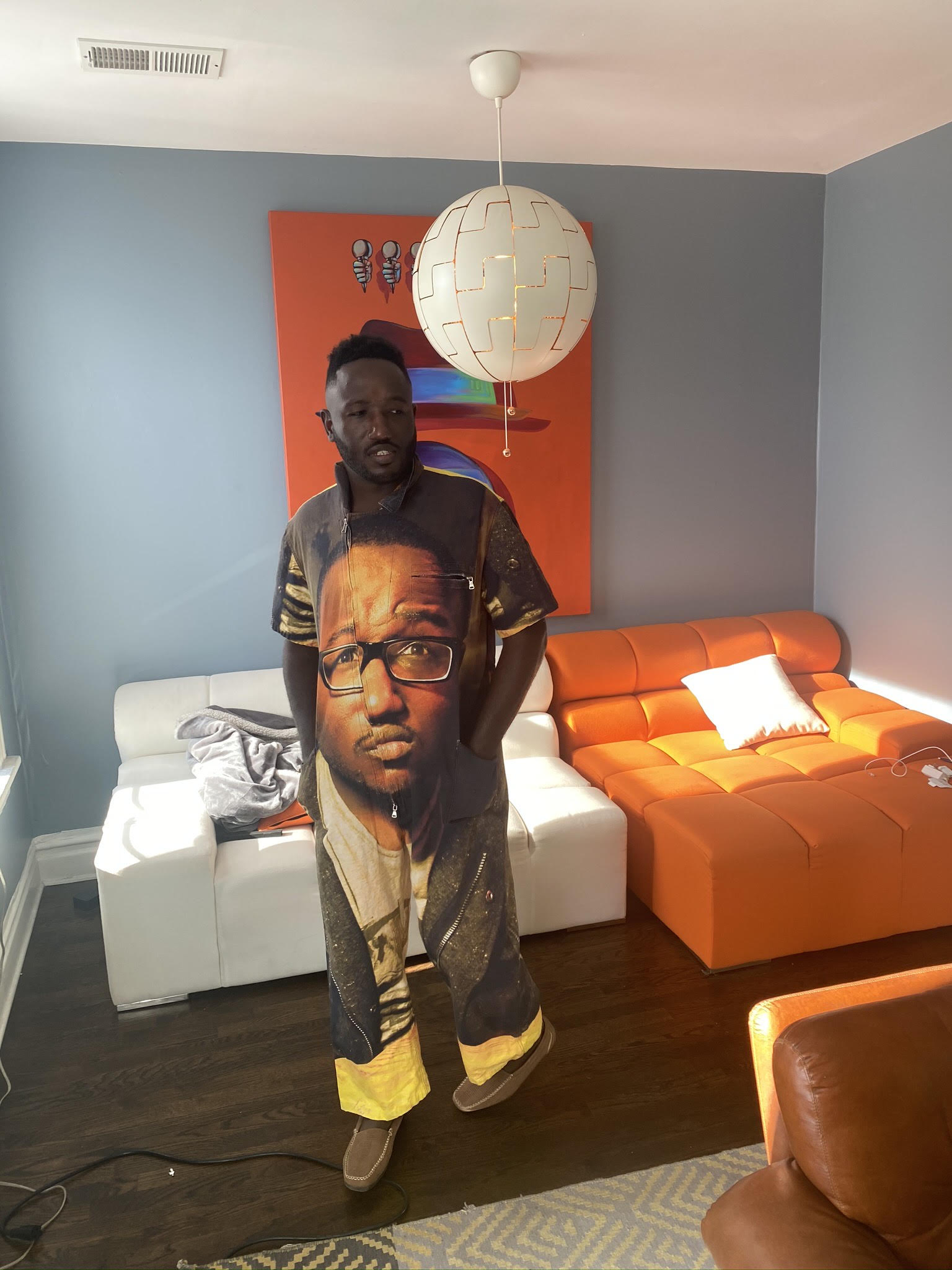 During the New York Times review of Miami Nights, Jason Zinoman mentioned how you were "a go-to performer for supporting roles," but that you were "not the focus of his own vehicle, beyond comedy specials". I thought it was odd, primarily because he didn't mention Why? with Hannibal Buress.
One thing that is a part of this and people don't always know what decisions go behind what happens. You know what I mean? You only know what jobs somebody takes because they take them and then you judge or you say, "Oh, that's where they at?" I like doing my work. I like putting out stuff, but it's not necessarily fame or only that, that I'm chasing because if it was then you'd know. Because you've seen it in my decision making over the past couple of years, I didn't do any film in 2019, at all. I did one small thing for an old friend in Chicago. A one-day thing. Just homie shit.
But that's not because I wasn't offered any film, it's because I didn't want to do any film. I got offered big indie movies as a lead. It was the whole gamut. It just wasn't where my energy or wants were. [I'm] just doing and directing my time to shit that genuinely makes me happy.
I feel like I'm starting to understand you a lot more than I have in previous years. Because you're in Spider-Man: Homcoming, but you're literally sending someone to the premiere. You seem like somebody who doesn't really give a shit about any of that.
It just varies. I honestly wanted to go to the Spider-Man premiere, but I was filming Tag. It was downtime on the set to be able to put that together and then it went way crazier than I could've imagined. I didn't expect Inside Edition to just show up at Joe's house. I haven't taken a film since I stopped drinking. Now, I don't know if that's a coincidence.
It's funny how that works though, right?
I don't know if that happens to be a thing, but who knows? I make weird connections sometimes. If that's a haze being cleared and me realizing that that's not the work I want to do even if that's available to me, maybe it's that. And then obviously, I'm in a position where I've had some success; that's an easier choice to make.
Without getting in anybody's pockets, those do seem like good checks. We recently spoke with Giancarlo Esposito and he has two podcasts. He records them right at home. It's really easy work if you're willing to take the time to invest in it, I guess.
Now you can really streamline your producing processes. And now you can really strategize. I've been talking with my cousin for years about, "Hey, you should do 2K videos." Because my cousin, Percy, is a hilarious dude. We play the game all the time, there's a lot of laughs. I've seen a lot of the YouTubers that play 2K, I'm like, "My cousin is as funny as them and I think he has a good perspective on the game." But now, with shit being slowed down in the world, I can think about the game in a different way. "Okay, the game drops in September. Maybe, we can get an early copy or something like that, and then let's figure out what we're going to play so we can start to schedule it out for September right now. What are we going Tuesdays and Thursdays? Okay. Let's lock it up and then let's get somebody over there to make sure that you're getting the footage right, so we can really make shit happen in a way where if I was touring, my thinking would be the same." I just can see things a little bit better from a plan of production and that's really cool, too, because now I'm able to really see lanes for people. It's a part of doing a podcast with my uncle called Splitting 10s. It's a gambling podcast.
Wow. Just talking about the ins and outs of shooting dice and things like that, or how does that work?
Well, he dealt at casinos in the Chicago area for a while. I think that perspective is really interesting because he facilitated people losing thousands, millions of dollars. I don't know what his overall stat is? Actually, that's a question I want to ask him over time.
He probably dealt to somebody and saw them lose $350,000 in front of his face in an hour. That's a wild way to see life through, eight hours at a time. It's provided a focus, conversationally. Rambler was all over the place, but now it's, "Oh, this is a narrow premise. You can veer off a little bit." But, yesterday we did an episode with Kevin Bozeman, who is a gambler also, and talked about Sportsbet and just different things. I think we were really getting to the psychology of it and just why people do it; it's been fun. We've only done two so far, but I can already feel that it's different and thinking about the different guests we'll get and just the real exploration of the topic, I'm excited about it.
Uncle Kelven's worked in the casino, but it was also interesting to hear Uncle Kelven just randomly be like, "Yeah, I was talking to Monie Love, and Monie Love was shouting me out". What does Kelven get into now?
He helps out with my spots out here, looks over. I don't know what else. I think he's done a couple of standup sets. The Monie Love situation, I got to find out more.
Your guys' relationship has always been like that, just real chill? It sounds like he really appreciates the way you make him laugh. But also on the flip side, he's got game and just information that he can impart on you. It's a really dope back and forth, at least I caught, in listening to the first episode.
Yeah. He was that a lot of those early shows. We've been kicking it heavy for a minute.
Are you big into gambling?
I was.
Was that tied into your drinking?
They were cousins. They were close cousins, for sure. I stopped drinking in 2018 and then in 2019, I stopped gambling. It's been about a year and a half.
The gambling wasn't a problem early, but I was introduced to it early. Just shooting dice and whatnot. It's just the rush. I think it plays into the same wiring. The comedian brain has immediate feedback and risk-reward escapism. You can get into a zone and it can be really fun. Yeah. I just found that whether you're winning or losing you're in a bit of an unnatural state. Even with sports gambling, spending a lot of time researching. I had to really look at it, "Okay. This is not really me at all." It wasn't killing me because I was doing all right but it just wasn't, "Okay, I could do something else with the time and the energy."
Our first conversation veered into a number of paths, from Internet Wormholes you can go down researching something crazy to some of the music that's been getting Hannibal going (he not only bigs up DJ Taye, but we spent a lot of time talking some fire Teklife footwork talk. Chicago, stand-up). After saying our goodbyes, we scheduled another Undock session for some follow-up. This time, Hannibal was back in Chicago, and his mood was different. Our conversation flowed the same, but the week prior, Hannibal was definitely in a more isolated space. Sitting in a room, hearing the Chicago streets faintly through his microphone, Hannibal was going through his mail, mentioning a dispute at one of his properties. Uncle Kelven, his Splitting 10s co-host, was also in the building.
khal [to Uncle Kelven]: It was cool to listen to you guys. Your dynamic, your relationship is really interesting. What's the age difference there? It don't look like it's that far off, honestly.
Uncle Kelven: Nope. I was a young uncle.
khal [to Uncle Kelven]: It's also funny to hear you get your rap on a little bit at the end.
Hannibal Buress: Oh yeah, always. See, now my interview is going to have a little more, since I'm home and not just been quarantined. I'm catching up on shit. Somebody crashed into my building a couple of months ago.
What?
Yeah, they crashed into the building I got on the West Side. [Ed note: Uncle Kelven reads some of the information about the incident aloud.] You do it on Zoom. All right. Well, I'll be there. I'll be there, hater backgrounds, ready to go. Design team will be notified in August about our initiatives for October 6th.
As long as you're hitting record on that one, I can't wait to see what the hell goes down there.
Somebody smashed into the building. And I was in LA when I found out. I don't know if it was because of quarantine or whatever, but I didn't feel nothing when I saw it.
It's just like "something else happened". There's too much going on to be that shook over anything.
It was just like, I just saw, and he took a chunk out. He mashed into the shit, man, and bricks just gone. Somebody might have to do a structural inspection or some shit. I saw, because it looked bad, I was like, "Is he dead?" He was like, "Nah." It was one of those things like, "huh, what am I going to do? I don't know."
That's one of the things you don't get prepared for when you, when you go into real estate, what happens when somebody smashes into your building?
Somebody smash into building. Well actually, another building of mine that I don't have, it got set on fire. I don't remember being too... It's just was like, "I guess stuff gets on." But during quarantine, when somebody stole bowling balls from my car, that felt like such an affront. I drove around looking for the motherfucker, in Chinatown, downtown LA, which it was in deep lockdown so it wasn't too many people on the street. So I was really like, "Okay, they not that far."
I was looking, because they were in a rolling bag. I had two because I had gotten really into bowling at the end of last year, early this year. I was definitely on the path to rolling 200 games. I'd hit 181 or 185 in late February, early March. Since the bowling alleys got shut down, that messed up my arc. I was a rising star amongst my friends that bowl.
[Ed note: Hannibal is very into bowling. Like solo-dolo bowling. It got to the point where he legit was like] I was in talks with the PBA about doing events or popping up at stuff. I was pitching a show idea, 50 States of Bowling.
For like Travel Channel or something?
Anthony Bourdain... yeah, travel bowling show, these different bowling alleys that have characters and stories, and then maybe talking to folks, interviewing, going to town, maybe do a little performance at the bowling alley, have some convo, that type of thing. Everybody bowls, or a lot of people bowl, but there's no good casual television. It's all pro bowlers and you see them, but it's nothing I've seen at a high level that was successful just casual, chill bowling, which is most of the public.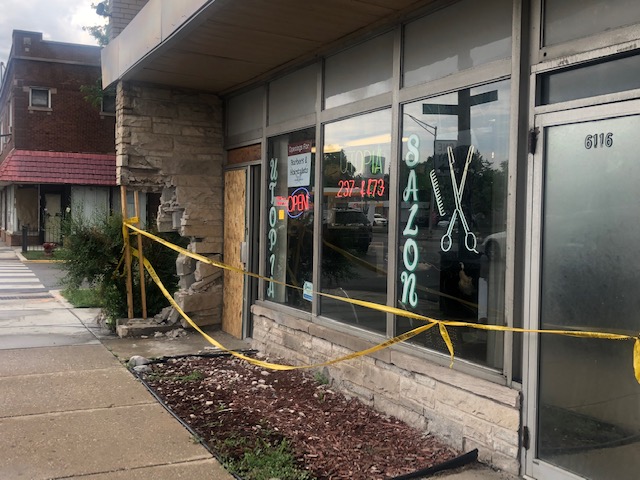 With everything you're working on outside of stand-up and Hollywood, are you taking that energy and moving it to maybe working on a script or a film idea? Is that something that you have any passion for?
I have a couple film concepts. And then we did the Isolafest doc, that's not a script, but I want to get that together. I have a couple ideas that could be potentially be movies, but I don't know if I'll go that far with them, if I want to go through that process of it. That's me speaking just currently, now.
I'm not moved to like, "I want to fucking write this movie and set up this scene". I think of stuff that's scenes or something, or I'll think of, I'll hear music, certain music, and then I'll be like, this song would go good in this scene. This feels super cinematic.
I like the different ideas I'm working on now, just because a movie, it requires a lot of other stuff that you can and can't control. To get a movie going to shoot a movie. And even you got locations, you have permits, you got this, you got that, now you got COVID protocol. A lot of the concepts and stuff I'm shooting and thinking of is just like, "boom, we can do it here, and we can definitely ship this shit within a week of doing them". That could change, but we'll see. Maybe we'll see if Kris Merc want to do a movie.
Are there any projects from you, or that you worked on, that have been lingering out? I feel like I always hear that there is another season of Eric Andre sitting around somewhere.
We did that last year. They just finished editing, or they might still be editing. Yeah, that's pretty much that. I just did a couple episodes, one or two episodes. No, because I haven't done any movies since 2017.
Was that Tag?
I think Tag might be the last one, because after Tag, went on the road for a little bit, or festival. I stopped drinking. Stopped drinking, stopped doing movies.