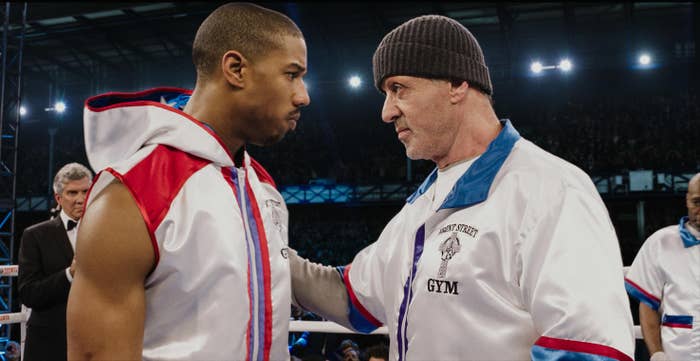 It is difficult to conceive of a Rocky movie without Sylvester Stallone, especially because the franchise was entirely his vision. He wrote the screenplay for the first movie, and when it came time to sell it, he turned down a massive payday from a big studio, just so he could play the title role himself. 
It paid off; Rocky won Best Picture at the Academy Awards in 1976. And from that moment on, Rocky was iconic. Sometimes he was the underachiever with the steel chin. Other times, he was a red, white, and blue American superhero. But even when the script didn't hold up or the premise was too far-fetched, Stallone's charisma pulled it over the line. 
The common assumption after Rocky Balboa was that the story was over. Then Creed, starring Michael B. Jordan and directed by Ryan Coogler, came out in 2015, and suddenly, everything old was new again. The underdog story is an enduring one. And now that Stallone is no longer front and center, we will see exactly how durable that story is.
Creed III stars Jordan as Adonis Creed and Jonathan Majors as Damian Anderson, a ghost from Adonis' past. The movie is the ninth official movie in the Rocky franchise and the third movie in the Creed franchise spin-off. It is also, somewhat notably, the first Rocky movie without Stallone's involvement, due to a row between him and longtime producer Irwin Winkler. Stallone bears no ill will toward Jordan, however, and wishes him the best. Fans seem to have supported the film even with Stallone's absence, and it made history as the highest-grossing debut for a sports film on its opening weekend.

For now, here is every movie in the Rocky and Creed franchise, ranked from worst to best.
9.
'Rocky V' (1990)
8.
'Rocky II' (1979)
7.
'Creed II' (2018)
6.
'Rocky IV' (1985)
5.
'Rocky III' (1982)
4.
'Rocky Balboa' (2006)
3.
'Creed III' (2023)
2.
'Creed' (2015)
1.
'Rocky' (1976)