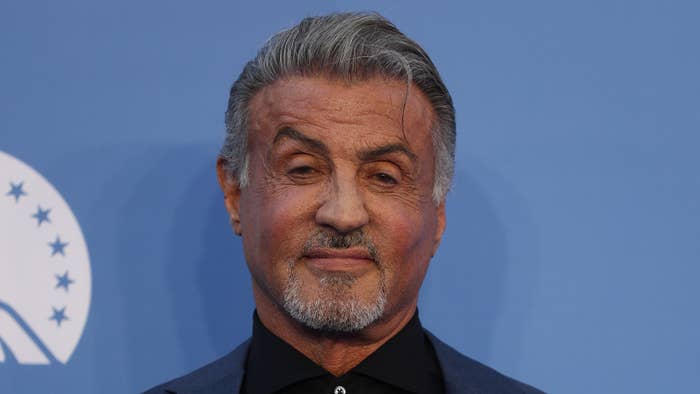 UPDATED 8/1, 6:45 p.m.: Dolph Lundgren—who was one of the direct targets of Stallone's ire—has commented on the situation.
"Just to set the record straight regarding a possible Drago spinoff. There's no approved script, no deals in place, no director and I was personally under the impression that my friend Sly Stallone was involved as a producer or even as an actor," the 64-year-old wrote on Instagram. "There was a press leak last week which was unfortunate. In touch with Mr Balboa – just so all the fans can relax…There ya go. 👊
See original story below.
Sylvester Stallone was none too pleased to find out that MGM was moving forward with a Drago spinoff film. 
Stallone, 76, posted a screenshot of the Wrap's article about Drago being in the works on Instagram Saturday, along with a lengthy caption in which he took aim at longtime Rocky series producer Irwin Winkler and his children, Charles and David. "Another Heartbreaker… Just found this out…ONCE AGAIN, IRWIN WINKLER, this PATHETIC 94 year old PRODUCER and HIS MORONIC VULTURE CHILDREN, Charles And David, are once again picking clean THE BONES of another wonderful character I created without even telling me," he wrote. 
"I APOLOGIZE to the FANS, I never wanted ROCKY characters to be exploited by these parasites," Stallone continued.
Winkler has been a producer on every single Rocky property, including the two Creed spinoffs, and upcoming third installment, which will not star Stallone. His issue with Winkler goes beyond just using his characters for solo projects. According to IMDb, Stallone sold the rights to the original 1976 Rocky film, which he wrote, to Winkler and Robert Chartoff for $350,000 because he allegedly had $106 to his name and a dog that he couldn't feed and was trying to sell. 
Rocky then became a huge hit and received three Academy Awards, including one for Best Picture. Stallone was nominated for Best Actor and Best Original Screenplay. The critical acclaim and box office success led to five follow-up films, which were written and directed by Stallone, except for Rocky V where he relinquished the director's chair to John G. Avildsen, who helmed the original film.   
After reprising his role in the first two Creed films, Stallone spoke out about not owning the rights to the billion-dollar Rocky franchise in a 2019 Varietyinterview. "I have zero ownership of 'Rocky,'" he said. "Every word, every syllable, every grammatical error was all my fault," adding, "It was shocking that it never came to be, but I was told, 'Hey, you got paid, so what are you complaining about?' I was furious." 
Stallone posted a series of photos on Instagram on Sunday depicting Winkler as a vampire, with another showing Winkler holding the screenplay for Drago while he and his two sons stab the character of Rocky in the back. "Presumed to be the most hated, untalented, decrepited, Producer in Hollywood and his cowardly children have found their next meal… Drago, RETURN MY RIGHTS BLOODSUCKERS," he wrote in the caption. 
Stallone also targeted Dolph Lundgren, who played Ivan Drago in Rocky IV and Creed II, for not reaching out to him about the Drago spinoff. Even though MGM only recently greenlit the film, Lundgren seemingly implied that there had been some talk of a spinoff while speaking with The Hollywood Reporter last November.
When asked about a hospital fight scene that was cut from Creed II, Lundgren said he was disappointed that it wasn't included in the film, adding, "By the way, I think there's some talk about doing a whole spinoff on Drago with MGM. So you may get more of that."