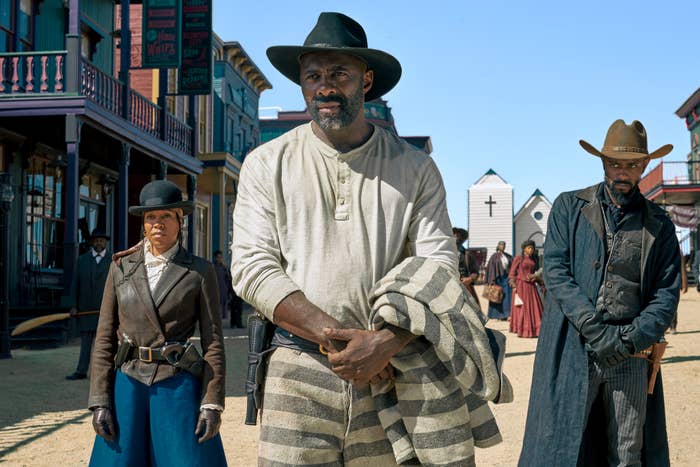 November is gearing up to be one of the most stacked months for TV and movie releases this year. Following a strong box office month in October, the first weekend in November is kicking off with some worthy contenders, both in theaters and on streaming services. Fans of the Marvel Cinematic Universe have been waiting for Eternals for quite a while and the film is finally hitting theaters on Friday, Nov. 5. While the superhero flick will likely take the top spot at the box office this weekend, it does have some competition. Pablo Larraín's Spencer starring Kristen Stewart as Princess Diana is also coming out this Friday, which might be the go-to choice for anyone curious about the actress' performance after all the Oscars talk she's been generating. Netflix's Red Notice, starring Dwayne "The Rock" Johnson, Ryan Reynolds, and Gal Gadot, is also in theaters this weekend, but it won't debut on the streaming service until Nov. 12. Judging by the early reviews, it might be good to sit this one out until next week. 

Tom Hanks is back with a post-apocalyptic Apple TV+ flick titled Finch, which will premiere on the service and in theaters Friday. The star-studded Netflix Western The Harder They Fall premiered earlier this week and if you haven't seen it already, add it to your watch list. For those looking to kick back and relax this weekend, two of Netlfix's biggest hit shows are also back with all-new episodesare perfect for binge-watching. Our editors selected some of the must-see TV and movies you need to watch this weekend. Check them out below.
When: Nov. 5

Where: In theaters
This is a weird one, huh? Currently, Rotten Tomatoes has Eternals, the 26th film in Marvel's Cinematic Universe, around 51 percent. That's lower than 2013's Thor: Dark World, the previous Worst Film in the Marvel Cinematic Universe. That said, it's the Marvel Cinematic Universe. Skipping films—even films like Eternals—feels like a bad idea. And it's the film before Spider-Man: No Way Home, which feels like what we've been building toward. Surely something from Eternals has to connect to the larger MCU, right?
And that's when it should hit you. This is what living in the franchise life is. It isn't even a shot at Eternals, but Marvel Studios has you hooked with a lot of fire—Loki and WandaVision and Shang-Chi all dropped this year. We're at the point where, when there's a prospect of a Marvel film that everyone acknowledges as mid hitting theaters, we're still feeling the need to go see it. And not just see it, but see it on larger screens. Or maybe that's just me.
I don't know what's up with Eternals. I've seen what everyone has said, and sure. It's a hard sell off the trailers alone—the immediate response ponders where TF were the Eternals when Thanos got the Infinity Stones—so the film should hopefully have a hook to the larger MCU within it. Or maybe this is the new normal. Maybe this group of Cosmic Avengers is carving out one section of the much-larger Cinematic Universe. Maybe the combination of previously unknown characters mixed with an Oscar-winning director just didn't work this go round. What are you gonna do, not see it? Assuming you're not at ComplexCon, we'll see where you end up. I know where I will (begrudgingly) be. —khal
When: Nov. 3

Where: Netflix
Any movie that inspires Jay-Z to join Instagram is a movie I need to see. After years of staying away from the platform, Hov joined IG earlier this week simply to share a The Harder They Fall movie poster. This was a pretty big moment, but it was short-lived since he deleted the account a day later. The mogul co-produced the Netflix flick alongside James Lassiter and even gave us a meme-worthy moment at the film's New York City premiere in October when he ran into Kelly Rowland on the red carpet. 
Anyway, none of that has anything to do with the actual movie, but it was one hell of a way to get people talking about it. But it didn't really need the extra publicity. The mostly all-Black Western's cast is so stacked, and it features some of the biggest names in Hollywood including Idris Elba, Regina King, LaKeith Stanfield. The story is about an outlaw named Nat Love (Jonathan Majors) who is seeking revenge against the man who killed his parents. After learning that his enemy, Rufus Buck played by Elba, got out of prison, Love puts together a gang that will help him avenge his parents' deaths. The film is based on a fictional story, but many of its characters were inspired by real people. The Western also features performances by Zazie Beetz, Edi Gathegi, RJ Cyler, Delroy Lindo, Danielle Deadwyler, and Deon Cole. 
The day after the movie's release, Stanfield shared a heartfelt post on Instagram about how bonding with the horses on the set gave him the strength to fight through the "crippling anxiety" he felt at the time, which drove him to drink every night after filming. The actor also shared that he has been sober for six months after learning to take control of his life through this experience. Deep life lessons can be learned just about anywhere, even while filming an action-packed Western with some of the best actors in the game on a farm. The Harder They Fall is now available on Netflix. —KR
Spencer
Finch
When: Nov. 5

Where: Netflix
Big Mouth is back with Season 5. The new episodes will pick up as the Bridgeton Middle Schoolers are taken over "love bugs" and "hate worms" that will set their hormone levels through the roof. "They're at that age where you start to have kids falling in love with each other and having crushes. As we kept talking about love and hate, we realized it felt very resonant to us all right now," ​​series creator Nick Kroll told ​​The Independent about the new season. "Even if you're not an adolescent kid with massive heartbreak, you can understand those feelings just because of where we are culturally." The usual cast members are all returning this season, and Better Things' Pamela Adlon and Keke Palmer are joining the cast. Other stars making a cameo this season include Kumail Nanjiani, Adam Scott, Jemaine Clement, Kristen Schaal, and Chloe Fineman. Season 5 kicks off with Episode 1 titled "No Nut November," but all 10 episodes will be available to stream on Nov. 5. 
Narcos: Mexico, a spinoff series of Netflix's hit show Narcos, is coming to an end with Season 3—but they're going out with a bang. The latest and final season is set in the 1990s and focuses on the war between the Tijuana, Juárez, and Sinaloa cartels. At the end of Season 2, Miguel Angel Felix Gallardo (Diego Luna), was sent to prison, causing the other drug cartels to fight for power. Luna's departure from the series also opened the door for other characters to take over. It was confirmed in November 2020 that Bad Bunny will be making his acting debut on the show this season. The rapper will play Arturo "Kitty" Paez, a member of the Narco Juniors gang, headed by Ramon Arellano Felix (Manuel Masalva). Luis Gerardo Méndez, Alberto Guerra, and Luisa Rubino are also joining the cast. Regular cast members including Scoot McNairy, José María Yázpik, Alfonso Dosal, Mayra Hermosillo, Matt Letscher, and Gorka Lasaosa are also set to reprise their roles in Season 3. In case you need a good binge-watch session this weekend, all 10 episodes will be available on the streaming platform starting Friday, Nov. 5.  —KR