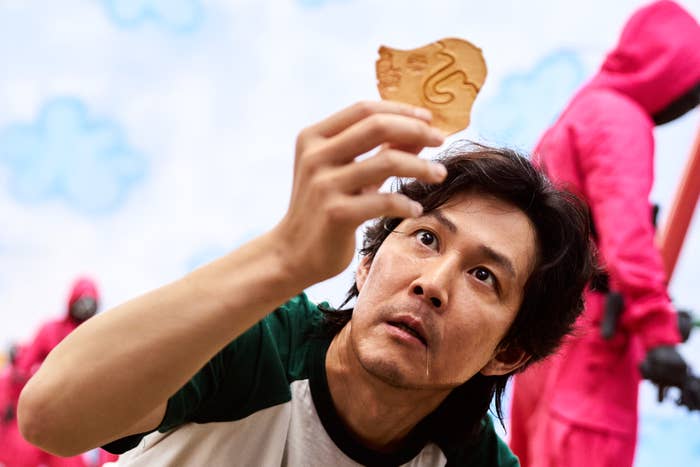 It looks like Netflix has another global hit on their hands with Squid Game. The Korean drama's first season was released worldwide on Sept. 17, and it has already become one of the streaming giant's biggest international successes. It shot up into the Top 10 on the platform's charts when it debuted before becoming Netflix's most-watched television series. Squid Game has also reportedly become the first Korean series to rank No. 1 on Netflix's U.S. most-watched list. In the hit show, 456 contestants who are in desperate need of money join a deadly survival game in order to win 45.6 billion Korean won, which is around $38.6 million. Social media users are comparing the show to the Hunger Games and James Wan's Saw movies. Like those films, the series pits people against each other and places them in deadly situations they have to figure out how to escape from. 

The thriller provides plenty of brutal gore, violence, and suspense, so if you're into that sort of thing, look no further. It also provides thought-provoking, emotional viewpoints about society, showing how wealth disparity can often lead people to do the unthinkable for money—even at the expense of their own lives. Not even two weeks after its release, the show is already sparking TikTok challenges, building a buzz among Twitter and Instagram users, and being binge-watched by millions around the world. In case you haven't tuned in just yet and are in need of some more info before diving in, here's all you need to know about Netflix's latest hit show Squid Game.
What is 'Squid Game' about?
What do I need to know know before watching 'Squid Game'?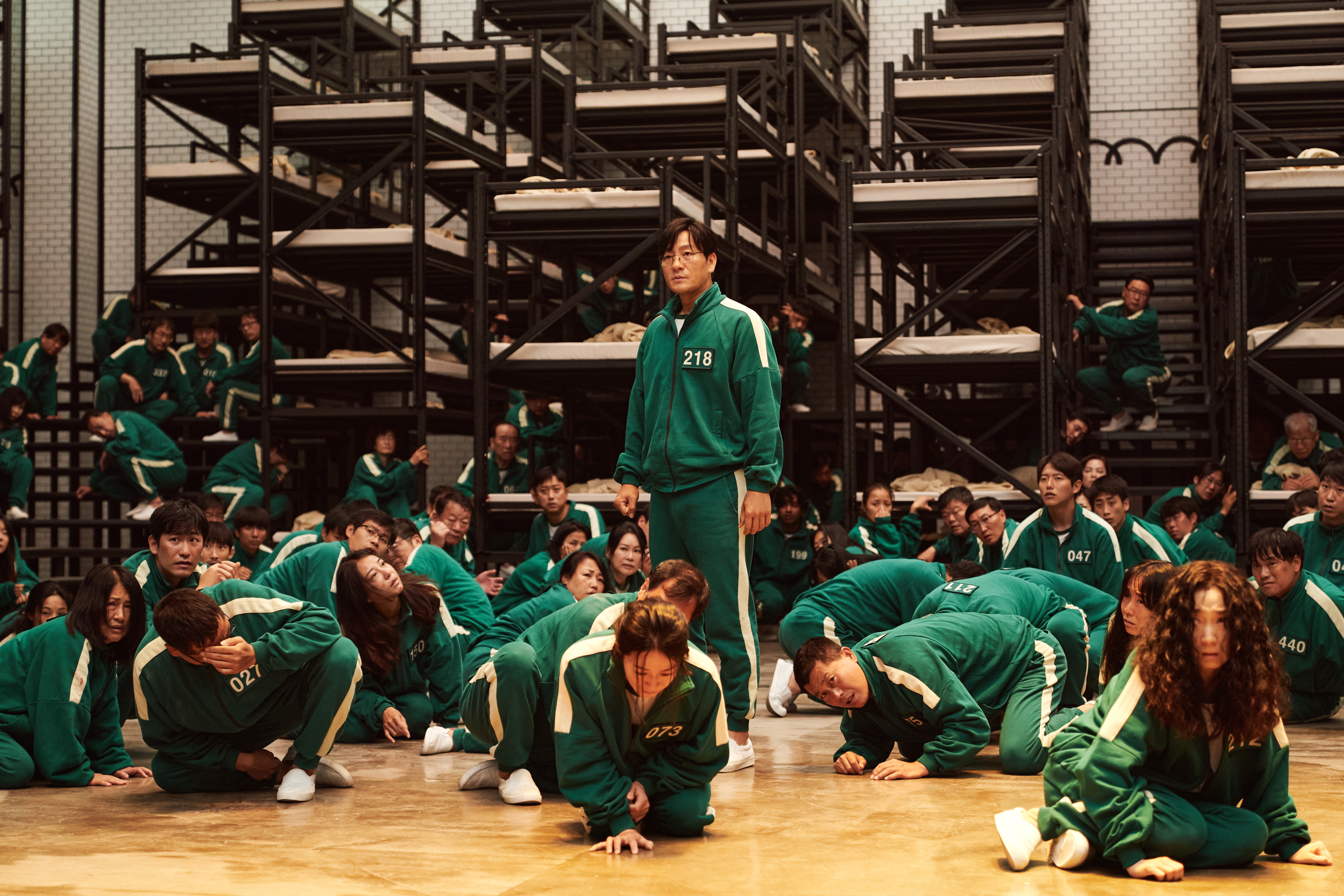 The show is rated TV-MA for a reason. The comparison it's receiving to the Hunger Games and the Saw series is also not by accident, and it might be even more extreme than both of those franchises combined at times. It also has similar themes as the short story The Most Dangerous Game by Richard Connell, and some fans are pointing out the likeness between Squid Game and the 2014 Japanese movie As The Gods Will. It can be uncomfortable to watch as the characters scramble for survival as they also grapple with their personal despair outside of the games. Some of the players are also not entirely innocent people—some are criminals, gamblers, thieves, and at times it feels conflicting to still root for them to make it out alive. Watching them make bad decisions prior to entering the games is often stressful, and it's right up there with anxiety-inducing movies like Uncut Gems. If you enjoy being on the edge of your seat and nail-biting while watching TV, then hit play. If not, watch at your own discretion. The nine-episode Netflix original series is South Korean, but a dubbed version in English, as well as English subtitles, are also available. The dubbing might take some getting used to but the voice actors make it so that it doesn't take away from the show. All one-hour episodes are available for streaming now on Netflix. 
They used real childhood games on the show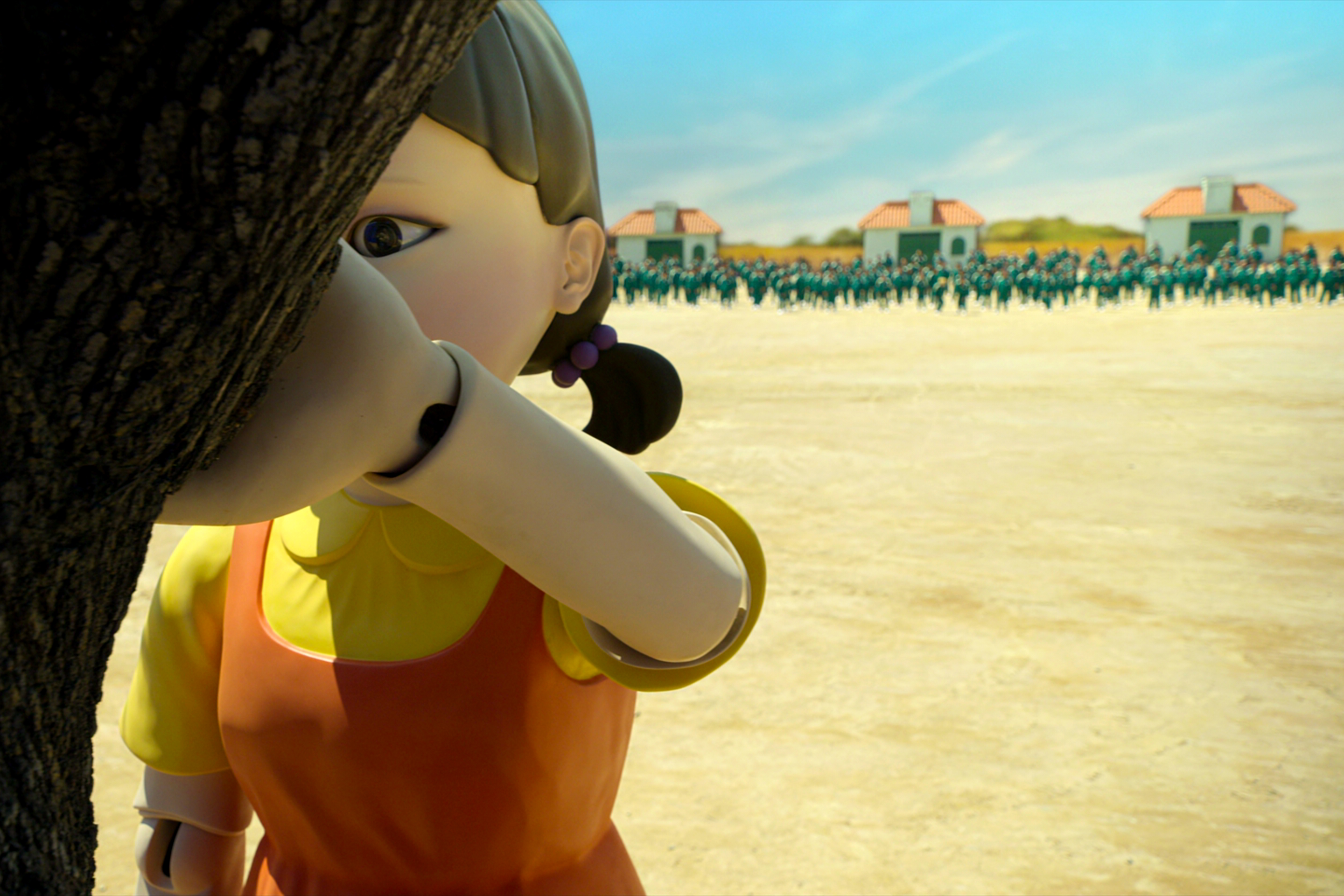 The show's creator revealed that the concept of the show was inspired by a game he used to play when he was younger. "Squid Game is a game I used to play as a child in the schoolyard or the streets of the neighborhood," Hwang Dong-hyuk said, according to Radio Times. "This is a story about people who used to play this game as children and return to play it as adults. It was one of the most physical and it was also one of my favorite games. I felt that this game could be the most symbolic children's game that could represent the kind of society we live in today."
There are six games that the contestants have to compete in as soldiers dressed in red jumpsuits, masked and equipped with guns supervise them. Each game is inspired by traditional Korean children's games, but the consequence of losing in the adult version is death. The players take on classics like Red Light, Green Light, Tug of War, and marbles. Red Light, Green Light is exactly like the game people used to play as kids, but the punishment for moving is a lot more severe. For one of the series' most talked about challenges, the participants have to carve out specific shapes into a thin honeycomb cookie, known as Dalgona candy, without breaking it. If they break the cookie, they are eliminated from the game. This was inspired by a popular Korean snack, and children try to eat around the outline of the image without breaking the picture.
Who is in the cast?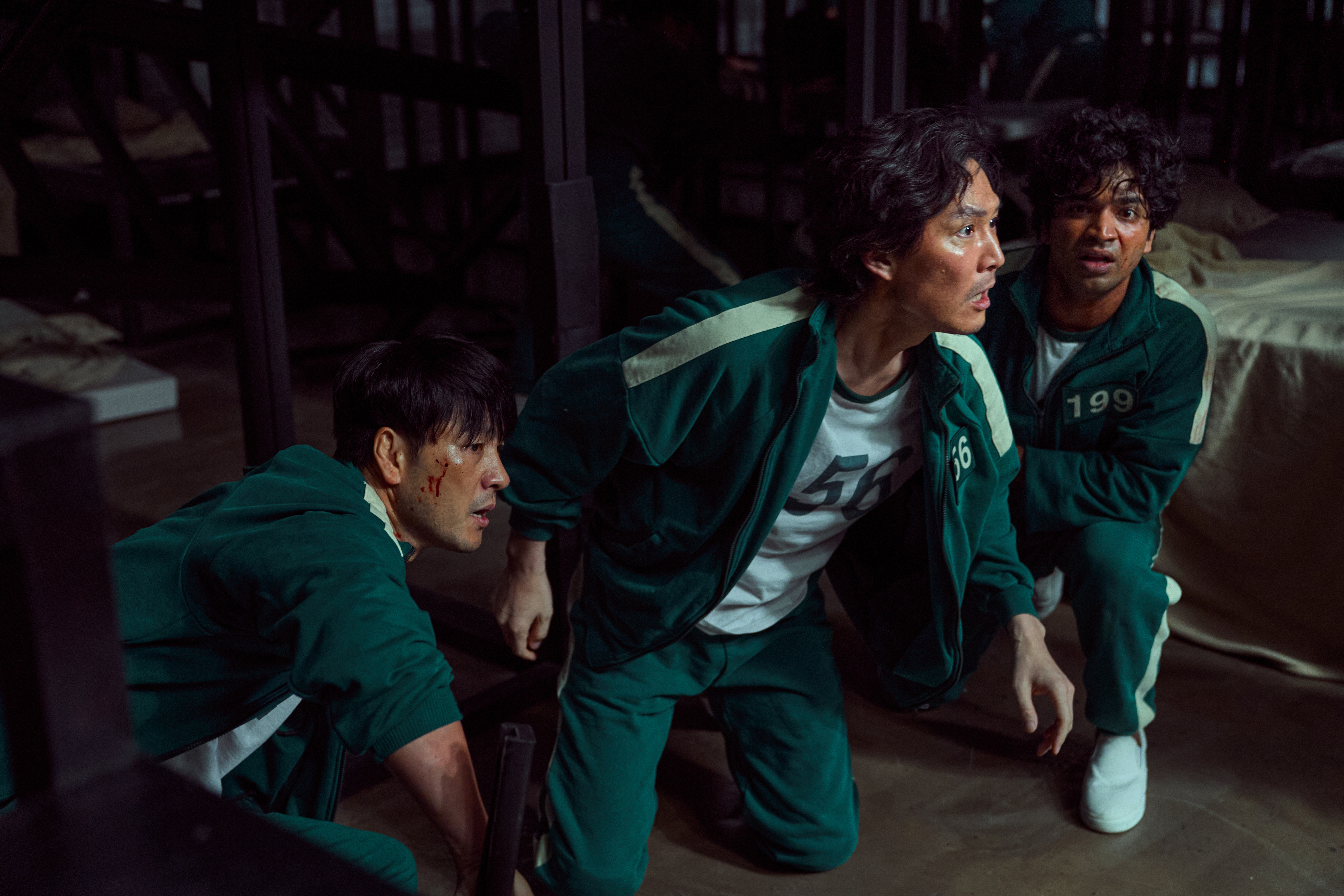 Squid Game enlisted some of the top South Korean actors and models. Lee Jung-jae stars as Seong Gi-hun, a divorced man with a gambling addiction whose recklessness is on par with Adam Sandler's character Howie in Uncut Gems. Veteran actor Oh Young-Soo plays Oh Il-Nam, an older man with a terminal tumor who ends up being a resourceful player in the games despite his age and quickly becomes the heart of the show. Indian-born actor Tripathi Anupam plays a Pakistani immigrant named Abdul Ali, and he is one of the only non-Korean characters on the show. Park Hae-soo also stars as Cho Sang-woo, Jung Ho-yeon as Kang Sae-byeok, Wi Ha-joon as Hwang Jun-ho, ​​Heo Sung-tae as Jang Deok-su, and popular actor Gong Yoo appears quickly as The Salesman.
What made the Netflix show go viral?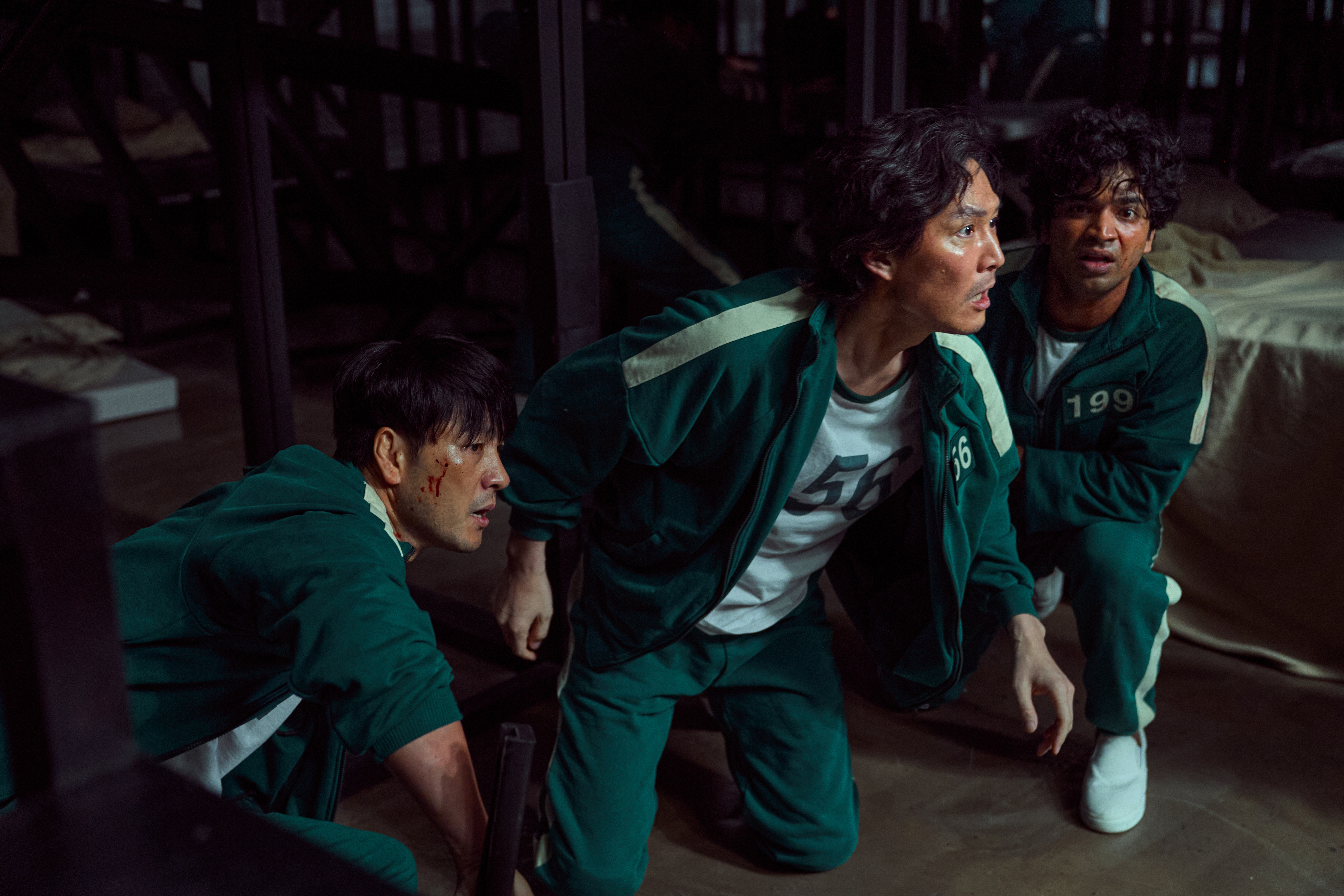 Sometimes the popularity of these shows is all about word of mouth. The show got the homepage treatment on Netflix as soon as it dropped on Sept. 17, 2021, but there wasn't much promotion or press surrounding it in the United States. The show began catching steam and people started tweeting and talking about the show on social media. The online reactions helped it get the attention of even more viewers, and it helping it skyrocket to the top of the Netflix charts.
The K-Drama has also inspired plenty of TikToks, with fans recreating some of the games like Red Light, Green Light, and baking the cookies to replicate the challenge. Some are even sharing the cookie's recipe. The #SquidGame hashtag on TikTok has already amassed billions of views, and some videos inspired by the series have millions of views. 
Could it really be Netflix's biggest show ever?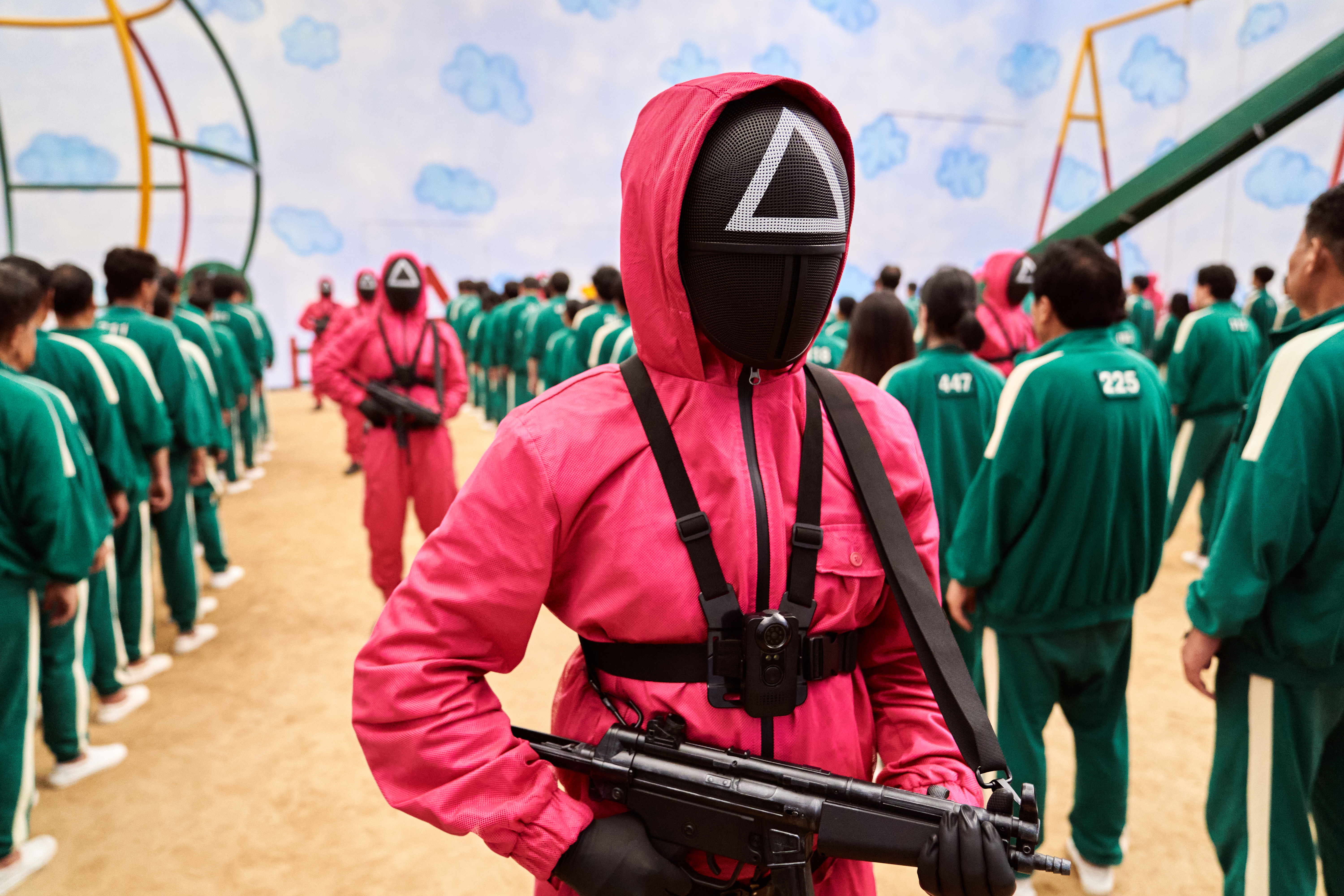 The show has all the makings of being a worldwide hit: action, suspense, and an emotion-driven story that can resonate with anyone, no matter what country they're watching from. The show is also extremely bingeable, with nine action-packed, quick-moving episodes that viewers will devour in days, and that's what Netflix is all about. Netflix's co-CEO Ted Sarandos said on Monday, Sept. 27 that Squid Game has "a very good chance" of becoming the streaming giant's most popular show ever. "There's a show on Netflix right now that is the No. 1 in the world, like everywhere in the world. It's called Squid Game. Squid Game will definitely be our biggest non-English language show in the world, for sure," Sarandos said at a conference in Los Angeles, adding that there's "a very good chance it's going to be our biggest show ever." If that's the case, it would knock 2020's Bridgerton from the top spot. Netflix has previously had success with international shows like Spain's Money Heist and France's Lupin, and it looks like Squid Game is shaping up to be another historic worldwide triumph for the company.
Will there be a 'Squid Game' Season 2?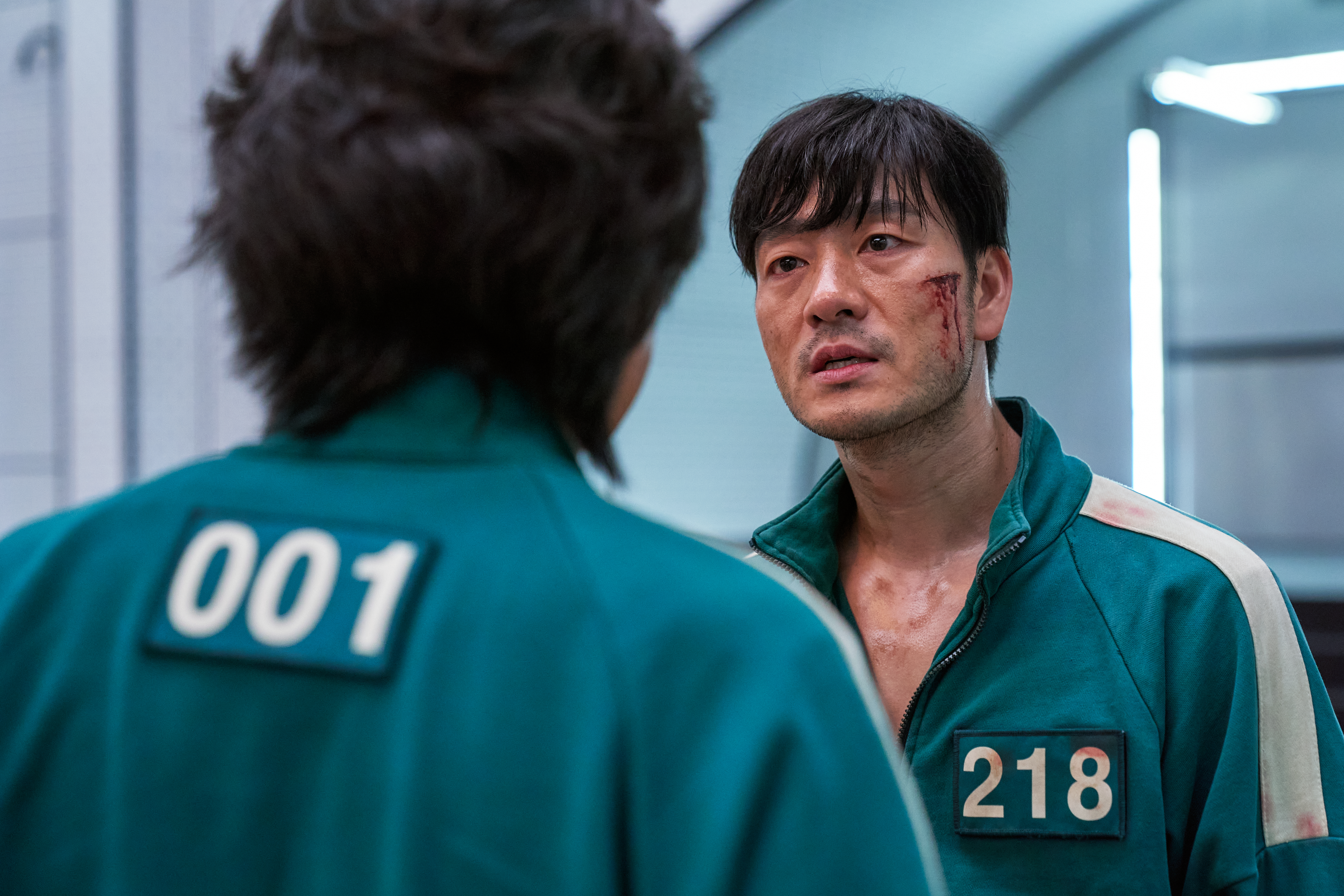 It took 10 years to make the show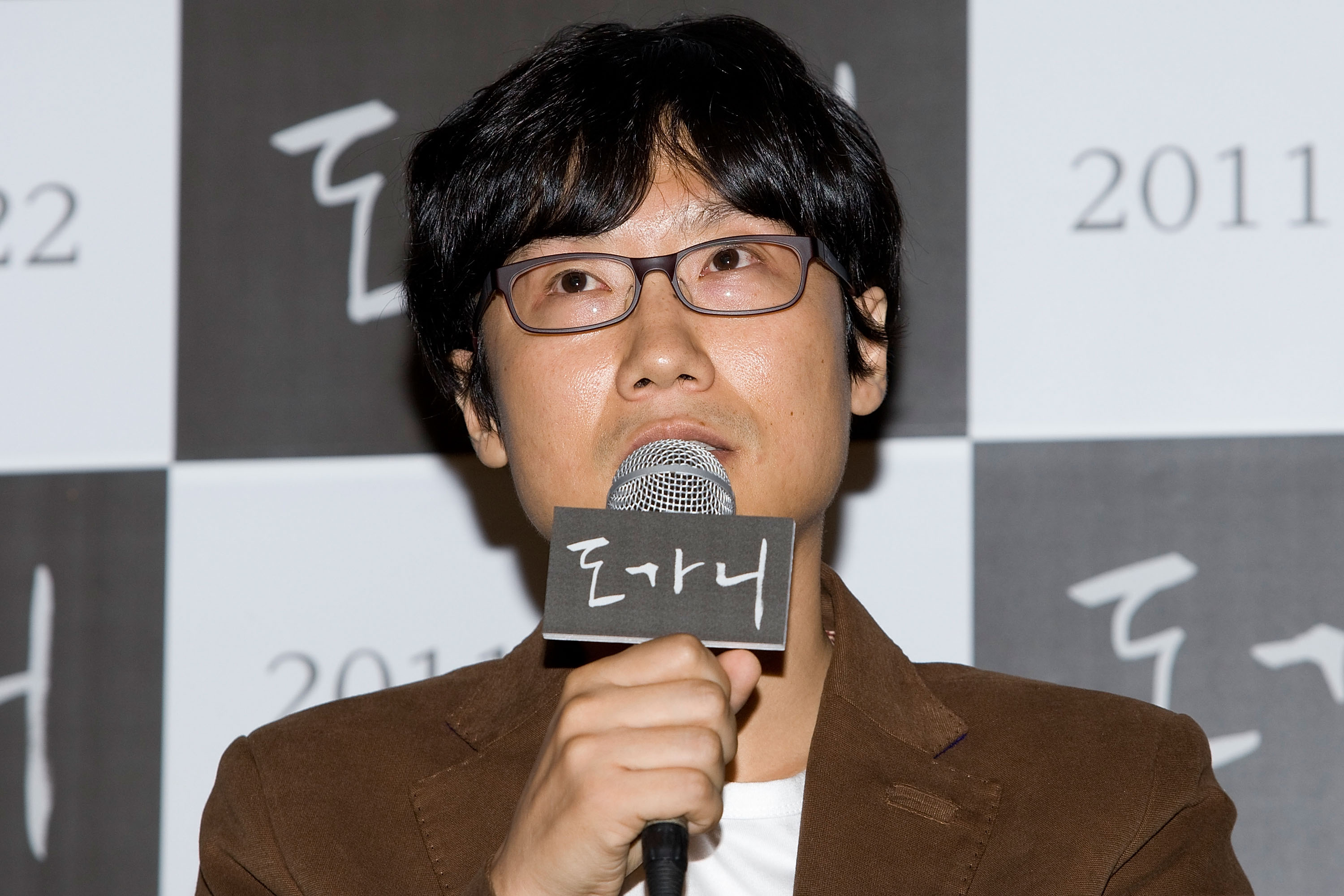 Netflix is getting sued over 'Squid Game'