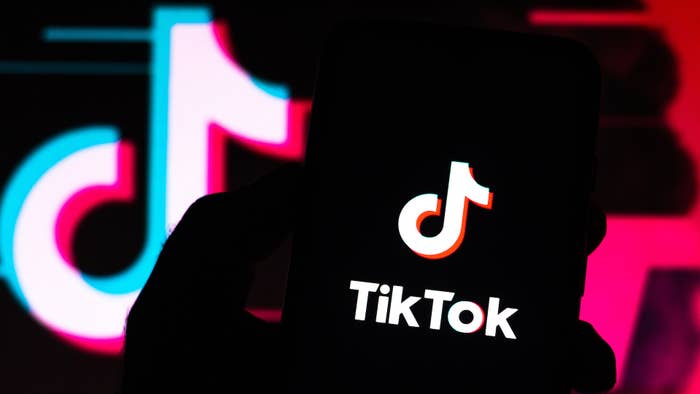 We're less than two months into 2021, and social media users have already found themselves fixated on two separate TikTok challenges. Multiple TikTok challenges have emerged and have grabbed our attention this past year, like the Buss It Challenge, the Don't Rush Challenge, and the Savage Challenge. The #BussItChallenge reached peak popularity, but it fizzled out after Chloe Bailey nailed it last month—and the Silhouette Challenge quickly took its place. 
The #SilhouetteChallenge started as a body-positive movement and empowered women to celebrate their bodies and sensual sides. People of all shapes and sizes began flaunting their frames and received support, admiration, and praise from others on social media. As quickly as it went viral, though, it lost its appeal as some started sharing tips and tutorials to remove the red filter to expose people's naked bodies without their consent. There are still safe ways to participate in the challenge, however, so it's not too late to jump in. Here's a breakdown of how the Silhouette Challenge began and what you need to know before creating your own.
What is the #SilhouetteChallenge?
The challenge uses a mash-up of two songs that TikTok user @giuliadinicolantonio created and shared on Jan. 17. The challenge starts with Paul Anka's 1959 song "Put Your Head on My Shoulder," which creates a casual and relaxed ambiance. When the transition begins, Doja Cat's "Streets" starts playing as the person's clothes come off, and they pose in ways that best show off their silhouettes. 
The rapper's song from her album Hot Pink is climbing the Billboard charts thanks to the TikTok challenge. It broke into the Hot 100 earlier this month for the first time since its November 2019 release. It has since jumped to the No. 25 spot. The track is also currently at No. 10 on Spotify's Top 200 list.
On Jan. 14, TikTok user @yoelise uploaded a video showing off an unedited photo of herself posing in an open doorway, followed by an edited version of the image that turned her body into a silhouette with a red background. The video amassed more than 1.8 million views in less than a month, and she has since shared step-by-step tutorials on how to accomplish the edit.
For the second half of the clips, many users rely on Snapchat's "Vin Rouge" filter for the red light effect. Open the application on your device, and click on the magnifying glass icon on the top left corner. Type "Vin Rouge" in the search bar and it should appear. Snapchat has a hands-free option that allows users to record a video without the need for assistance. Hold down the record button at the bottom of the screen and press the lock button on the left to record. Then save that video, strike a pose, crop it, upload it to TikTok and combine it with the first part. Use the different effects available on TikTok to create a smooth transition. 
What began as a trend for women to celebrate and show off their curves quickly turned sour when Twitter users started sharing ways to remove the red filter from the videos, exposing the women's naked—or partially nude—bodies. Tutorials began popping up on YouTube, Twitter, and Reddit, which provided instructions on how to counteract the filter to reveal more than the video creator meant to show. Changing the lighting and filter displays the original image, and the woman's nude body obscured by the filter was now visible. While that's a blatant violation of privacy and consent, a quick search on Twitter will offer plenty of tweets of people, mostly men, asking for help in how to get rid of the effect. One user, in particular, was called out for editing videos from multiple women without their permission. "Fyi, report and block @Brezzlova," one person tweeted. "This is one of the people editing and posting women's silhouette challenge videos without the filter. Just scrolling down his media tab, he's done this to over 10 women so far."
Professional photographers and videographers are taking to TikTok and social media to warn women by explaining how easy it is to remove the filter. They suggest that they can wear a bikini or other clothing that covers up their most private areas if they do decide to participate. While those PSAs are appreciated, it is unfortunate that they even have to be shared. There is plenty of access to X-Rated content on the Internet from people who are willingly and consensually sharing it. So there is no real reason to violate someone who didn't intend for anyone to see them naked.
Like most TikTok challenges, the #SilhouetteChallenge caught the attention of the rich and famous as well. While it started with regular people showing off their figures, Lala Anthony, Tiffany Haddish, Cardi B, Lizzo, Doja Cat, Teyana Taylor, and more shared their versions of the challenge. Some put their spin on it, like Haddish, who had a guest appearance by boyfriend Common—and things got a bit steamy. Cardi shared hers and added her twist by showing off her incredible pole dancing skills. Check out some of the most popular #SilhouetteChallenge videos below for inspiration.