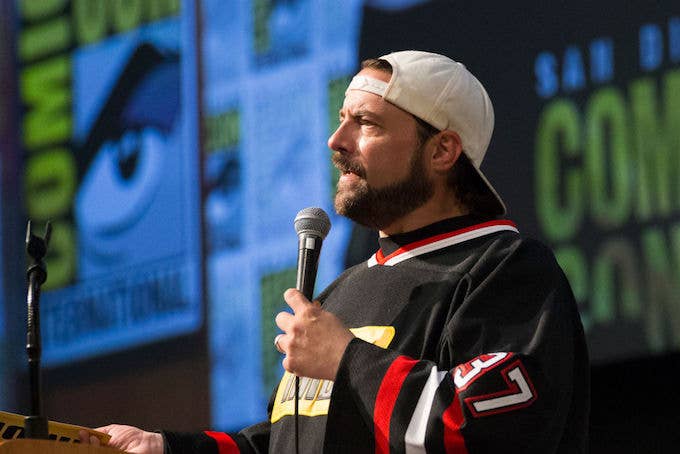 Filmmaker Kevin Smith is on the mend after what he described as a "massive" heart attack. In a candid first interview since his health scare, Smith talked to Ralph Garman on The Ralph Report about how the experience affected him. Garman and Smith are longtime friends and co-hosted the Hollywood Babble-On podcast together. As The Hollywood Reporter notes, Part 1 of the interview posts today, and Part 2 will be released on Monday.
"I don't want to say I feel like a dead man walking, but I do feel like I'm not supposed to be here anymore, and it doesn't make me want to leave, but it makes me appreciate how ... like, all right, let's do everything," said Smith. The filmmaker is certainly lucky to be alive after surviving what his doctor said was a "100% blockage of [his] LAD artery (aka 'the Widow-Maker')."
"I was supposed to be dead in that room, no doubt," Smith said. The filmmaker also shared that his father had a similar run-in with death, but managed to live two months longer on what Smith called "borrowed time." The filmmaker says he feels as though that's precisely what he's doing right now.
The close call has given Smith pause to reflect on his life and accomplishments. "I felt like, 'Oh, this is my time to leave the party,' and I'd done enough, dude," the 47-year-old said. "I only ever wanted to make Clerks; 25 years later, I did more shit than I ever imagined. I've gone on so many fucking adventures, and heights and falls, plummets, up and down, everything, and I just felt like, 'Well, the rest of your life, if you live, it's just going to kinda be more of the same, and you've done this and be happy that you got to do it at all. You got to do some shit people fucking dream [about] or will kill themselves to try to fucking accomplish or get in their own lives, and it came to you all so easy. So if this is the price you have to pay for all that ease, checking out before age 50, that's — how can you argue with that? Don't be shitty. Pay the bill. It's time."
That's not to say Smith is throwing caution to the wind as far as his lifestyle is concerned. He's "on day three of being vegetarian." While he may be ditching meat, the Clerks writer/director hasn't lost his sense of humor. He joked about having to take off his underwear to get his groin shaved at the hospital. When he was told what he'd have to do, Smith said, "Bro, if I have to take off my underwear, I will have a second heart attack right here."