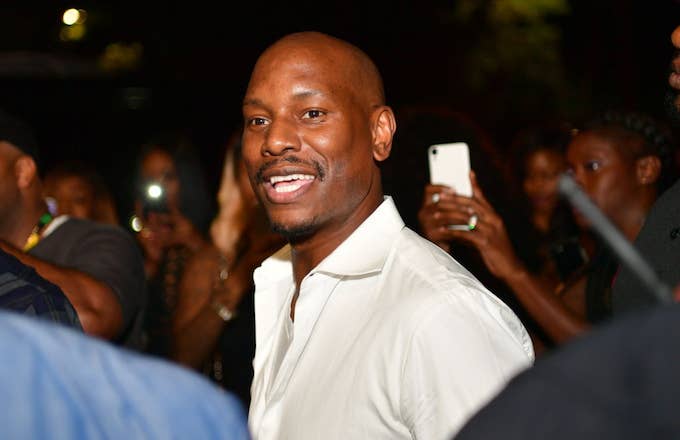 Tyrese has not been having a good couple of months. He's been in the news plenty of times for calling out Dwayne "the Rock" Johnson for meddling in the Fast and Furious franchise or hating on the Rock's planned spin-off. Tyrese also filmed a meltdown where he detailed his financial trouble while going through a bitter court battle with his ex-wife over the custody of their daughter. He's even blamed the Rock for both his financial issues and his family problems. But Tyrese also recently admitted he had been on medication, and said his behavior had been due to how the psychiatric meds made him feel. But now a new report in Page Six details the extent of his money troubles, and it's not pretty.
Court documents from Tyrese's custody battle show where his money troubles are really coming from: he's just overspending. The actor and singer earns about $105,686 per month, but he somehow manages to have monthly expenses that add up to $107,576 per month. That rate of monthly expenses totals up to $1.29 million over the course of a year, while his earnings would amount to $1.26 million for the same time period. Put frankly, Tyrese is in the red.
Tyrese also has about $884,658 in cash and savings. Additionally, his property is worth $1,761,250.
The documents are revealed where that money is going. Tyrese pays $7,500 in childcare for his daughter, $9,744 in groceries and $14,869 for the mortgage on his home.
Spending nearly $10,000 a month on food works out to about $111 a meal. Better hope those are some damn good meals.
In a video, he also recently claimed he's spending $13,000 a month on legal fees. The court documents provide more details on those numbers: the attorney charges $700 per hour, and Tyrese has already paid him $68,055 but still owes $133,750. He has paid his lawyer from "personal funds."
There were some reports that claimed Will and Jada Smith had given Tyrese $5 million to help with his financial troubles, but they were debunked just as quickly as they appeared. Looks like the next thing Tyrese will need to spend money on is a financial advisor, because these bills are looking all out of whack.