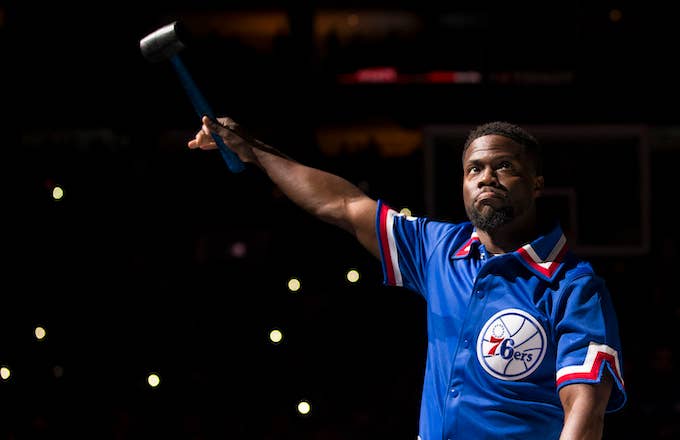 UPDATED 12:14 a.m. ET: Kevin Hart took to Twitter to announce that he's stepping down from his Oscars hosting gig. He also apologized. 
I have made the choice to step down from hosting this year's Oscar's....this is because I do not want to be a distraction on a night that should be celebrated by so many amazing talented artists. I sincerely apologize to the LGBTQ community for my insensitive words from my past.
I'm sorry that I hurt people.. I am evolving and want to continue to do so. My goal is to bring people together not tear us apart. Much love & appreciation to the Academy. I hope we can meet again.
UPDATED 11:27 p.m. ET: Kevin Hart refuses to apologize despite the Academy asking for him to do so. "So, I just got a call from the Academy," Hart said in a video posted to Instagram. "That call basically said 'Kevin, apologize for your tweets of old or were going to have to move on and find another host.' Talking about the tweets from 2009-2010 [...] I passed on the apology." 
Watch the video below.
No word yet on if the Academy of Motion Picture Arts and Sciences will pass on Hart and get another host for the Oscars.
The 91st Academy Awards will take place on February 24, 2019.
See original story below.
Kevin Hart has decided to address the numerous old homophobic tweets which resurfaced after he was announced as the host of next year's Academy Awards.
On Thursday, Hart posted a video on Instagram where he explains that he's grown as a person from the time when those tweets were posted. "I'm almost 40 years old," he said, in response to his team contacting him over people feeling angered by his old tweets. "If you don't believe that people change, grow, evolve, I don't know what to tell you." 
As Rolling Stone writer Jonah Weiner points out from his 2011 interview transcript with Hart, an apology from the comedian shouldn't be expected anytime soon. 
When I profiled Kevin Hart in 2015 for RS I brought up homophobia in the context of his "gay son" joke — which he told me he wouldn't tell now not because it's ill-phrased but "because when I said it the times weren't as sensitive as they are now."

https://t.co/azbdgCzoJF pic.twitter.com/5q7KwBRJHd
But if Hart really wants to prove that he's capable of living and learning, and growing and maturing, then an apology shouldn't be too much to ask.