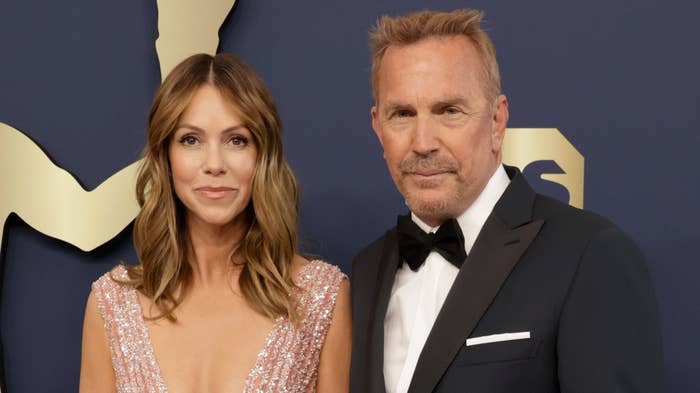 UPDATED 7/11, 10:30 p.m. ET: Kevin Costner has been ordered to pay his estranged wife Christine Baumgartner nearly $130,000 per month in child support.
TMZ reports Judge Thomas Anderle ruled Tuesday that Baumgartner will receive $129,755 per month from Costner, with whom she shares three children. The ruling is not final, with the outlet noting the decision is "subject to another upcoming hearing."
The news arrives weeks after Baumgartner requested $248,000 per month in child support, before Costner issued a counteroffer of $51,940, which is what the Yellowstone star currently spends every month to take care of the couple's children. Baumgartner subsequently ripped Costner's offer as "completely inappropriate."

In addition to $129,755 in child support, Costner is required to pay $200,000 in attorney's fees and $100,000 in forensic costs.
See original story below.
Someone may want to reconsider their departure from Yellowstone.
According to TMZ, Kevin Costner's estranged wife Christine Baumgartner has requested $248,000 per month in child support for their three children. Baumgartner claims in legal documents that the monthly sum will allow her and their kids to "live at a standard somewhat approaching the standard that the children will be enjoying while in Kevin's care."
Her request, she claimed, does not include private school and health care costs, as well as extra-circular activities but wants Costner to cover those expenses as well.
Baumgartner claims their family would regularly take trips to Aspen, the Caribbean, and Hawaii, oftentimes with chefs and caterers on the premises. She also mentions Costner paid $2 million per year towards upkeep on their homes.
Costner's income totaled a little over $19 million last year, according to Baumgartner. However, his yearly earnings could soon take a hit with Yellowstone coming to an end. Deadline reported in February that the fifth season of the series will be its last, with Matthew McConaughey engaged in negotiations to star in a spinoff.
The decision to end Yellowstone came after Costner reportedly wanted to spend just a week filming the second half of episodes in Season 5 after already reducing his commitment from 65 days of shooting to 50 days for the first batch.
Costner's primary focus reportedly shifted to the Western series Horizon, which he will star in and direct. He also co-wrote the script with Jon Baird.
According to Variety, Costner was getting paid $1.3 million for each episode of Yellowstone.
Sources tell TMZ that Costner already covers all of their children's expenses and offered in court docs to pay an additional $38,000 per month. Baumgartner claims their family's expenses came out to $6.6 million last year.
Us Weekly reported Tuesday that their divorce could turn into a "bitter court battle" as the two are expected to clash over who should leave their shared home, Baumgartner's alleged use of his credit card for her divorce attorney, and more.