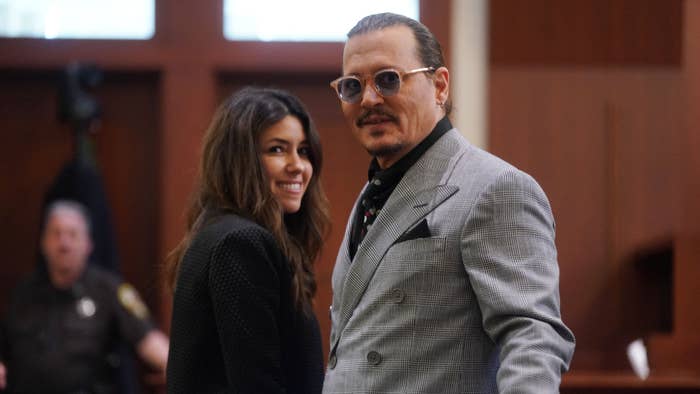 Johnny Depp's attorney Camille Vasquez shut down speculation of a romance with the Pirates of the Caribbean star in an interview with People. 
"I guess it comes with the territory of being a woman just doing her job," Vasquez said. "It's disappointing that certain outlets kind of ran with it or said that my interactions with Johnny — who is a friend and I've known and represented for four-and-a-half years now — that my interactions in any way were inappropriate or unprofessional. That's disappointing to hear." 
Social media certainly fueled dating rumors by singling out interactions throughout Depp's defamation trial against ex-wife Amber Heard that people used to theorize that something more was going on between them. 
TMZ reported last month that Depp and Vasquez are not dating, but the actor and his entire legal team, which includes attorney Benjamin Chew, have formed a friendship as a result of the months they have spent together. Vasquez described instances where she and the rest of his lawyers would leave the trial only to stay up until 5 a.m. preparing for the next day in their makeshift war rooms in the hotel. 
"I care very deeply about my clients, and we have obviously become close. But when I say we, I mean the entire team, and of course that includes Johnny," Vasquez said. "And, I'm Cuban and Colombian. I'm tactile. What do you want me to say? I hug everyone. And I'm not ashamed about that." 
Vasquez said she's "very happy in my relationship." According to the New York Post, Vasquez is dating Edward Owen, a WeWork executive who serves as head of real estate for Asia, Europe, and the Middle East. The two are allegedly trying to make a long-distance relationship work as he's currently based out of England.  
"It's also an unethical charge being made. It's sexist," Vasquez said. "It's unfortunate and it's disappointing, but at the same time it kind of comes with the territory. I can't say I was all that surprised."