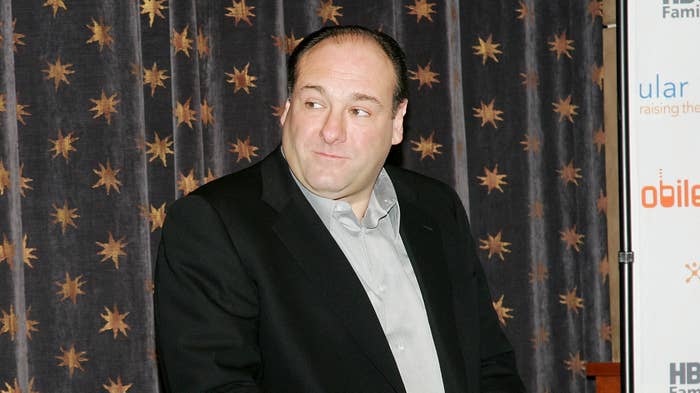 An excerpt from Tinderbox: HBO's Ruthless Pursuit of New Frontiers reveals James Gandolfini gave checks for $33,000 to 16 castmates from The Sopranos after he and HBO resolved a contractual dispute that nearly derailed the series, per the New York Post. 
According to a 2003 Variety article, Gandolfini filed a lawsuit against HBO, accusing the network of a breach of contract for failing to notify him of a $20 million agreement with creator David Chase within 10 days. After receiving a third Primetime Emmy for Outstanding Lead Actor in a Drama series for his portrayal of Tony Soprano, Gandolfini may have also wanted to strike while the iron was hot heading into the show's fifth season. 
The book alleges HBO agreed to double Gandolfini's $5 million per season contract in 2001.  
HBO filed a countersuit against Gandolfini for $100 million, citing the financial hit that would be taken by either potentially ending the series or filming without him. The stand-off between both parties resulted in the Season 5 premiere getting pushed a few months past its initial date. Former executive Chris Albrecht said the network decided to halt production on the show altogether in an effort to reach a deal with Gandolfini by jeopardizing the livelihood of his fellow cast. 
Gandolfini agreed to a $13 million contract that Albrecht said came out to "a million an episode." Following the resolution of his deal, Gandolfini wrote out 16 checks for $33,000 each for his co-stars to try and make up for any inconvenience his contract issues with HBO may have caused. 
"As good of an actor as he was, he was a better guy," Sopranos co-star Steve Schirripa said on New York's WFAN radio station in 2013. "A generous guy. The guy gave us $33,000 each—16 people. In Season 4 he called every one of the regular castmembers and gave us a check. He said, 'Thanks for sticking by me.' It's like buying 16 people a car." 
Former HBO CEO Jeff Bewkes told Tinderbox that he had grown "concerned about Gandolfini staying alive" because "occasionally he would go on a bender or a coke binge," leading to a stop in production on The Sopranos. Albrecht, however, didn't share these concerns about Gandolfini's well-being, but felt that his behavior came across as a "lack of respect for the other actors."