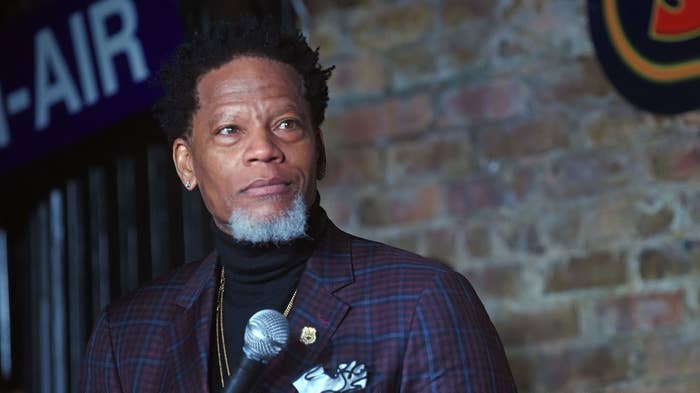 UPDATED 5/30, 12:30 p.m. ET: The latest chapter in the rift between Mo'Nique and D.L. Hughley is still unfolding.
"The fact that you point the people to the ticket stubs for the order of the names versus to your contract implies that you don't have a contract that shows you are the headliner like I do," Mo'Nique responded in a lengthy Instagram post. "Either show your contract or be quiet."
After warning him to stop messing with "people who once considered him a comrade in comedy," Mo'Nique added, "But I thank you DL because you're the reason why I fight for my people like I do. Anytime you opened for the King's Of Comedy, and I was the headliner for the Queens of Comedy and you think you should close the show over me is a prime example of the bias that Black women have to deal with in this business. I won't even discuss awards."
Check out Mo'Nique's full response to Hughley below.
See original story below.
D.L. Hughley took to Instagram to fire back at Mo'Nique after she spent time onstage over the weekend taking several digs at him over an alleged contract dispute. 
Mo'Nique told the crowd during her set at the Comedy Explosion in Detroit that her contract stipulated she would be the headliner. "That's what the motherfucking contract says…Mo'Nique is to be the last motherfucking person on the got damn stage. She is the headliner. That's what I signed the contract for," she said, per HotNewHipHop. 
Mo'Nique claimed Hughley attacked her when he said something negative about her on a previous tour. She made some remarks about his family life, and implied his initials were in regards to him being secretly gay. Check out a recording of her remarks below. 
In his response, Hughley claimed the order on the ticket stub proves he was always supposed to be the headliner. "Against my better judgment, over the objections of my team and 4 other occasions where I said NO, I decided to take a chance and work with Monique," he wrote. 
Hughley later brought up prior instances where Mo'Nique claimed she was done wrong by others, such as Oprah, Netflix, and Tyler Perry, and wondered if she has been the problem all along. "At some point it can't be everyone else, IT'S YOU!! Lesson learned," he wrote. 
In April, 50 Cent announced Mo'Nique was joining the cast of his Starz series as part of his efforts to "put her back on." The comedian has also been tapped to replace Octavia Spencer in the upcoming Lee Daniels film Demon House, apparently squashing their once contentious relationship.