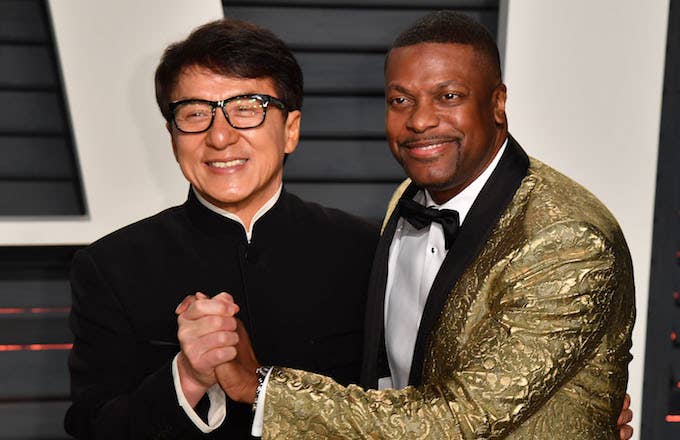 UPDATED 4/10/19 5:37 p.m. ET: Despite Jackie Chan and Chris Tucker posing for a picture that alludes to another installment of their successful buddy-cop comedy series Rush Hour, it turns out that won't be happening.
A statement was posted to Chan's official website that informed his fans that neither Rush Hour 4 nor The Karate Kid 2 are hitting production. The announcement states that the documents that claim to have confirmed these pictures are mere personal messages that were taken out of context. 
"We have noticed that false information that Mr. Chan would act in the motion pictures Rush Hour 4 and The Karate Kid 2 is spreading through multiple social media platforms, and that certain apparently infringing parties have misappropriated the personal WeChat and email accounts of Mr. Esmond Rend, a motion picture industry professional, to release false information concerning the hiring of the crew, casting, audition and other matters in connection with the pictures Rush Hour 4 and The Karate Kid 2," the statement reads.
"With respect to the above information, on behalf of Mr. Chan, we hereby declare that any and all such information, as spread by such infringers, relating to Mr. Chan providing or about to provide acting services in the motion pictures Rush Hour 4 and The Karate Kid 2 is false."
See original story published on 4/8/19 below.
After waiting for over a decade, it appears that there is considerable traction being made towards Rush Hour 4 getting off the ground.
On Sunday, Chris Tucker posted a photo of himself with Jackie Chan as they each raised four fingers, sparking speculation that their gesture was in reference to the next installment in the Rush Hour franchise. 
Ever since 2007's Rush Hour 3 hit theaters, there has been sporadic talk about running it back for a fourth time. However, over the course of those 12 years, there have been plenty of roadblocks putting the potential project into question, starting with the franchise's director Brett Ratner, who was accused of sexual misconduct and harassment by multiple women two years ago. 
In 2008, New Line Cinema, the film production studio behind the Rush Hour films, merged with Warner Bros. Back in April 2018, Warner Bros. decided to cut ties with Ratner and his RatPac-Dune Entertainment company amid the many troubling allegations. Despite their fallout, Ratner has reportedly been trying to speak himself being the director of a potential Rush Hour 4 into existence. WB hasn't been all that receptive to Ratner's pipe dream, declining to comment on the matter. 
Aside from the uncertainty over Ratner's involvement, Chan has previously pinned the future of Rush Hour 4 on the shoulders of his co-star Tucker. "For the last seven years, we've been turning down the script, turning down the script," he said during his 2017 appearance on Power 106's The Cruz Show. "Yesterday, we just agreed. The script probably at the end of this month will have a second draft, and next year, probably [we will] start. I hope — if Chris Tucker agrees."
In February, Tucker confirmed on the ESPN podcast The Plug that Rush Hour 4 was going to happen. "It's happening," Tucker said. "This is gonna be the rush of all rushes. Jackie is ready and we want to do this so that people don't ever forget it."