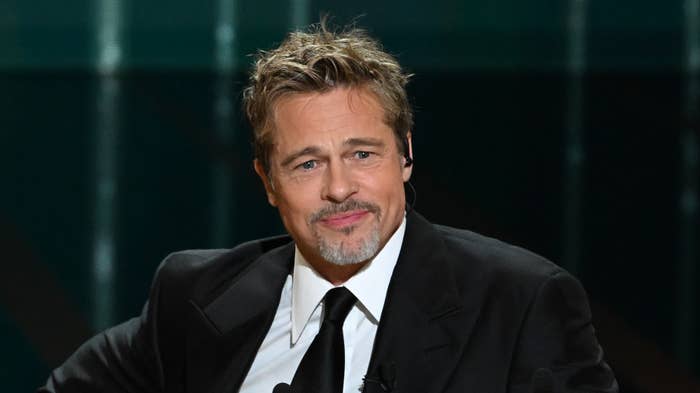 Brad Pitt will film his upcoming Formula One movie from behind the wheel of an F1 car at the British Grand Prix. 
According to Variety, the untitled film's director Joseph Kosinski (Top Gun: Maverick, Spiderhead) and producer Jerry Bruckheimer made the announcement during a panel at the F1 Accelerate Summit in Miami. Moderator Will Buxton said Kosinski and Bruckheimer plan on "creating an 11th team filming on track and on event from Silverstone to the end of the year," in reference to the Silverstone Circuit, the location of the British Grand Prix.   
While it remains to be seen if Pitt will actually participate in the race, F1 CEO Stefano Domenicali admitted that the production will come with its fair share of challenges.
"It will be the first movie where they will be within the racing event," Domenicali said during an investor Q&A, as reported by Sports Illustrated. "It will be quite invasive in terms of production, but it will be another way of showing that F1 never stops."
The film will look to deliver an experience unlike any other. Buxton revealed that production will utilize "the smallest moveable 6K camera ever designed to take the viewer into the cockpit." Similar measures were taken with Kosinski and Bruckheimer's 2022 blockbuster Maverick in terms of getting cameras into fighter plane cockpits, as detailed here:
Seven-time F1 champion Lewis Hamilton is not only serving as a producer, but he's also "advising on storyline and script to ensure it's the most accurate racing film ever made." The script comes from Ehren Kruger, who got an Oscar nomination for co-writing the aforementioned Top Gun sequel in addition to penning several films in the Transformers and The Ring franchises.
59-year-old Brad Pitt will play "a driver who comes out of retirement to compete alongside a rookie driver against the titans of the sport." It also stars Damson Idris.
The British Grand Prix takes place on July 9.