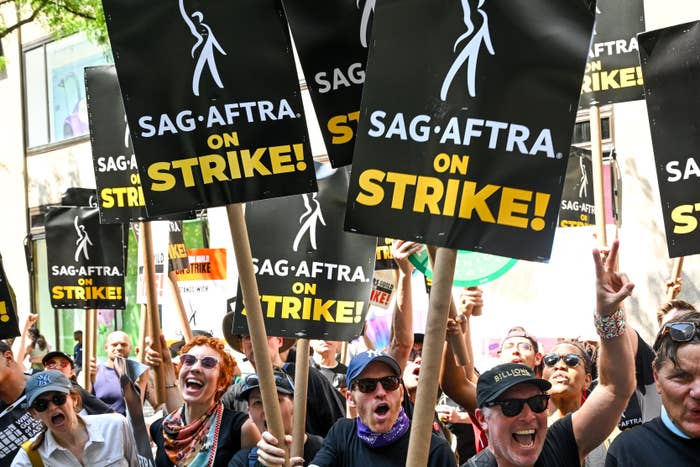 After a long four months, the SAG-AFTRA strike has officially come to an end.
A labor union representing roughly 160,000 actors in film, television, commercials, and other areas across the entertainment industry, SAG-AFTRA had initially announced their intention to strike on July 13. The news came after weeks of failed negotiation attempts to reach a new contract between SAG-AFTRA and the Alliance of Motion Picture and Television Producers (AMPTP), which represents all the major studios including Netflix, Disney, Amazon, Warner Bros., Paramount, Sony, and more.
The striking actors joined entertainment writers on the picket line amid the simulataneous WGA strike which began on May 2 and ended on Sept. 27. The strikes marked the first time in over 60 years that writers and actors hit the picket lines together. The double strike was the largest industry shutdown since the 1960s.
As studios, actors, and writers wrap up the year with new contracts, we've broken down everything you need to know about what happened during SAG-AFTRA's strike, the details of their new contract, and what it all means for the industry's future.
---
WHY WERE ACTORS STRIKING?
To put it simply: Things hadn't changed, at least with regard to contracts. While the media landscape has undergone dramatic shifts over the past two decades — with the growth of streaming platforms and the introduction of AI, to name a few — the contracts that SAG members had signed did not reflect the same seismic changes going on in the industry.
The contract that had previously existed between the two entities expired at midnight on July 13, which marked the official start of the strike. After no deal was made between the two parties, Duncan Crabtree-Ireland, the director & chief negotiator at SAG-AFTRA, said studios "left us with no alternative."
---
WHAT WERE THEY ASKING FOR?
Crabtree-Ireland sent a message with a list of demands, namely, "to ensure our members working in film, television and streaming/new media can continue to earn a professional living with a contract that honors our contributions." SAG-AFTRA was pushing for several changes in the industry, and financial compensation was among their top priorities.
You might be thinking, Why the fuck should I care about helping celebrities? Don't they make enough already? And you'd be right, except one thing you should consider: An overwhelming majority of SAG-AFTRA's 160,000 members are, in fact, not celebrities. Aside from the A-list household names are all the working-class citizens who rely on the industry for their livelihood. And they don't make that much as things stand, especially considering streaming services are able to pay less money under current agreements.
Another concern was the growing use of artificial intelligence in the industry and the need for greater regulations with regard to how it's used. As the technology continues to develop and its use becomes more widespread in entertainment, actors are most at risk of being replaced by generative AI, and SAG-AFTRA was seeking to protect its members from being exploited without fair compensation.
---
WHAT DID THE STRIKE MEAN FOR ACTORS?
SAG-AFTRA issued a list of rules for its members. Long story short: For the past four months, actors weren't allowed to do anything related to promoting film or television titles on their own. During the strike, SAG members were NOT allowed to do a mix of both on-camera work and off-camera work, including:
Film any scenes
Promote film/TV content
Conduct interviews about their titles
Attend conventions
Attend premieres/screeners
Post about film/TV projects on their social media
---
WHAT CONTRACT DID SAG AGREE TO?
While the full details of SAG's new deal with AMPTP will be disclosed later this week, the union has noted that it's worth more than a billion dollars. The union has also clarified that they've "achieved a deal of extraordinary scope," which includes increases in compensation, stricter boundaries regarding the use of AI and actors' likeness, and fairer residual rules regarding streaming.
In an interview with The Associated Press, Crabtree-Ireland explained "It's an agreement that our members can be proud of. I'm certainly very proud of it." Studios are reportedly giving SAG "the biggest contract-on-contract gains in the history of the union, including the largest increase in minimum wages in the last forty years; a brand new residual for streaming programs; extensive consent and compensation protections in the use of artificial intelligence; and sizable contract increases on items across the board."
---
HOW LONG DID THE SAG-AFTRA STRIKE LAST?
SAG-AFTRA announced their intention to strike on July 13, with president Fran Drescher saying that she and the union were prepared to play the long game. During a conversation with People, Crabtree-Ireland, also said, "This strike will come to an end when [the AMPTP] are ready to come to the table and make a fair deal with our members."
Since then, SAG and AMPTP have attended countless meetings together for negotiation. After four long months of back-and-forth, AMPTP finally procured a fair and just contract for actors, ending the strike on Nov. 8.
---
WHAT SHOWS WERE AFFECTED?
In short, any movie or film that was associated with the Alliance of Motion Picture and Television Producers was impacted by the strikes. A number of movies and TV shows that were already in production had to pause filming, and anything that hadn't started yet but was scheduled to was delayed as well. This includes projects that were being filmed, in production, or simply, just in the writers room. Below, you can find a list of some of the most notable TV shows and films that were delayed.
Deadpool 3
Andor, Season 2
Stranger Things, Season 5
Blade
Saturday Night Live
A Knight of the Seven Kingdons: The Hedge Knight
Thunderbolts
Wicked
Euphoria, Season 3
The Last of Us, Season 2
Mission: Impossible Dead Reckoning Part 2
Yellowjackets, Season 3
Cobra Kai, Season 6
Abbott Elementary, Season 2
Severance, Season 2
Peacemaker, Season 2
Spider-Man: Beyond the Spider-Verse
Kraven the Hunter
Additionally, this year's 75th Primetime Emmy's have officially been delayed from Sept. 18 to Jan. 15 2024.
---
WHICH SHOWS WERE NOT AFFECTED?
There were a number of productions that were still in development during the strikes. One reason may be that they were affiliated with a union other than SAG-AFTRA, and another reason is that independent films were eligible to receive a waiver from the union to continue filming if they agreed to abide by the new bylaws from a Collective Bargaining Agreement.
One important thing to note is that independent studios like A24 and its participating actors did not sign waivers, but instead aligned on "interim agreements," showing their support for everything the union was fighting the Alliance of Motion Picture and Television Producers for.
Here is a list of 10 of the 39 projects compiled by Kit Lazer on TikTok that were still worked on during the strikes.
House of the Dragon, Season 2
Industry, Season 3
Bride Hard, directed by Simon West and starring Rebel Wilson
Mother Mary, an A24 film directed by David Lowery and starring Anne Hathaway
Death of a Unicorn, an A24 film directed by Alex Scharfman and starring Paul Rudd and Jenna Ortega
Flight Risk, directed by Mel Gibson and starring Mark Wahlberg
Dust Bunny, directed by Bryan Fuller and starring Mads Mikkelsen
The Rivals of Amziah King, directed by Andrew Patterson and starring Matthew McConaughey
The Yellow Tie, directed by Serge Ioan Celebidachi and starring John Malkovich
Don't Move, directed by Sam Raimi and starring Kelsey Asbille and Finn Wittrock
At first thought, it would be easy to assume that actors continuing to work in any capacity, whether it be in an indie project or not, would be detrimental to the strike. But as Crabtree-Ireland points out, if independent projects were able to move forward, it undermines the studio's point that the union's demands are "unrealistic." Similarly, in a Twitter thread, actor Mark Ruffalo says that the more that independent studios prosper, the more competition it breeds for the studios.
"One sure way to strengthen our hand right now is to become very supportive & friendly to all independent projects immediately," Ruffalo tweets. "Push every SAG-AFTRA member to join the ones that get SAG-AFTRA (WGA) WAIVERS immediately. The studios have no competition—this will change that."
---
HOW HAS SAG GOTTEN BACK TO WORK SINCE?
Since the annoucnment of the strike's end, several formely paused productions have now resumed filmed. For example, Season 5 of Stranger Things is now slated to begin filming in the next few days, approximately less than a week since the strike ended.
Actors are now also slated to appear in press tours again. So expect an influx of interviews, screenings, premieres, and more as some catch up with content released in the past few months. And others prepare for their upcoming films.