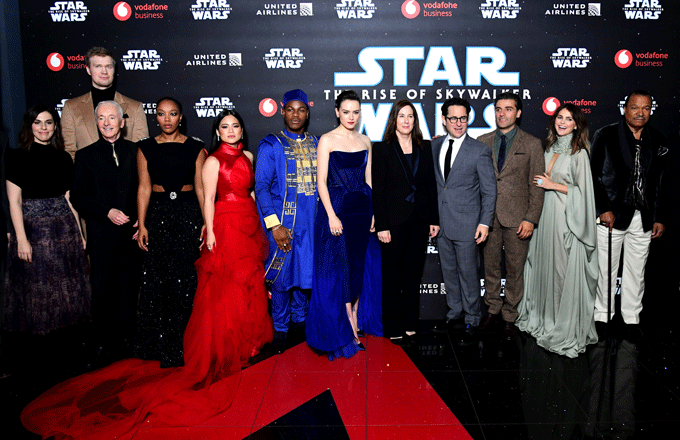 UPDATED 12/20, 6:03 p.m. ET: Midday Friday sales are projecting a $195 million weekend pull for The Rise of Skywalker, according to Variety.
See original story below.
According to early projections, Star Wars: The Rise of Skywalkerwill have no problem neutering the film version of Cats when it comes to U.S. ticket sales, after those numbers become official when the year-end box office wraps up this weekend. Note that this also happens to bethe opening weekend for both films.
The Hollywood Reportersays that tracking services, though uncertain, have the trilogy-concluding Rise of Skywalker's haul pegged to bring in between $175 and $200 million. As for the company whose money is on the line here, Disney, they're said to be cautiously anticipating a $160 million-plus figure, but either way they had themselves a helluva year.
In terms of competing against itself (rather than whatever Cats is) the expected totals for Star Wars' latest offering would put it below the polarizing The Last Jedi, which banked $220 million upon its debut in 2017, and the then record debut of The Force Awakens, which grabbed $248 million in 2015.
Episode IX'scast is made up of a combo of Star Wars actors old and new, including John Boyega, Daisy Ridley, and Adam Driver, as well as Billy Dee Williams, and Mark Hamill, and the late Carrie Fisher.
As for early reactions, Skywalker currently holds the second lowest Rotten Tomatoesrating of the nine main films in the four-plus decade long series, with a 59 percent aggregate score that places it ahead of only 1999's Episode I: The Phantom Menace (53 percent). 
As for Cats, well, reviews have been decidedly shittier, as its current 17 percent has it sandwiched between the 1998 filmed version of the Broadway show it's based upon (20 percent), and Mike Myers as Dr. Seuss' The Cat in the Hat (9 percent), at least when it comes to cat-related cinema.  
THR adds that Cats made a daring move by becoming the "first event pic" that had the guts to open up against a modern-day Star Wars. Tracking figures expect that film to pull in between $14-17 million during their opening weekend. They further cite that that might not be as catastrophic as it sounds when compared to the film's reported $95 million budget, as they wrote "Two years ago, The Greatest Showman debuted to $8.8 million over Christmas on its way to grossing $174.3 million domestically."
In either event the cast of Cats is at least full of big names, and will likely provide you your sole opportunity to view them in two-legged cat form. That cast contains, alphabetically: James Corden, Judi Dench, Jason Derulo, Idris Elba, Jennifer Hudson, Sir Ian McKellen, Taylor Swift and Rebel Wilson.
Conversely you could just watch sports go see Jumanji.