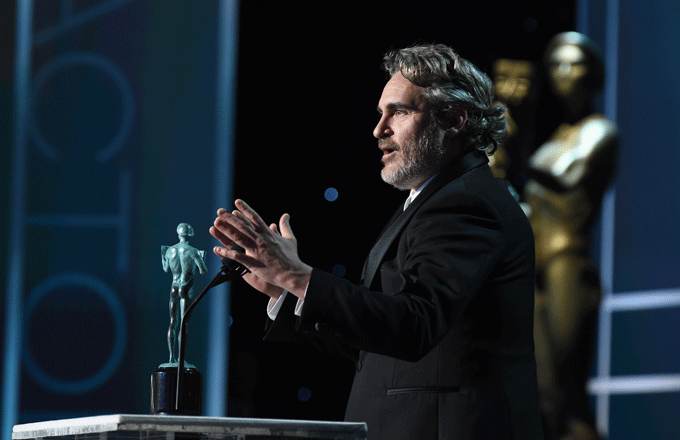 Following the acquisition of his SAG Award for "Outstanding Performance by a Male Actor in a Leading Role in a Motion Picture," due to his performance as Joker in Joker, Joaquin Phoenix only briefly attended an after party before quickly bailing to attend a demonstration for animal rights, according to The Hollywood Reporter. 
Stating that he was still wearing his tuxedo at the time, THR writes that Phoenix skipped on the more traditional award night festivities in order to show up at a local slaughterhouse, for the purpose of teaming with other activists to comfort pigs as they headed to the slaughter line. 
Los Angeles Animal Save, the group that Phoenix linked up with, regularly has vigils outside the Farmer John processing plant in Vernon, California, less than five miles from Los Angeles. On that particular night, Phoenix joined the rest of them in giving water and support to the pigs on their death march.
Joaquin Phoenix last night after his

#SAGAwards

win giving water and comforting pigs before they go to the slaughterhouse at the LA Animal Save weekly pig vigil which is livestreamed weekly on FB, he attends regularly ❤️

pic.twitter.com/x5uZm2gwSM
L.A. Animal Save claims to be the biggest of 700+ grassroots groups that perform the "act of bearing witness" at peaceful vigils, and they've been doing similar protests every Wednesday and Sunday since at least 2017. TMZ adds that trailers with the pigs stop for two minutes, "with Farmer John's blessing," so the activists can give comfort to the pigs.
While Phoenix is well-known to try and stay out of the media spotlight, to the extent that he can,  he did speak with animal rights activist/CNN anchor Jane Velez-Mitchell on her self-run media outlet Jane Unchained.
"Most people don't really know of the torture and murder in the meat and dairy industry. I've seen it for what it is, so I have to be here," Phoenix told her. "We have moral obligations to talk about it and expose it for what it really is. We are so indoctrinated with these happy images of animals on farms, on the covers of meat containers, at restaurants, and it's a lie. I think people need to know the truth and we have an obligation to do that."
Amy Jean Davis, who founded L.A. Animal Save, says that this wasn't the first time Phoenix showed up to one of these things. 
"Joaquin's regular attendance at our vigils in L.A. has inspired activists both locally and globally," Davis said. "We are so grateful for his voice. All over the world, activists are bearing witness to animals bound for slaughter and waking up the world to their plight."