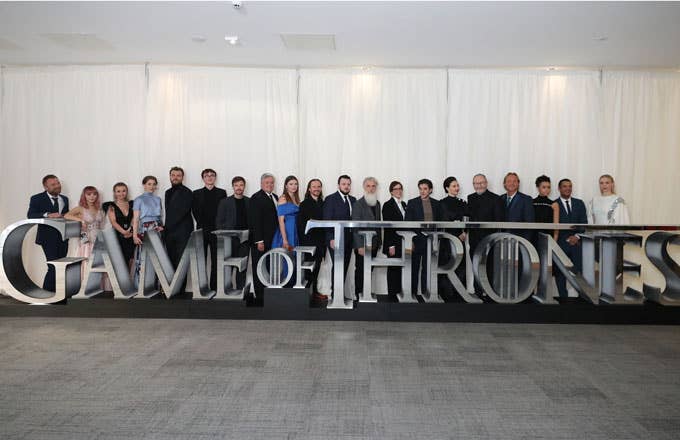 This might come as a surprise to you, but Game of Throneskicked off season eight on Sunday night. Given the general lack of hype surrounding that you'd be forgiven if it slipped your mind.
A day later (a.k.a. today) HBO released information regarding cross-platform viewership that would seem to justify the massive amount of money that the network puts into producing the show (well, at least on the surface. We don't have their books).
In a statement, HBO said that 17.4 million viewers tuned in to watch the first of the final six episodes of the juggernaut series. To come up with this number HBO added up those who watched the traditional way, in addition to watching it via their two streaming options: HBOGO and HBO NOW. The statement summed up the ratings by saying it was the "largest night of streaming activity ever for HBO." IndieWire adds that the ratings were almost double what they were on the night that Season 7 premiered in July 2017.
As is often the case, Game of Thrones' milestone night gave way to solid performances for the programs airing afterward. Barry, for instance, got more eyeballs than it ever had, up to this point, in its 10-episode run. The 2.2 million people watching it nearly quadrupled the ratings it had posted last week when it was not preceded by GoT. John Oliver's Last Week Tonight grabbed itself a ratings spike as well.
Those shows will have five more weeks to really bolster their numbers as the network anticipates doing even bigger things as the series reaches its conclusion, citing the 32.8 million viewers per episode Season 7 eventually averaged.
That's quite the accomplishment for a channel you have to pony up extra dough for. As IndieWire also points out, This Is Us got a somewhat comparable 33.4 million viewers last year after being led in by the freaking Super Bowl on freaking broadcast TV.