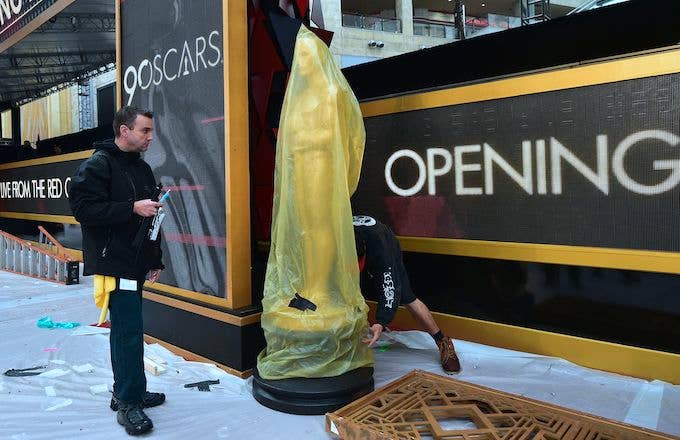 According to Variety, Kevin Hart's sudden exit as the host of the Oscars has led to chaos behind the scenes as the Academy of Motion Pictures Arts & Sciences powers-that-be are scrambling to find a replacement. A source familiar with the goings-on says that the situation is fluid, and several options are being considered, one of which would be going "host-less."
Two insiders add that the Academy was caught off-guard when Hart announced his hosting duties departure on Thursday night. An anonymous "top comedy agent" added that those in charge are "freaking out." While another source added that there was no contingency plan for such an instance.
Furthermore, and unsurprisingly, the issue is sure to come up at a previously-scheduled Tuesday night meeting with the Board of Governors.
An industry source speaking to Variety says that the Academy is now hesitant to fill the role with anyone deemed too edgy or "off the cuff." As for the "host-less" option mentioned above, according to a source the event's workaround would be to have "a bunch of huge celebs, something 'SNL' style, and buzzy people to throw to commercial."
From the tone of Variety's article it sounds like the Academy greatly miscalculated how Hart would react to their request that he apologize for his old homophobic tweets. A source with knowledge of the situation said the Academy hoped Hart would apologize and show "genuine remorse" while also stopping short of quitting the show.
Hart didn't initially apologize, but did speak of personal growth in that area. Hours later he resigned via a statement, which included an apology:
Whatever they do, the clock's ticking. The event is set to be broadcast on February 24. For some added context, Jimmy Kimmel's 2018 hosting duties were announced on May 2017 (and the job also comes with a reportedly minor salary). So, yeah, if any one person accepts they'll be stressed the f*ck out here.