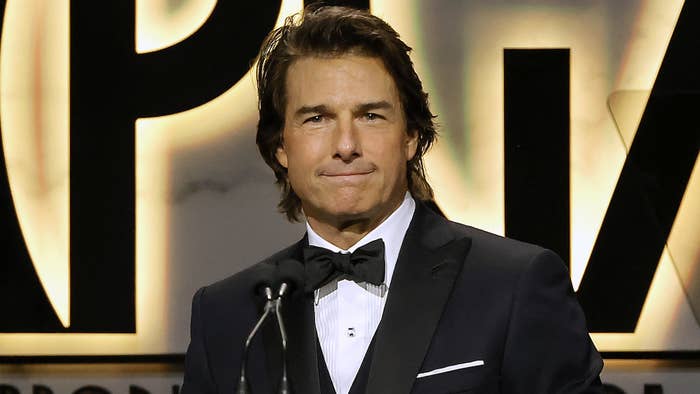 UPDATED 6/28, 9:40 p.m. ET: Tom Cruise is actually excited about all the tentpole flicks coming out this summer.
In a tweet, the Hollywood mainstay acknowledged his impending box office competitors. "This summer is full of amazing movies to see in theaters," he wrote.
The 60-year-old nodded to legendary actor Harrison Ford's reprisal of Indiana Jones in this weekend's Dial of Destiny, penning, "Congratulations, Harrison Ford, on 40 years of Indy and one of the most iconic characters in history."
Cruise also saluted the two major arrivals coming July 21, saying, "I love a double feature, and it doesn't get more explosive (or more pink) than one with Oppenheimer and Barbie."
He included pictures of himself standing in front of all three films' posters. Mission: Impossible – Dead Reckoning Part One hits on July 12.
See original story below.
Tom Cruise is apparently an unhappy camper.
Puck reports that the actor is not pleased that his upcoming flick, Mission: Impossible – Dead Reckoning Part One will have a short run in IMAX theaters this summer. The film is set to premiere on July 12 on IMAX screens, before it gets the boot by Christopher Nolan's Oppenheimer on July 21. The latter has a lock on IMAX theaters in North America and other territories for three weeks.
According to the outlet, Cruise "has been complaining loudly to Paramount executives and others about the IMAX situation." He's been showing Mission 7 to exhibitors in the hopes that they will continue showing the film, rather than Oppenheimer or Barbie, which is also set to open on July 21. It seems that this move was done on purpose by Warner Bros., after Nolan switched studios back in 2021 and is now working with Universal. It's reported that Cruise is also making personal phone calls to persuade exhibition and studio executives.
Because Oppenheimer was shot on IMAX cameras, Nolan told the Associated Press that the "best possible experience" is to watch it on IMAX 70mm film presentations. Of the over 1,700 IMAX cinemas that exist around the world, only a handful of them have 70mm in North America, the UK, Australia, and the Czech Republic.
It's anticipated that Mission 7 will gross more than Oppenheimer, which gives Cruise more leverage when arguing that his film should remain in IMAX theaters. Cruise's last offering, Top Gun: Maverick was a hit at the box office, pulling in $110 million of its $1.49 billion global earnings at IMAX cinemas.