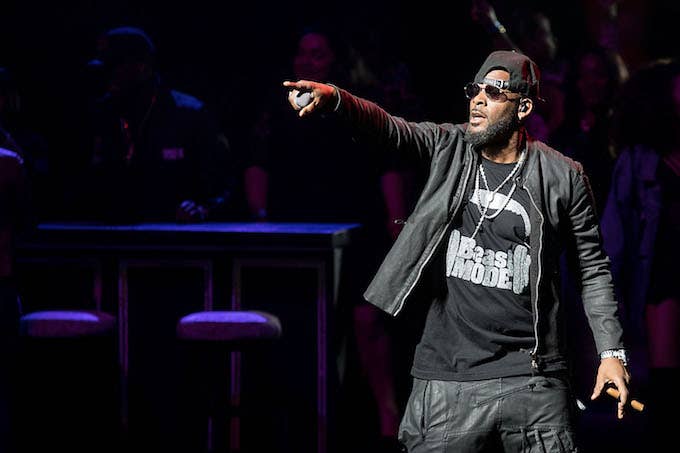 The premiere of Lifetime's docuseries Surviving R. Kelly pulled in a record 1.9 million total viewers on Thursday night, making the TV event Lifetime's best performance in over two years across all key demographics, Deadline reports.
The docuseries brought in 1.2 million viewers among adults aged 25-54, 1.1 million adults aged 18-49, 837,000 women aged 25-54, and 767,000 women aged 18-49, according to Nielsen Media Research. Additionally, Surviving R. Kelly has become Lifetime's best unscripted performance in over three years, in all key demos as well.
The docuseries landed the No. 1 spot as the social primetime program for broadcast and cable on Jan. 3, barring sports, according to Nielsen Social Content Ratings. Garnering more than 743,000 total interactions on Facebook, Twitter, and Instagram, the docuseries has become Lifetime's biggest social premiere for any series or movie in the network's history.
The six-part docuseries has been quite controversial, especially on social media. In the network's official description of Surviving R. Kelly, it remarks that R. Kelly's "genre-defining career and playboy lifestyle have been riddled with rumors of abuse, predatory behavior and pedophilia." The network explains that "Despite damning evidence and multiple witnesses, to date, none of these accusations seems to have affected him."
The series has become such a phenomenon for the way it gives voices to the survivors of Kelly's alleged abuse. "They finally are ready to share their full story and shed light on the secret life the public has never seen," the network says. 
John Legend was the only artist interviewed for the docuseries. In a tweet, he wrote of his role, "To everyone telling me how courageous I am for appearing in the doc, it didn't feel risky at all," Legend tweeted Friday after the first episode aired. "I believe these women and don't give a f**k about protecting a serial child rapist. Easy decision."
Executive producer dream hampton also took to Twitter on Friday to share a list of people she wished had participated in the series, including, "Barry Weiss, former head of RCA/Jive, Ann Carli of Jive Records, [and] BET Executives who greenlit his appearance on award shows."
TMZ reports that Kelly attempted to scare Lifetime through a lawsuit if the network didn't overturn its decision to air the series. However, no lawsuit has been filed.
The next chapter of Surviving R. Kelly airs tonight, January 4, at 9 PM ET/PT, with the final installation airing on Saturday, January 5, at 9 PM ET/PT.