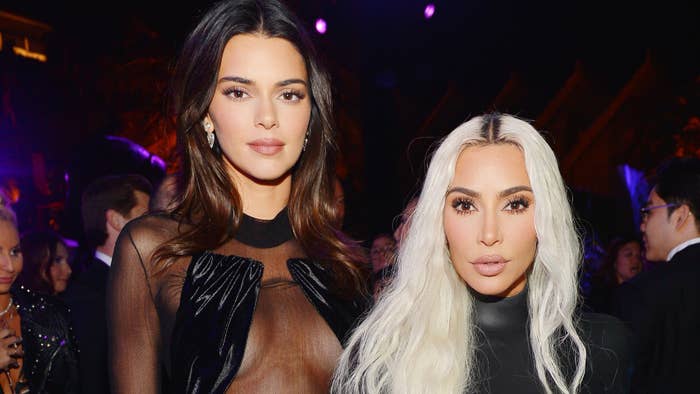 It seems Kim Kardashian's "Kendall Starting Five" t-shirt has become a beloved staple item in her closet.
Kim was seen sporting the shirt once again in a new TikTok with her daughter, North. The black t-shirt features Kim's sister, Kendall Jenner, surrounded by the five basketball players whom she's reportedly dated: Devin Booker, Blake Griffin, Ben Simmons, Jordan Clarkson, and Kyle Kuzma.
In the TikTok, captioned "Hair time," Kim and North can be seen doing North's hair, as they both dance and lipsync the lyrics to Carlos Santana's song, "Maria, Maria."
Kim was first seen wearing the shirt in The Kardashians Season 3 trailer, which dropped in late April. According to Us Weekly, the shirt was designed by emaxwears, and features a meme from 2019 that suggested Kendall had dated the aforementioned five NBA players.
Kendall responded to the meme in 2019 as well, writing, "2 out of 5 accurate, thanks." Her most recent relationship is with Bad Bunny, whom she was first seen with in February. Since then, they've been spotted at the Oscars, Coachella, and the Met Gala together. The Puerto Rican artist appeared to diss Kendall's ex, Booker on the song "Coco Chanel," in March. Booker later responded to the alleged diss on Instagram, saying, "He worried about another MAN again."