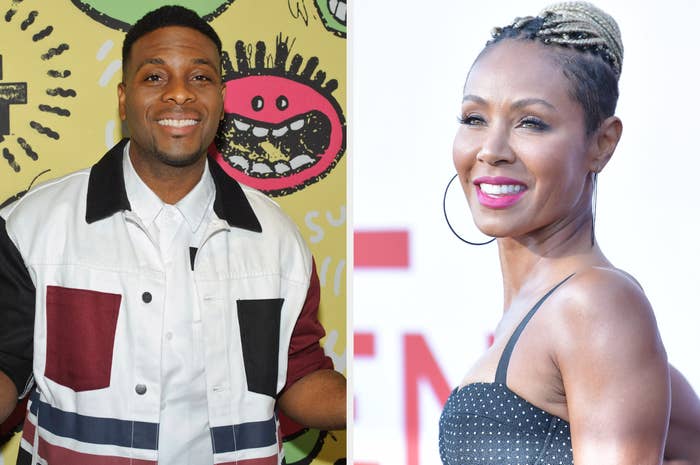 Kel Mitchell is poking fun at everyone who said he looks like Jada Pinkett Smith from the 1996 movie Set It Off.
In a clip posted to Instagram, Mitchell can be seen wearing his Good Burger uniform, inside the Good Burger Mobile, seemingly on set for Good Burger 2.
"They said I look like Jada Pinkett so we're about to set it off," he said in the video while laughing. "Set it off."
The clip then cuts to a still from Set It Off where Pinkett and Vivaca A. Fox are posing next to a blue drop top, and Queen Latifah and Kimberly Elise are seated in the vehicle. Mitchell can be heard singing, "Set it off on the right," a line from the film's title song "Set It Off" by Organized Noize, featuring Latifah. Pinkett appears to be wearing her hair in similar braids as Mitchell, in a bob style.
"Ed and Dex about to set it off," Mitchell captioned the post, nodding to the reprisal of his role as Ed and Kenan Thompson's role as Dexter Reed in Good Burger 2. "Y'all get ready this is going to be Epic! shoutout to my sis @jadapinkettsmith #Goodburger2 Y'all just got a glimpse of the inside of the Good Burger Mobile! Cleo let me borrow her whip! thx @queenlatifah Can you say exclusive!!!!"
Back in March, Kenan and Kel confirmed that the Good Burger sequel has been greenlit by Paramount+. Production reportedly began in May, with Good Burger 2 set to arrive sometime in 2023.
"I can't believe it's been a little over 25 years since great customer service was born at Good Burger!" Thompson said at the time of the announcement. "Being a part of something so many generations of people have come to love has made me so proud and now to be back where it all began working on the sequel is surreal! Love performing with my brother Kel and can't wait to show the fans what these characters have been up to since we last saw them."