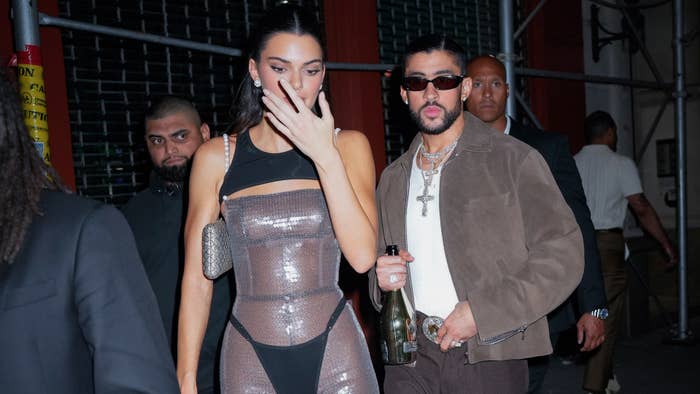 Bad Bunny borrowed his girl's necklace.
The Puerto Rican superstar was spotted wearing Kendall Jenner's "K" necklace, Page Six reports. The Instagram account, Not Skinny But Not Fat, first shared the news this weekend, posting photos of Benito wearing a dainty gold chain with a "K" charm.
While this seemed to be momentous to many of his fans, user @misspeafairy wrote in the comments that this is old news: "He already rocked this months ago at his basketball team's game in PR. It was everywhere."
Bad Bunny already made headlines today when he posted a risqué photo of himself in the shower to his IG Story over the weekend. Fans went crazy, as expected. He also showed off margaritas he made using Kendall's 818 tequila, as well as photos of a hike he took with his rumored beau. In a clip, Bad Bunny can be heard telling her to "be careful" of the mosquitos.
While the pair have been romantically linked since at least February, neither has confirmed their relationship. One of their most recent public outings was to Drake's show in Los Angeles earlier this month, where they were seen getting cozy while Drizzy performed "God's Plan." According to Page Six, they made out at the concert. The pair also appeared to have gone on vacation together in July. Fans connected the dots when both celebrities posted IG photos from similar locations.