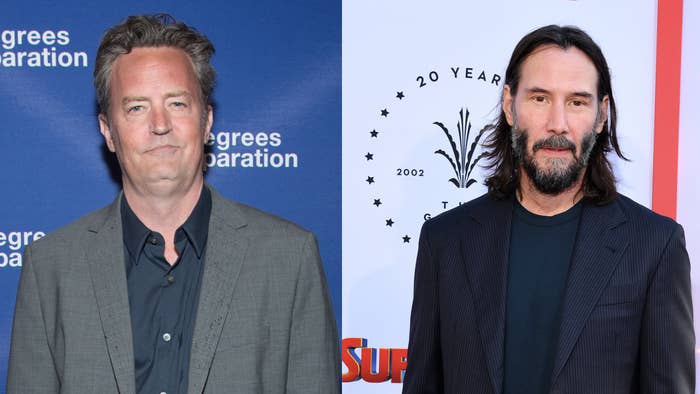 Matthew Perry questions why Keanu Reeves is still alive.
The 53-year-old actor takes jabs at Reeves, 58, in his upcoming memoir Friends, Lovers, and the Big Terrible Thing. According to excerpts published by Variety, Perry mentions the John Wick star multiple times throughout the book, specifically when reflecting on the deaths of legendary actors like Heath Ledger, Chris Farley, and River Phoenix.
"The list of geniuses who were ahead of their time is too long to detail here—suffice to say, near the top of any such list should be my costar in A Night in the Life of Jimmy Reardon, River Phoenix," Perry wrote. "This movie was my first job, and I'm acutely aware it would be a better story if the movie was a huge hit, but all that really matters is that I learned how to make a film, and I got to know River, who personified beauty in every way."
Phoenix died in 1993, just five years after the premiere of A Night in the Life of Jimmy Reardon. An autopsy report listed the actor's cause of death as "acute multiple drug intoxication." He was 23 years old.
"River was a beautiful man, inside and out—too beautiful for this world, it turned out," Perry continued. "It always seems to be the really talented guys who go down. Why is it that the original thinkers like River Phoenix and Heath Ledger die, but Keanu Reeves still walks among us? River was a better actor than me; I was funnier. But I certainly held my own in our scenes—no small feat, when I look back decades later."
Elsewhere in the book, Perry reflects on the death of Farley, the legendary comedian who died at 33 from a drug overdose. The Friends alum had worked with Farley on Almost Heroes, a 1998 comedy that was released just months after Farley's death.
"His disease had progressed faster than mine had. (Plus, I had a healthy fear of the word 'heroin,' a fear we did not share)," Perry wrote about Farley. "I punched a hole through Jennifer Aniston's dressing room wall when I found out. Keanu Reeves walks among us. I had to promote Almost Heroes two weeks after he died; I found myself publicly discussing his death from drugs and alcohol. I was high the entire time."
It was unclear why Perry specifically targeted Reeves, as they've never worked on any projects together or hinted at some kind of beef. And indeed, in an apology after the news got out, he said it was an arbitrary name-check.
In a statement to Deadline, he wrote, "I'm actually a big fan of Keanu. I just chose a random name, my mistake. I apologize. I should have used my own name instead."
Friends, Lovers, and the Big Terrible Thing also details Perry's years-long battle with drug and alcohol addiction, including the life-threatening moment his colon exploded because of opioid use.
The memoir arrives Nov. 1.