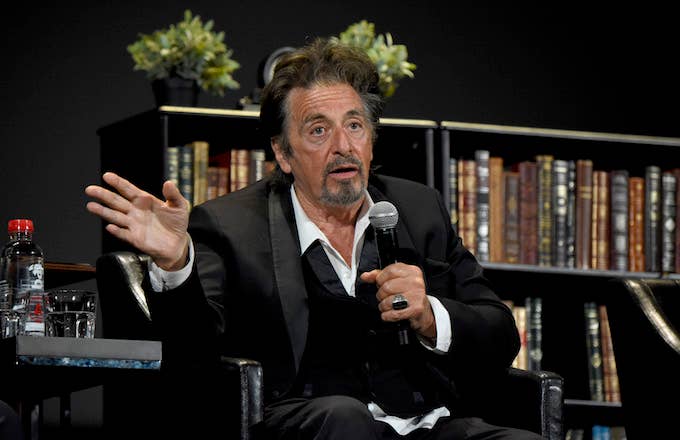 Al Pacino once called The Godfather "the worst film ever made." Of course, he was drunk at the time.
During the 2017 Tribeca Film Festival, director Francis Ford Coppola reunited with The Godfather cast to discuss the making of the 1972 mafia classic. Pacino, Robert Duvall, Diane Keaton, James Caan, Talia Shire, and Robert De Niro took part in a panel discussion following back-to-back screenings of The Godfather and its first sequel Saturday at Radio City Music Hall.  
During the sold-out event, Pacino admitted he was under a lot of pressure to play Michael Corleone, as producer Robert Evans thought he was too short for the role. The actor recalls testing multiple times even after he landed the part; he also began doubting his ability and convinced himself he would be better suited to play Sonny Corleone. With the studio continuing to push for another actor, Pacino admitted the stress got to him, and immediately after he and Keaton shot the opening wedding sequence, he attempted to let off some steam.
"We got so loaded after that wedding sequence. We were theater actors, and we were not used to film," Pacino said on the panel. "The whole thing had sort of a surreal feel to it. So we got back and started drinking: 'Where do we go from here? We're done, it's over! This is the worst film ever made!'"
As we know now, the movie was far from a flop. It went on to achieve unprecedented commercial and critical success, earning 11 Academy Award nominations, with wins in Best Actor (Marlon Brando, who refused the award), Best Adapted Screenplay, and Best Picture.
You can watch the full panel discussion below.