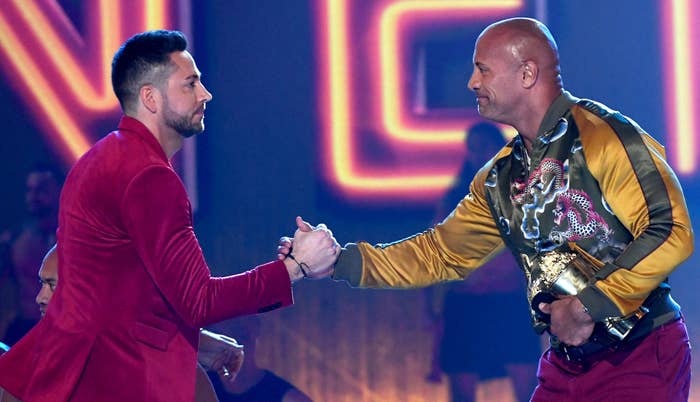 The dysfunction surrounding DC Studios continues, as two of the studio's recent leading men—Black Adam's Dwayne Johnson and Shazam! Fury of the Gods star Zachary Levi—find themselves at the center of a new report on some behind-the-scenes politics.
Per the Wrap, Black Adam was originally supposed to feature a post-credits cameo from Levi, whose character would be recruited by Johnson's. Instead, the Rock allegedly vetoed the scene while also preventing all Black Adam actors from appearing in this month's Shazam! sequel. Henry Cavill's Superman made the final cut, giving fans short-lived hopes of a full-on comeback.
Hours after the Wrap's piece was published, Levi took to his Instagram Stories to reshare a post that quoted a few key lines from the report.
"The truth shall set you free 🙃 🙌," Levi wrote underneath.
Also on Tuesday over on Twitter, Levi shared thoughts about the film's disappointing $30.5 million opening weekend box office. After letting folks know he has "no issue with [Zack] Snyder fans" even if they may be rooting against Shazam!, he said, "But I think the biggest issue we're having is marketing. This is a perfect family movie, and yet a lot of families aren't aware of that. Which is just a shame."
In recent days co-star Rachel Zegler and director David F. Sandberg both chimed in on the platform as well. Zegler called out commentators "just being senselessly mean," tweeting that "our film is actually really good" and it's simply "cool to hate on fun nowadays."
Sandberg opened up about the experience making the two DC flicks, writing, "After six years of Shazam I'm definitely done with superheroes for now. … One thing I've really been looking forward to is disconnecting from the superhero discourse online. A lot of that stresses me out so much and it will be nice not having to think about that anymore."