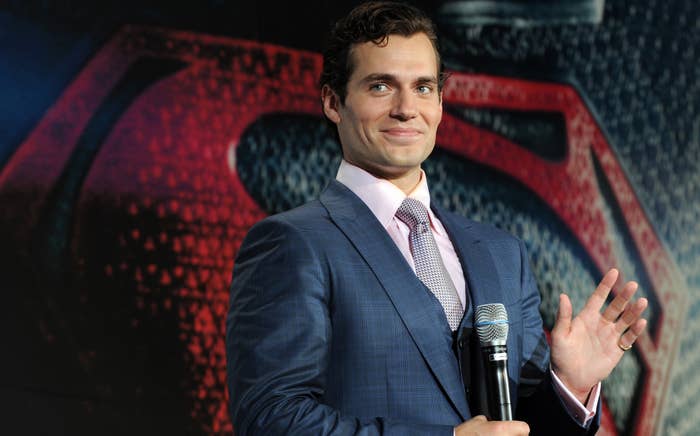 Henry Cavill has announced his Superman retirement, less than two months after a Black Adam appearance officially revealed his return.
"I have just had a meeting with James Gunn and Peter Safran and it's sad news, everyone," Cavill wrote on Wednesday, referring to the newly formed DC Studios' co-CEOs, who are vastly reworking the brand's landscape. "I will, after all, not be returning as Superman. After being told by the studio to announce my return back in October, prior to their hire, this news isn't the easiest, but that's life. The changing of the guard is something that happens. I respect that. James and Peter have a universe to build. I wish them and all involved with the new universe the best of luck, and the happiest of fortunes."
"For those who have been by my side through the years….we can mourn for a bit, but then we must remember….Superman is still around," the 39-year-old continued. "Everything he stands for still exists, and the examples he sets for us are still there! My turn to wear the cape has passed, but what Superman stands for never will. It's been a fun ride with you all, onwards and upwards."
Patty Jenkins made similar remarks yesterday when setting the record straight about Wonder Woman 3 being scrapped and saying goodbye to the franchise. "Keep up the Wonder Woman spirit. … I hope her beacon of love, truth and justice is always there to lead the way for you, as she has done for me," the director told fans.
As for Gunn, he opened a Twitter thread on Wednesday evening, "Peter & I have a DC slate ready to go, which we couldn't be more over-the-moon about; we'll be able to share some exciting information about our first projects at the beginning of the new year. Among those on the slate is Superman."
The writer/director/producer continued, "In the initial stages, our story will be focusing on an earlier part of Superman's life, so the character will not be played by Henry Cavill. But we just had a great meeting with Henry and we're big fans and we talked about a number of exciting possibilities to work together in the future."
In ensuing tweets responding to users' questions, Gunn confirmed the Superman project in question is a non-origin story movie he's been writing "for a while," and that it doesn't have a director.
When a fan asked if recent Batman portrayer Ben Affleck could get behind the camera for a Caped Crusader adventure, Gunn answered, "Met with Ben yesterday precisely because he wants to direct & we want him to direct; we just have to find the right project."
Last week Gunn told a concerned fan on Twitter that "Superman is a huge priority, if not the biggest priority" for DC Studios. At the end of November, he informed followers that the retooled DC Universe will ambitiously be "connected across film and TV (and animation)."
Cavill, whose recent credits include Netflix's Enola Holmes and The Witcher, debuted as Clark Kent/Superman in Zack Snyder's Man of Steel in June 2013. He returned to star in 2016's Batman v Superman: Dawn of Justice and the following year's Justice League, neither of which was particularly well-received critically.
On Oct. 24, days after Black Adam shocked fans with a Cavill-featuring mid-credits scene, the actor shared an Instagram post showing him suited up. "A very small taste of what's to come, my friends. The dawn of hope renewed. Thank you for your patience, it will be rewarded," Cavill captioned the upload, which racked up over 3.6 million likes.
In the ensuing days he said in an interview, "The character means so much to me. It's been five years now. I never gave up hope. … There is such a bright future ahead for the character. I'm so excited to tell a story with an enormously joyful Superman."
Sources tell Variety the project Gunn tweeted about on Wednesday centers on Clark/Kal-El's "life as a cub reporter" in Metropolis and depicts him "meeting key characters, like colleague Lois Lane." The magazine adds that insiders say Ta-Nehisi Coates and J.J. Abrams' Superman project, announced nearly two years ago, "is still in active development."
Also on Wednesday, Gunn said rumors that Robert Pattinson's Batman will be folded into the DCU are untrue.